The 2023 AFL draft is just around the corner, and a much debated crop of young footballers are set to learn their fates.
The consensus among draft watchers has been a clear group of around a dozen prospects have elevated themselves, but beyond that opinions have been mixed, setting up an unpredictable draft with surprises likely.
Here is our ranking of the best 30 players in this year's draft.
1. Harley Reid
MID/FWD/DEF, Vic Country/Bendigo Pioneers
The Harley Hype is justified, with Reid a young player of phenomenal promise. An all-action midfielder tailor-made for modern footy, Reid wins contests and impacts the game in whatever position he plays.
His strength, speed and evasiveness is matched by his game awareness and skill with ball in hand. Reid is dangerous in the air and will spend time playing out of the goal square as a forward in his early AFL years.
The sky is the limit for Harley Reid.(Facebook: Bendigo Pioneers)
There is scope for improvement when it comes to Reid's endurance and two-way running, but the thought he could yet get better is only more reason to be excited. Some incredible VFL performances prove he is ready to go in round one, and the sky will be the limit for Tongala's favourite son.
2. Jed Walter
FWD, Allies/Gold Coast Suns Academy
Clearly the best key forward in the draft, Jed Walter boasts a rare combination of size and athleticism.
A force in the air, Walter is equally as deadly when the ball hits the deck, just as happy sticking heavy tackles as he is taking big marks.
There are some goal kicking issues to tighten up, but Walter's skill, power and work rate mean he will get plenty of looks at goal. Destined to be a hit for the Gold Coast Suns, who will match an early bid on their academy star.
3. Colby McKercher
MID, Allies/Tasmania
A quick, agile and incredibly skilful midfielder, Colby McKercher has the hurt-factor clubs are desperate to find in their on-ballers.
McKercher is fantastic at creating space for himself to burst into, either with a slick sidestep or the occasional fend-off. His left foot is a weapon, and he is a proven goal-kicker.
Will likely start his career on a wing, but has a nose for the contest too. An exciting player to watch when he's up and running.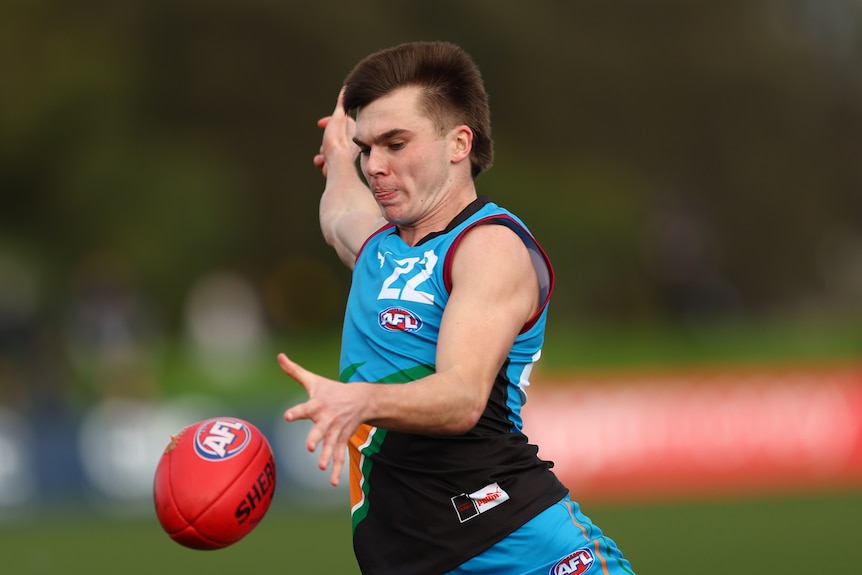 Colby McKercher is a damaging and prolific midfielder.(Getty Images: Graham Denholm)
4. Ethan Read
RUC/FWD, Allies/Gold Coast Suns Academy
Ethan Read really could be anything. It's very rare for a ruckman to boast his running capacity and skill around the ground, so much so that he truly becomes an additional midfielder.
Read finished third in the 2km time trial at the draft combine, capping a year that saw the 202cm giant stake his claim as the pre-eminent ruck in the draft.
As ever, he will need time to develop and his ruckwork could use some finessing, but the Gold Coast Suns will pluck another gem from their academy here.
5. Zane Duursma
FWD, Vic Country/Gippsland Power
If he doesn't beat you in the air, he'll beat you on the ground. Such is the skill of mid-sized forward Zane Duursma that you can never truly take him out of the game.
By the end of the season, Duursma had proven the most reliable goal kicker in his draft class. But it's the range of ways he kicks those goals — pack marks, on the lead, crumbing, bursting out of stoppage — that has recruiters excited.
Duursma isn't the biggest, the quickest or the strongest. But he's one of the most naturally gifted players on offer.
6. Ryley Sanders
MID, Allies/Sandringham Dragons
Success followed Ryley Sanders everywhere he went in 2023, with his Allies and Sandringham Dragons both lifting trophies at the end of their seasons.
The relentlessly brilliant midfield work of Sanders played a big part in both those triumphs, as he used his big frame and inexhaustible tank to great effect all over the ground.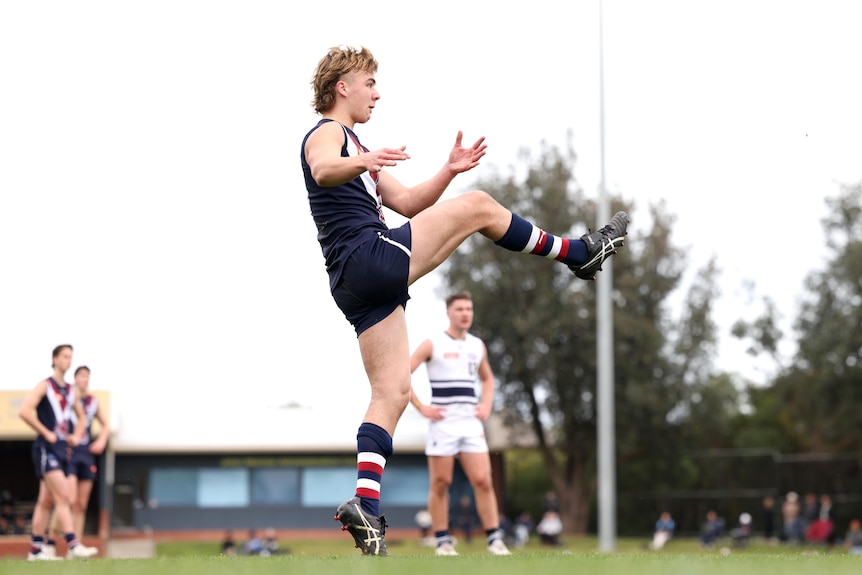 Ryley Sanders is a strong inside midfield option.(Getty images: Jonathan DiMaggio)
Sanders is deceptively quick and uses the ball well. Lacks the flair of those named above him, but will undoubtedly be a reliable option at AFL level.
7. Daniel Curtin
DEF/MID, WA/Claremont
Is Dan Curtin a key defender? A tall midfielder? A rebounding half-back? Or a little bit of all three?
Where Curtin's career takes him positionally will be fascinating, but the Claremont product has the versatility and poise to make any of those spots his own.
Curtin's greatest attributes are his clean hands, poise on the ball and sweet left foot. No matter how his new club wants to use him, those weapons will serve him well.
8. Connor O'Sullivan
DEF, Allies/Murray Bushrangers
Another key member of the all-conquering Allies team, Connor O'Sullivan is a hulking key defender who can play both lockdown and intercepting roles.
O'Sullivan generally reads the play well and has the height to match up on even the biggest of key forwards. He is composed and efficient by foot, and even spent time in midfield for the Bushrangers.
9. Nick Watson
FWD, Vic Metro/Eastern Ranges
Expect a club to snatch up Nick Watson much earlier than this ranking suggests, because the small forward might be the most exciting player in the draft.
There isn't much Watson can do. He's electric at ground level, deceptively good on the lead and clever in his disposal when he pushes up the ground.
His defensive pressure could use improving, but that is the only real concern for Watson aside from his height — at 170cm, he is currently shorter than Caleb Daniel.
10. James Leake
DEF/FWD, Allies/Tasmania
A late riser up draft boards, James Leake is a player who could one day seem like a steal if he slips outside the top 10.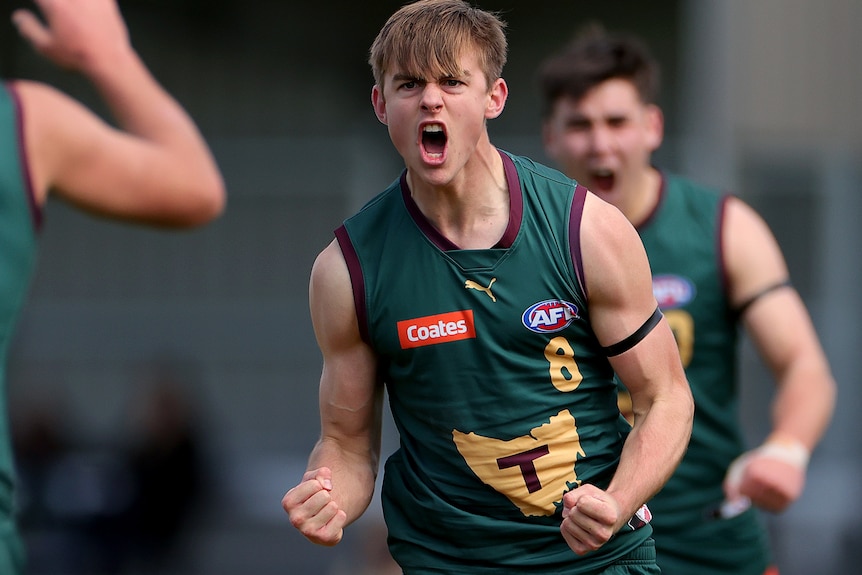 James Leake has been a late riser, and now looks like a strong top 10 chance.(Getty images: Kelly Defina)
Leake played predominantly as a medium defender for the Allies, but has pushed forward and had stints in midfield for the Tasmanian Devils. He is a good height and athletically gifted, able to impact games in a variety of ways.
He will need time to add some size, but a lot of clubs will love to dream of what Leake could eventually turn into.
11. Nate Caddy
FWD, Vic Metro/Northern Knights
A hulking young man, Nate Caddy is a pack-crashing forward with the mobility of a much smaller player.
There are raw edges to his game, but that is part of the appeal. Caddy is a hard-working player who harbours midfield aspirations, but who looks likely to find a home as a second key forward.
12. Jake Rogers
MID, Allies/Gold Coast Suns Academy
Another gun from the Gold Coast academy headed to the Suns, Jake Rogers is a slick but solid midfielder who can win his own footy and break lines with it.
Rogers is another player whose height — or lack thereof — may count against him in the eyes of some, but it's not something you notice when you watch him play. Rogers is a tough and skilful player who the Suns will be delighted to welcome.
13. Caleb Windsor
MID, Vic Metro/Eastern Ranges
Caleb Windsor's pace and skill by foot have seen him move quickly up draft boards late in the year, and he is likely to be among the first midfielders selected.
In short, he is the sort of player you want to get the ball to on the outside of stoppages. He is a damaging player who could find a home on a wing for an AFL club quickly.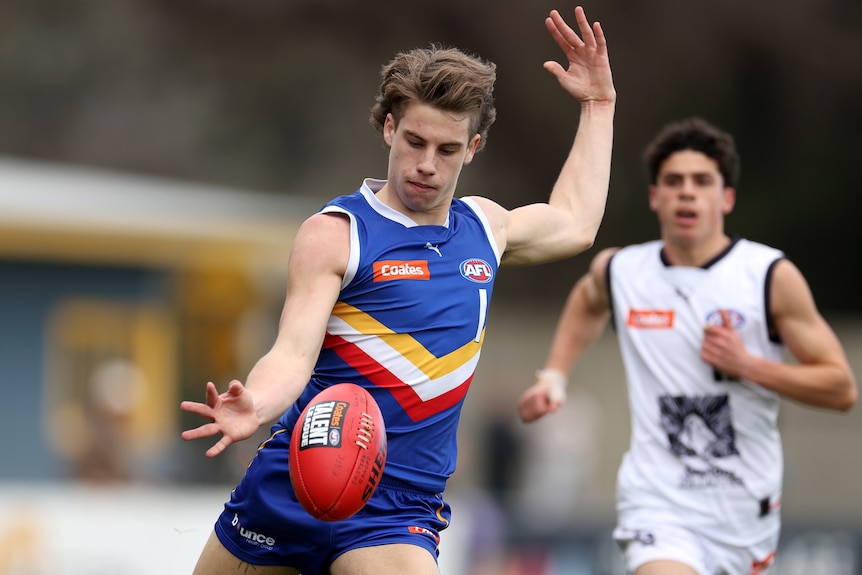 Caleb Windsor's pace and kicking ability make him an appealing wing prospect.(Getty images: Jonathan DiMaggio)
14. Ollie Murphy
DEF, Vic Metro/Sandringham Dragons
There is scope for Ollie Murphy to become the best key defender in this draft. His lanky frame is some way away from being AFL ready, but clubs will see the positives in him.
Murphy is a fantastic intercept marker, and has good skills for a 200cm player. He might take a bit of time, but there is much to like.
15. Darcy Wilson
MID, Vic Country/Murray Bushrangers
Darcy Wilson is a tall midfielder who can push forward from a wing to hit the scoreboard. Wilson tested exceptionally well at the draft combine, but he's more than just an athlete.
In fact, the challenge for Wilson might be to find a way to use his athletic gifts more than he currently does. But he has still been a reliable player through his under-18 year, and pleasingly has scope for improvement.
16. Jordan Croft
FWD, Vic Metro/Calder Cannons
The Western Bulldogs are excited by Jordan Croft, a father-son prospect who will attract a first-round bid.
Croft is an athletic key forward who excels in the air. He's some way off being AFL ready, but the Dogs are in a good position to allow him time to develop.
17. Will McCabe
DEF/FWD, SA/Central District
Another father-son prospect, Will McCabe will end up at Hawthorn likely via a first round bid.
McCabe can play as a tall at either end of the ground, but looks most likely to make a home in defence. He is dominant in the air and a fine athlete, boasting plenty to get the Hawks excited.
18. Charlie Edwards
MID, Sandringham Dragons
One of the real late risers of the draft Charlie Edwards, didn't feature at the national carnival but excelled for the Sandringham Dragons on their way to a Coates League premiership.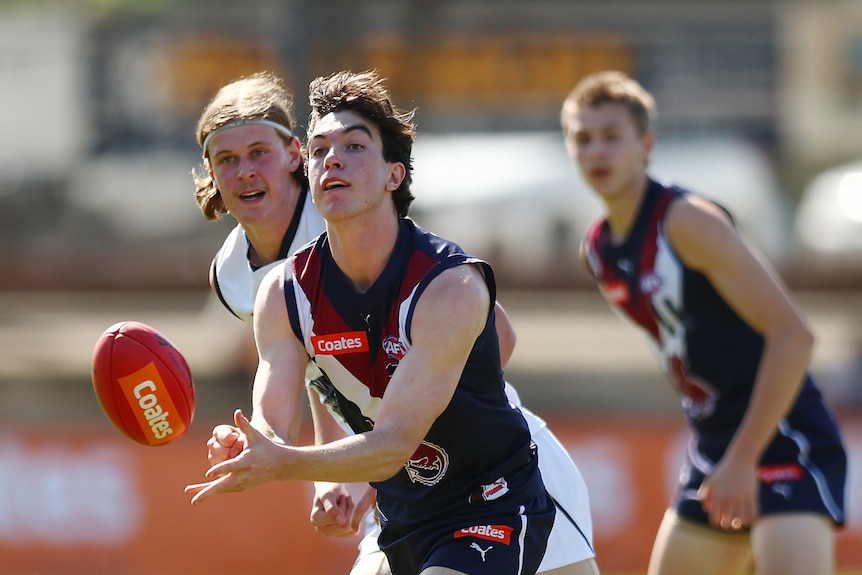 Charlie Edwards has rocketed into first round draft contention.(Getty images: Graham Denholm)
Edwards is a tall and agile midfielder, who can frequently be seen busting out the front of stoppages. There is an element of the unknown about him, but clubs are intrigued by his assets and could see him as a point of difference in an otherwise even draft.
19. Caiden Cleary
MID, Allies/Sydney Swans Academy
Sydney academy prospect Caiden Cleary isn't the flashiest midfielder in the draft, but he's one of the most reliable.
The Swans will relish his hard-at-it, in-and-under attitude to complement the abundance of midfield flair they already possess.
20. Koltyn Tholstrup
FWD/MID, WA/Subiaco
Having spent much of his season with Subiaco's WAFL side, Koltyn Tholstrup looks immediately ready for a step up to AFL level.
He will be a hard-working pressure forward in his early years, but has the weapons to add midfield minutes to his repertoire.
21. Angus Hastie
DEF, Vic Country/Geelong Falcons
An electric rebounding defender, Angus Hastie separates himself from other half-backs in the draft pool with his ability to play on small and tall opponents.
Lightly framed but lightning quick and good in the air, Hastie has the attributes to become an excellent two-way player in defence.
22. Phoenix Gothard
FWD, Allies/Murray Bushrangers
Phoenix Gothard makes the most of his limited touches, always looking to impact games in a positive way.
His speed and agility make him a dangerous small forward, but he is also a very intelligent player adept at finding pockets of space and using the ball well.
23. Lance Collard
FWD, WA/Subiaco
If Lance Collard maximises his potential through an AFL career, he will become one of the most exciting players in the league.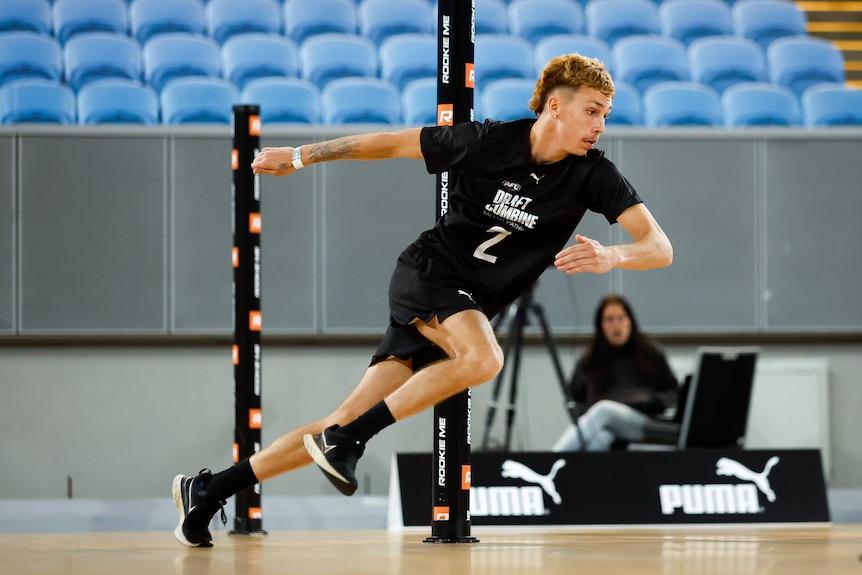 Lance Collard is among the quickest and slickest players in the draft.(Getty Images: Dylan Burns)
Another speedy small forward who is tall enough to play as a leading option and can fly for his marks, Collard is raw and undersized but will be one of the most intriguing project players of this draft.
24. Taylor Goad
RUC, SA/South Adelaide
Splitting the rucks at this stage of the draft is a tricky task, but Taylor Goad earns some favour through his rare athleticism and speed — Goad recorded the eighth fastest 20m sprint time at the combine — for a man his size.
At the moment it's fair to say he's more athlete than footballer, but those elements of his game will surely come. With Goad, there is just so much to work with.
25. Riley Hardeman
DEF, WA/Swan Districts
A leader for WA and a well-regarded member of the AFL Academy this year, Riley Hardeman is another attacking half-back option.
Hardeman is a strong runner and more of a physical presence than his size would indicate, but it's his laser left boot that — although sometimes can be a little wayward — looms as his greatest weapon.
26. Will Green
RUC, Vic Metro/Northern Knights
In contrast to Taylor Goad, Will Green might be the most polished ruck prospect in this draft. His reading of the play and tap work is already very strong.
Green doesn't have the athletic profile of some of his contemporaries, but he looks like becoming a very strong and reliable AFL ruckman.
27. Archie Roberts
DEF, Vic Metro/Sandringham Dragons
A quick and aggressive defender, Archie Roberts' willingness to take the game on will endear him to recruiters.
Roberts has had stints on a wing throughout the year, but fits best of a back flank looking to rebound with pace and precise kicking.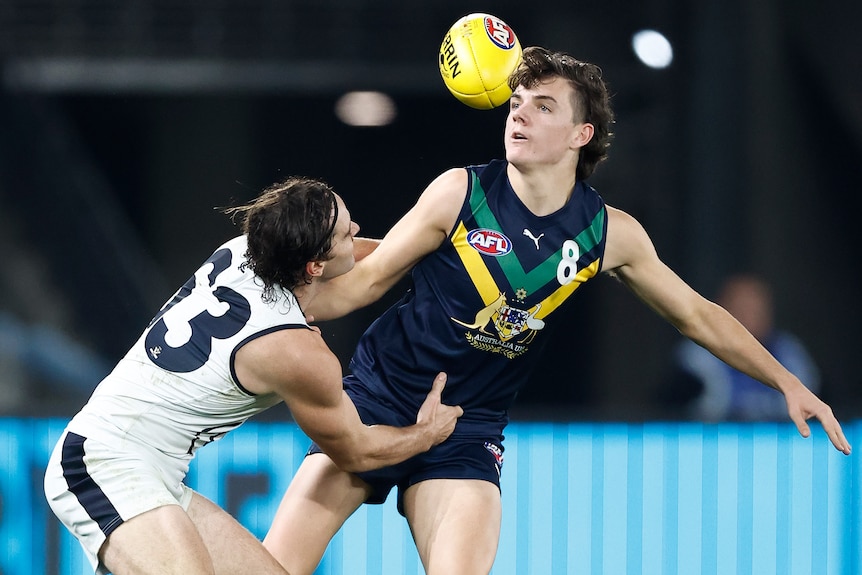 Archie Roberts is a dashing defender with leadership potential.(Getty Images: Michael Willson)
28. Logan Morris
FWD, Vic Metro/Western Jets
In a draft short of key forward options, opinions on Logan Morris will vary widely.
Morris is prone to drifting out of games and isn't quite as tall as most genuine key forwards, but at his best he is a commanding aerial presence and reliable goal kicker.
29. Harry DeMattia
MID/DEF, Vic Country/Dandenong Stingrays
It's impossible to miss Harry DeMattia on the field, with his long curly mane flowing behind him as he sets off on one of his many bursting runs.
DeMattia's strength and pace will make him an option off half-back or in midfield, and his work rate generally makes up for his occasional lack of polish.
30. Zane Zakostelsky
DEF, WA/Claremont
Zane Zakostelsky made a move up draft boards with his late-season performances for Claremont colts, as he showcased his appealing athletic gifts with runs in the ruck and in defence.
The backline is where he will likely make a home in the AFL. His kicking needs work, but as one of the youngest players set to be taken in the draft the scope for rapid improvement is clear.
Source: AFL NEWS ABC