When Collingwood and Brisbane run out onto the MCG for Saturday afternoon's AFL grand final, more than a dozen players will be carrying on a family legacy at the highest level of the game.
Key points:
Nearly 20 players on Collingwood and Brisbane's lists are sons or descendents of former VFL/AFL players
Magpies captain Darcy Moore will be presented the cup by his father Peter if they win the grand final
This will be the sixth VFL/AFL grand final a Daniher has played in
Thirteen players likely to be named in the Magpies and Lions' squads for the grand final are sons of former VFL/AFL players.
A further six players on the clubs' lists who won't play on Saturday also have former footballing fathers.
The famous father-son rule accounted for many of those selections, including Collingwood's captain Darcy Moore and the talented Daicos brothers, Josh and Nick.
The family links will be highlighted on the biggest stage — literally — should the Magpies win the grand final, as Moore's father Peter will hand his son the premiership cup on the dais.
Peter Moore, a legend of the Collingwood Football Club in his own right, never won a flag with the Pies but could soon find himself a part of an historic moment for the club.
"It's a massive thrill and it's a great honour that the club has asked me to do it," Peter Moore said.
"Obviously me not winning one, I played in five for four losses and a draw all for Collingwood so to get the opportunity to present the cup to Darce will be fantastic."
Peter Daicos will watch his sons Josh and Nick play key roles on grand final day, while Brisbane's Jaspa Fletcher — son of Adrian, who played for the Lions during the 1990s — will be the youngest player on the ground on Saturday.
The talented Daicos family will descend upon the MCG on grand final day.(Getty Images: Dylan Burns)
But beyond the players with paternal links to their clubs, a number of other players will take famous bloodlines into grand final day.
The Daniher name is synonymous with Australian rules football, and Joe Daniher will make this the sixth VFL/AFL grand final featuring that famous surname on the team sheet.
Joe's father Anthony played for South Melbourne/Sydney and Essendon over a lengthy career, as did his uncle Terry, while uncles Chris and Neale played only for Essendon.
Fellow Lion Josh Dunkley will play his first grand final 27 years after his father Andrew lined up for Sydney in the 1996 decider.
Tom Mitchell's father Barry was on Carlton's list during their premiership season in 1995, but he was not in the grand final team.
Brayden Maynard's father Peter played eight games for Melbourne in the early 1980s, while his grandfather Graham Campbell played 151 for Fitzroy from 1956-1964.
The list goes on. Jarryd Lyons's dad Marty played for Melbourne between 1975 and 1977, Brody Mihocek's father Jack was on Essendon's list in the 1970s and Darcy Wilmot's late father Grant played five games for Collingwood in 1980.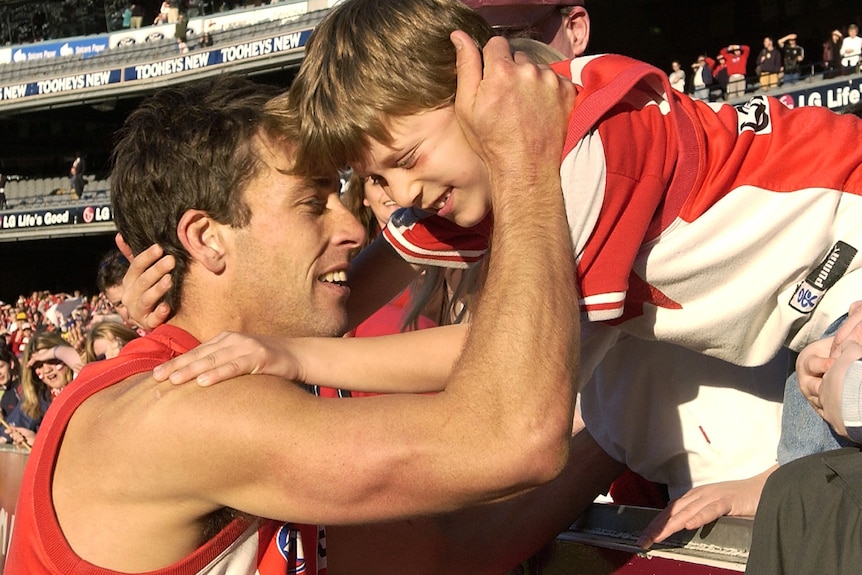 Andrew Dunkley hugs his son Josh after his last game for Sydney in 2004.(Getty Images: Robert Cianflone)
Will Hoskin-Elliott's great-great-grandfather Charlie Norris played 18 games for Collingwood and a further 106 for Fitzroy between 1910 and 1918. He won one premiership with the Pies and two with the Lions.
The family influence extends to the grandstands, where Lions' youngster Will Ashcroft will be forced to watch on due to an ACL injury earlier in the season. Son of three-time premiership Lion Marcus, Will will be soon joined by brother Levi in the Lions' den when he is eligible for the 2024 draft.
Also watching on will be John Noble, son of former Fitzroy player David, Ed Allan, son of Hawthorn and Fremantle's Ben, Tyler Brown, son of Collingwood legend Gavin, Will Kelly, son of another Magpies defender Craig, Jaxon Prior, son of former Bomber and Eagle Michael, and Darryl McDowell-White, son of Lions legend Darryl.
Another chapter in Australian football's rich history will be written on Saturday, and with it the furthering of family legacies within the game.
Whether it's the Moores or the Fletchers celebrating come the final siren, the win will also be one for the league's unique father-son system.
Source: AFL NEWS ABC