The fixture for next year's AFL Gather Round has been announced, with all 18 teams again travelling to Adelaide in April.
Key points:
The inaugural AFL Gather Round was held in April, with all 18 teams travelling to Adelaide
The fixture for next year has been released, with Adelaide, Norwood and Mount Barker ovals to again host games
The dates for Adelaide's next LIV Golf competition has also been locked in for next year
The inaugural event was held in Adelaide earlier this year, and it was later confirmed the state would host for another three years.
The four-day program will begin on April 4 with five games at Adelaide Oval, two at Norwood Oval in the eastern suburbs, and two in the Adelaide Hills town of Mount Barker.
The three venues remain the same as the inaugural event, despite calls for other regional centres such as Mount Gambier or the wine region of the Barossa Valley to be considered.
South Australian Premier Peter Malinauskas said he would "have loved to have had a game at the Barossa" next year, but AFL-level infrastructure was needed first.
"In 2025 we will have that in place," Mr Malinauskas said.
Summit Sports Park in Mount Barker will host two games in April.(ABC News: Trent Murphy)
AFL chief executive Andrew Dillon said the inaugural Gather Round this year was an "overwhelming success, with all nine games sold out".
"We saw more than 260,000 fans attend, more than 40,000 people travelling in from interstate and over 1,000 player appearances across local footy clubs and schools," Mr Dillon said.
The four-day event will also include a food and wine festival at Norwood, and a family-friendly Footy Festival in Adelaide's CBD.
While ticketing details were yet to be finalised, Mr Dillon said club and AFL members will again receive free access to their club's games.
"And we're working through a family ticket with kids in free, and multi-day passes," he said.
South Australian Premier Peter Malinauskas said next year's fixture was created with "a few tweaks" from the inaugural event's program.
"Both South Australian teams are not participating in a double-header, we think that's a step in the right direction," he said.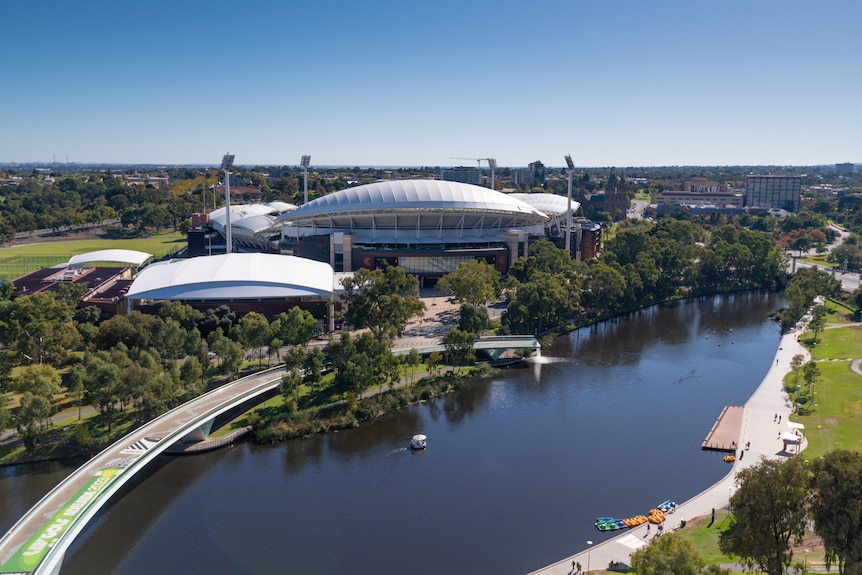 Both the AFL Gather Round and LIV Golf return to Adelaide next April.(ABC News: Che Chorley)
Yesterday, the state government announced Adelaide's next LIV Golf competition would be held at the Grange Golf Club from April 26-28, as part of its four-year agreement.
Mr Malinauskas said both events "exceeded" the government's expectations.
"The challenge now is to keep that heading in a north direction in terms of the economic impact on the state and we're hopeful that can be achieved next year, just through interstate visitation increase," he said.
In July, the ABC revealed several of the AFL's highest-paid players had received taxpayer-funded perks as part of the state government's promotion of the inaugural Gather Round.
When asked whether a similar strategy would be used for next year's event, Mr Malinauskas said the South Australian Tourism Commission has a budget to "showcase the state as best as it possibly can".
"We would be mad not to use the leverage and the profile that top AFL players have to be able to broadcast images around the country, so we make this investment to showcase this state," he said.
"So the SATC [South Australian Tourism Commission] has a range of options available to it about how to do that, but partnering with AFL talent is an obvious way to do that."
Source: AFL NEWS ABC