The footballer on the field at the MCG celebrating the premiership is someone she used to know. The footage has that grainy look of a past era. It is Danielle Laidley's own history.
The years between then and now have been filled with heartache, humiliation and hope.
"You see during the documentary that footage … when I'm at my worst is so, so very real," she said.
"That still garners some pretty raw emotions."
But when Danielle looks back at those pictures of the premiership player she once was — she feels a sense of pride.
Danielle shares in her new documentary how her loved ones helped her come out stronger on the other side.(Supplied: Stan Australia)
Danielle Laidley is taking back control of her own story.
She has survived being outed as a trans woman by Victorian police when copies of confidential mugshots were passed around. She has survived the drugs she turned to when she was at her lowest ebb.
And she has survived having family turn on her.
Enough time has passed, she says, for some of the emotion to dissipate. And next week she begins another chapter of her life when the documentary Revealed: Danielle Laidley: Two Tribes has its premiere on Stan.
It is Danielle's story, from a childhood in Perth, to a footballing career with the West Coast Eagles and North Melbourne and the gender dysphoria that wasn't diagnosed until her life was spiralling out of control.
This is not an easy story to tell.
She is grateful for the publicity in the lead-up to its release but when we talk it's clear she's feeling the strain of retelling stories from the most private moments in her life.
"It was really, really difficult to deal with.
"It was only for a short space of time in my life, but it really was the devil," Danielle tells ABC News Breakfast.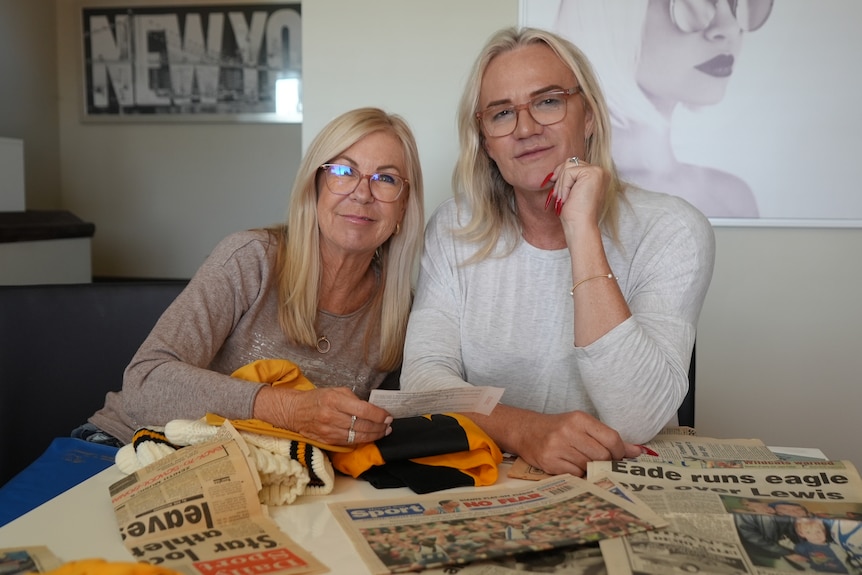 For Danielle her partner Donna Leckie has been a source of support and love in the tough times.(Supplied: Stan)
They have made difficult decisions with this documentary.
A trans person's given name is considered dead and it is hurtful to use. But Danielle has used that name in this documentary and pictures of him.
They flash up early in Two Tribes, adding to the searing detail of a life that had clearly been tormented.
There are wedding photos and baby photos and a transition to a photograph she wishes had never been seen.
It is Danielle, dressed in a tight white outfit with heavy makeup, posing for photos that were sent by accident to her children. She'd been chatting with them previously on Snapchat. She'd meant to save the photo, not send it.
It was the first they knew of their father's other existence.
The film is searing in its detail.
"The good, the bad and the indifferent." For Danielle, it was important to include it all in this documentary.
"If we are going to cover my story, in my own words, we need to cover the whole gamut," she says.
How does she feel when she looks at that footage of herself as a young ambitious footballer?
"The overriding emotion is confusion, loneliness."
"I had a wonderful first phase of my life and going through the editing phases, when I look back on it I'm even more proud of it now watching it and reflecting back and seeing myself as I was back then," she says.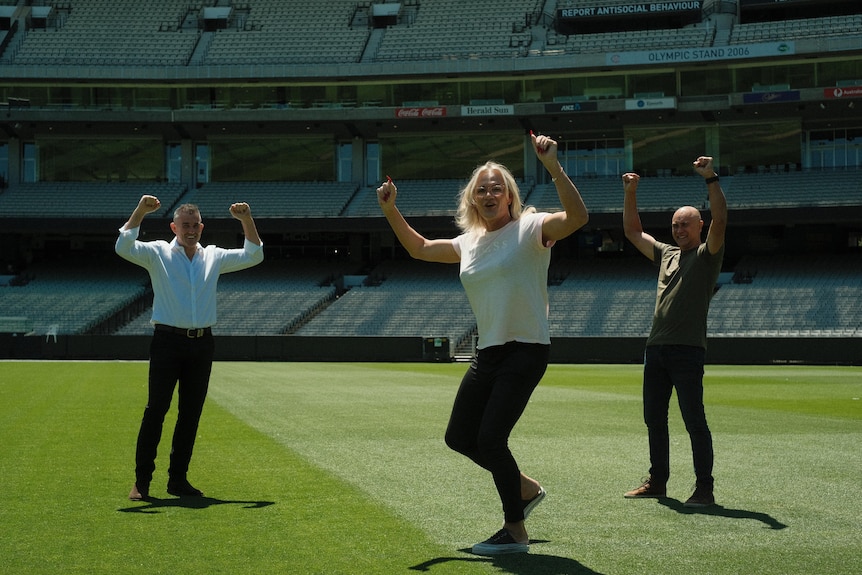 Danielle Laidley with former teammates Anthony Stevens and Wayne Schwass.(Supplied: Stan Australia)
"I am very proud of this first phase of my life" says the former AFL player and coach.
But that was just Act 1. The two tribes in her life are the trans community and the football community and she gives each equal time and commitment.
Along with writing a book and creating a documentary, Danielle has also been working on putting together a diversity inclusion program with the AFL for next year.
Danielle wants to show young gender diverse kids, they can be who they want, "they can find love".
She hopes the football community will watch Two Tribes.
Despite the support on-screen — and off — from CEO Gill McLaughlin and other former teammates, she knows the AFL has a long way to go in helping someone facing the same kinds of struggles she did.
She tells us in the film that she'd been saved by the people around her.
She had been living a lie for so long that she didn't know how to "get off this toxic dance floor".
Her son, consumed by empathy for his father, features in the documentary. So does the woman she first met in 1973 in primary school and who was an off again, on again girlfriend.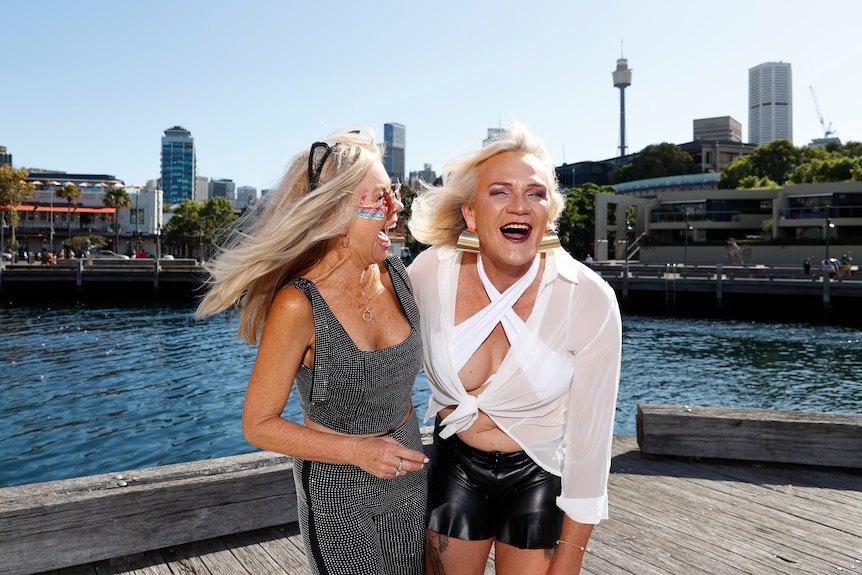 Danielle with partner Donna Leckie celeberating Mardi Gras this year.(Supplied: Stan)
Donna Leckie says she has always loved the person she's now known for 50 years.
Watching the documentary after it was complete, Danielle reflected on who she was.
"I am continuing to grow," she said.
"I am also very proud — now that I can be authentic and live my life," she adds.
Danielle is "at peace" now. But she wouldn't wish on anyone the pain she has gone through, to have her story taken out of her hands, becoming a headline for gossips and the target of abuse.
But with this film she is taking another step in telling a narrative that she hopes will help others.
Revealed – Danielle Laidley: Two Tribes is available to stream on Stan from September 19.
Source: AFL NEWS ABC