September. It's an exciting time in the Aussie rules calendar and in Melbourne, the city comes alive with footy fever — at its beating heart, the AFL grand final at the MCG and the beginning of the AFLW season.
For local footy, competitions across Victoria also come to their much-anticipated and exhilarating conclusions. It's grand final season.
At a leafy green suburban oval, one such premiership match, a clash between two powerhouse clubs — Port Melbourne Colts and the Darebin Falcons.
But the players who took to the field for this match were not your ordinary footy stars. They were extraordinary older women relishing the chance to play a sport that, for many, seemed a pipedream a mere five years ago.
Darebin player and current Essendon AFLW Coach Natalie Woods breaks away from the pack and steadies herself to kick the ball upfield.(ABC Sport/Siren Sport: Kel Rowe)
The advent of AFLW in 2017 has seen female participation numbers in Australian rules skyrocket, and that growth hasn't been limited to just young women and girls now going through development pathways.
The AFL Victoria Masters league launched its inaugural women's competition in 2018, a modified version of the game that encouraged over-35s to continue or reconnect with the game they love.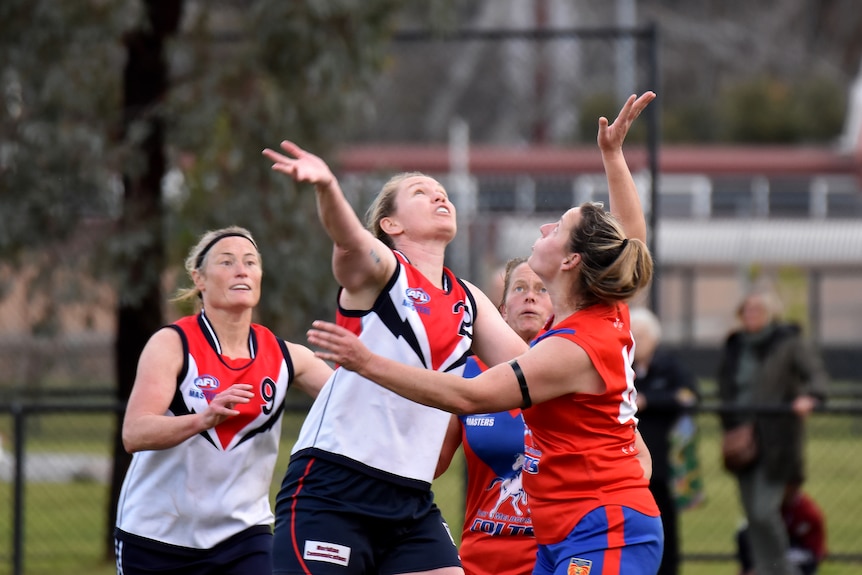 Darebin player Aasta O'Connor competes as ruck in a stoppage battle with her opposition. O'connor retired from top-flight footy in 2021, having been AFLW-listed with both the Western Bulldogs and Geelong Cats.(ABC Sport/Siren Sport: Kel Rowe)
Women who were previously sidelined from footy — and many who had resigned themselves to supporting others to play the sport — now have an opportunity to play themselves.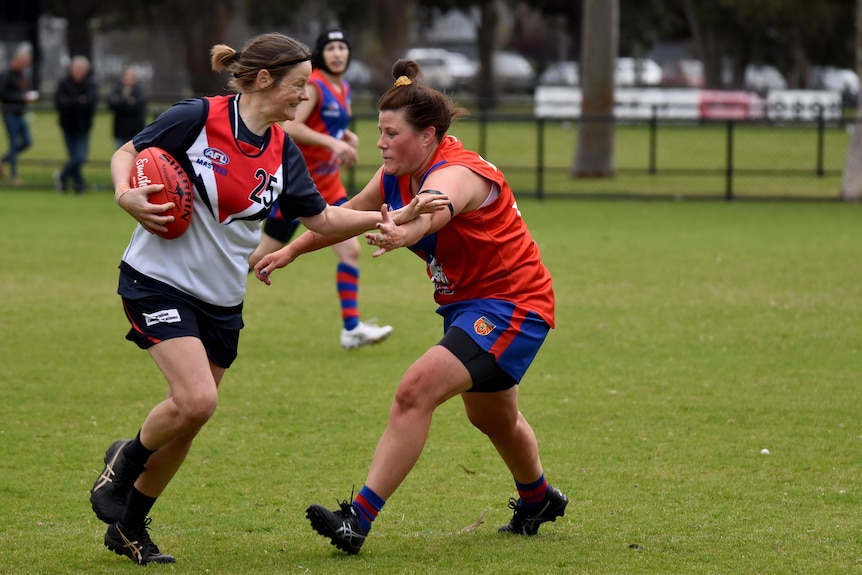 Darebin player and former Melbourne AFLW assistant coach Jane Lange fends off a tackle from her Port Colts opposition.(ABC Sport/Siren Sport: Kel Rowe)
Millie Brown, Michelle Lewis and Rebecca Fisher are just three of these remarkable women taking up the challenge of Masters footy.
Millie Brown grew up around football, thanks to her dad, Donald Brown, who played for Footscray in the Victorian Football League (VFL). As kids, she and her brother lived for the game, mimicking the footy heroics of their idols in the backyard every chance they could.
"I dreamed of being the first female AFL player. But there was never an avenue for me to play football as a female, so I took up tennis, golf, and hockey," Brown said.
"Then, after 35 years of wanting to play the game I loved, the opportunity arose, and I couldn't be happier."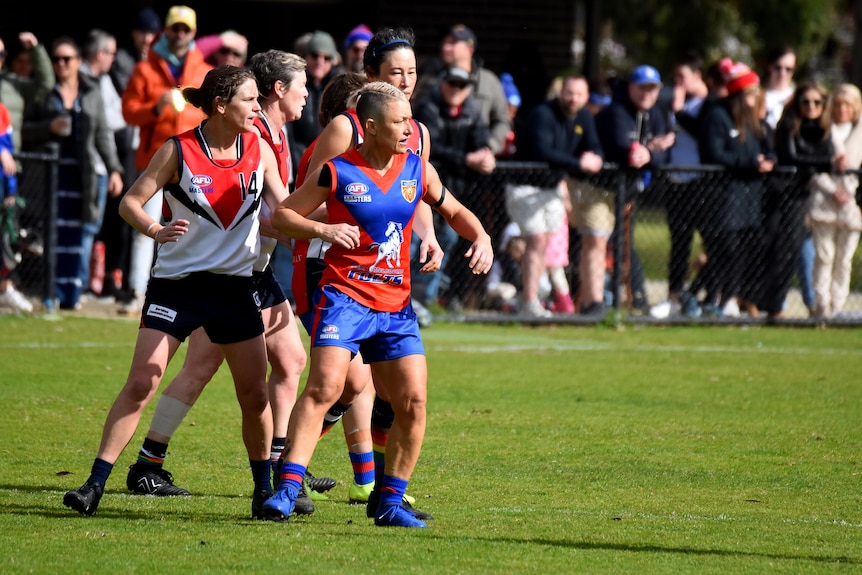 Port Colts player Millie Brown jostles for space in front of her Darebin opponents.(ABC Sport/Siren Sport: Kel Rowe)
Brown plays her footy for Port Colts, one of the two sides who challenged for the premiership in this year's grand final. While she thrives on the physicality and skill required in footy, it's the Colt's culture and community that she values most.
"I obviously love the game, [but] the community and social connection are what I love the most and what I benefit the most from," she said.
"I have never been part of such a supportive, caring, and professional group of people in sport before.
"The inclusiveness, camaraderie, and genuine love we have for one another at the club is like nothing I've ever experienced before. We are family."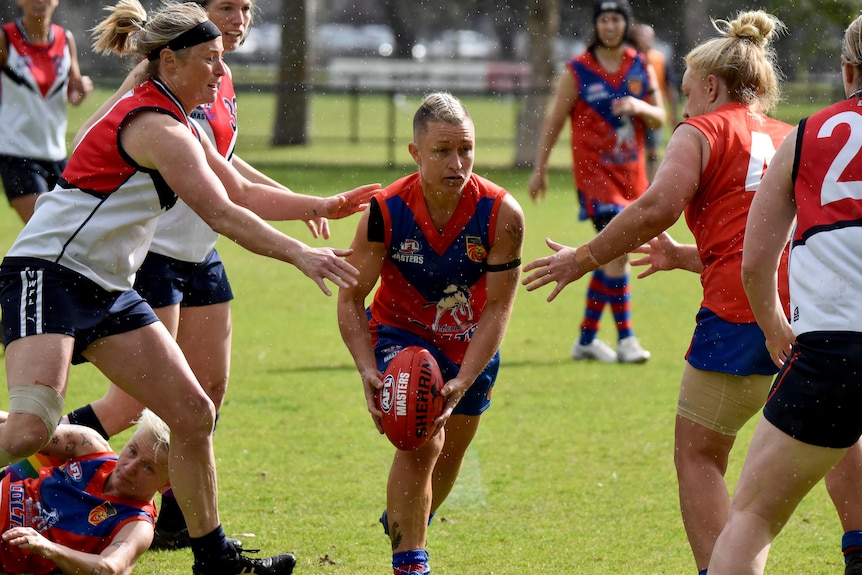 Brown breaks though the congestion, ball in hand.(ABC Sport/Siren Sport: Kel Rowe)
Brown's actual family are an important part of her footy experience too. Her kids have been welcomed into the club community and help on game day to get their mum's side onto the ground.
Do you have a story idea about women in sport?
Email us abcsport5050@your.abc.net.au
"I have three young kids and I feel it's important for me to role-model positive and healthy ways of living … it's important for them to watch strong women play sport and to also see other families and whole communities supporting women in sport," Brown said.
Like Brown, teammate Michelle Lewis loves the environment that Masters footy offers.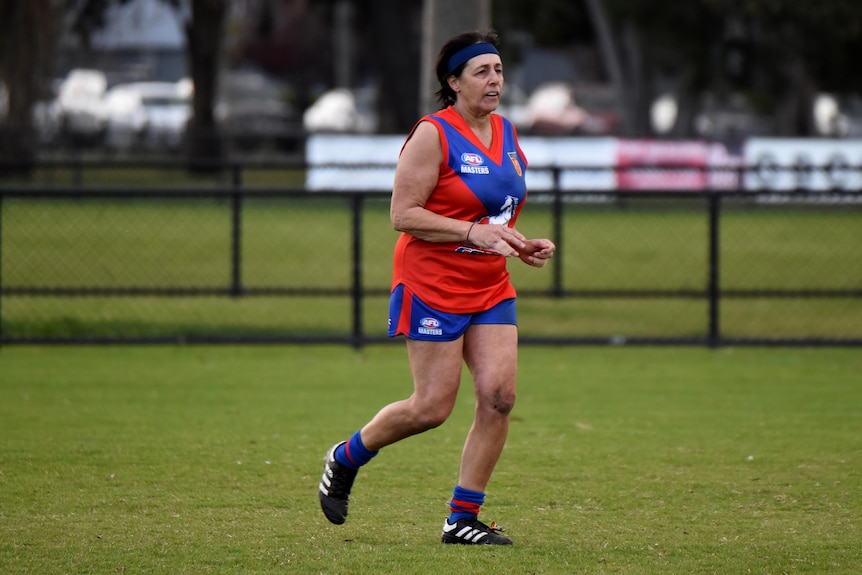 Michelle Lewis runs towards the boundary during the Over 35s Grand Final match.(ABC Sport/Siren Sport: Kel Rowe)
"I love training — and playing every second week is perfect — with a bunch of wonderful people who play footy, have a laugh, and enjoy each other's company," she said.
Lewis and Brown have a shared footy history, with both playing a season together at West Footscray Football Club before joining the Masters competition.
Lewis has been a mad Carlton supporter since childhood and always wondered what it would be like to play the sport. When her local club started a senior women's side, it was an opportunity too good to pass up.
"Although feeling anxious and maybe too old for footy, I gave it a go, and loved it," Lewis said.
Port Colts player Michelle Lewis takes a kick-out for her side.(ABC Sport/Siren Sport: Kel Rowe)
Rebecca Fisher, another Port Colts teammate and vice-captain of the side, also began her footy career in a senior league before moving to Masters.
Fisher grew up on a farm in country Victoria and, despite loving football since she was a young girl (her much-loved and well-worn Hawks jumper is testament to this) she had to wait until 39 years of age to make her footy debut.
"I started in a local Ballarat seniors league, then in the same year, played Masters alongside my best friend from high school," she said.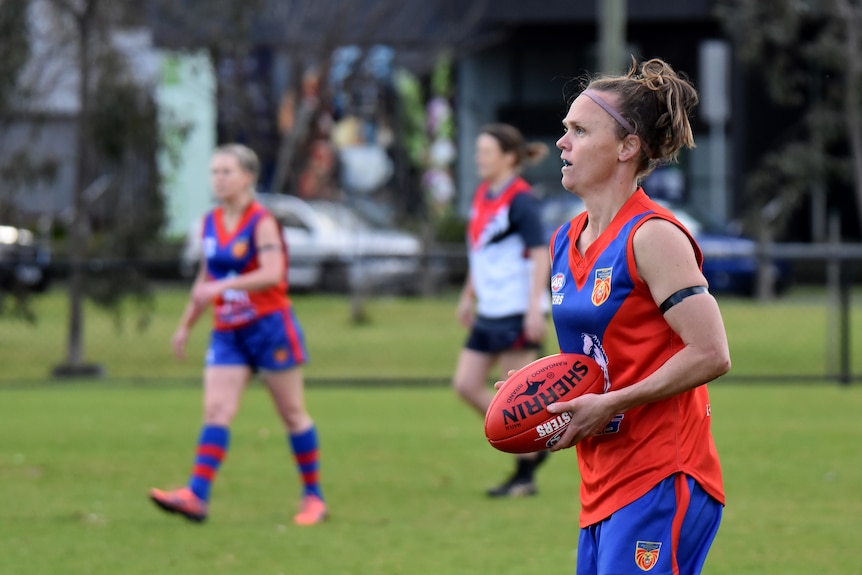 Port Colts Vice-Captain Rebecca Fisher prepares to take a free kick for her side.(ABC Sport/Siren Sport: Kel Rowe)
Fisher is a fan of the fortnightly fixture of the competition, as it gives her body time to recover, and values running out onto the field with her like-minded teammates. And five seasons in, she still gets a thrill from playing footy.
"I almost feel like a kid again. I have loved this game for such a long time and finally being able to play makes me happy," Fisher said.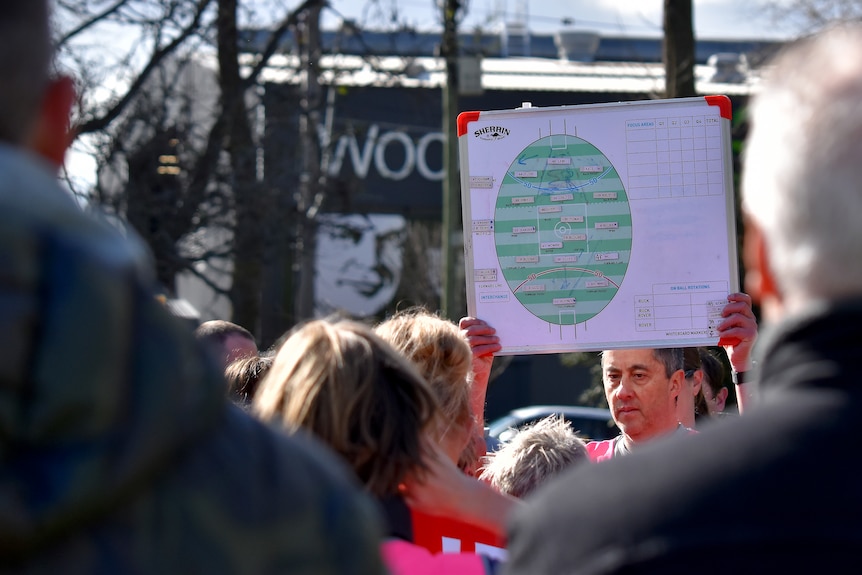 Inside the Port Colts huddle at three-quarter time.(ABC Sport/Siren Sport: Kel Rowe)
At the final siren on Saturday, September 9, the Colts were pipped in their grand final efforts by just nine points, with the Falcons claiming the premiership title for the season.
But that special camaraderie that all three women acknowledged in their own side extends across the competition — and saw both teams together in the clubrooms post-game, for a collective celebration over a well-earned drink.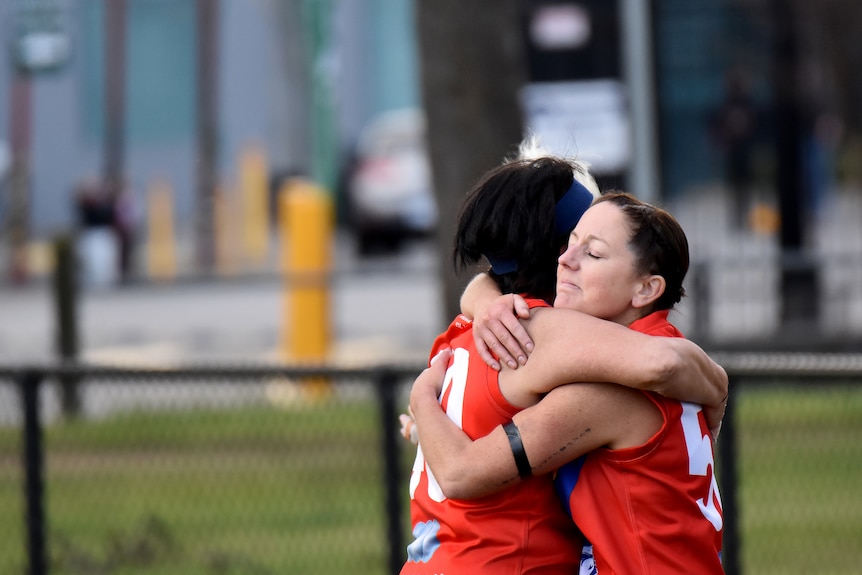 Port Colts player Michelle Lewis embraces her teammate at the final siren. The side were defeated by the Darebin Falcons by 9-points.(ABC Sport/Siren Sport: Kel Rowe)
Disappointed but not deterred, Lewis says she'll be back for another season.
"I enjoyed playing in my first ever footy grand final, we fought hard to go down by such a small margin. I will be back for more in 2024."
ABC Sport has partnered with Siren Sport to elevate the coverage of women and non-binary people in sport.
Kel Rowe is a creative storyteller whose skills are founded in both publishing and not-for-profit spaces. She has combined this experience with her love of footy and currently freelances as a photographer and journalist in sports media.
Source: AFL NEWS ABC