As Brisbane captain, Michael Voss literally had the keys to the city.
Now, he's a "Carlton person".
But long-time teammate Jason Akermanis says Voss will always have a Lion's heart.
"As he said in the press, he's the Carlton coach now," Akermanis said.
Michael Voss
As a player
Brisbane Bears (1992-1996): 79 games, 72 goals
Brisbane Lions (1997-2006): 210 games, 173 goals
3 x premierships – 2001, 2002, 2003 (Lions)
Brownlow Medal 1996 (Bears)
5 x All-Australian
2 x Leigh Matthews Trophy (AFL MVP)
As a coach
Brisbane Lions: 2009-2013
Carlton: 2022-
"But he'll always be a Brisbane player."
Voss returns to the Gabba for Saturday's preliminary final as Carlton coach and Brisbane hall of famer.
What's that going to feel like?
"I dunno," Voss said after Carlton's semifinal win against Melbourne.
"It should be exciting though. But without doubt, the person that is going there is a Carlton person."
Voss was born in Traralgon, Victoria. He grew up a Carlton supporter.
When he was 11, the Voss family moved to Beenleigh in south east Queensland.
Voss's footy skills quickly demanded attention and, aged 15, he made his QAFL debut for Morningside.
Aged 17 years and 11 days, Voss in 1992 became the Brisbane Bears' youngest debutant — against Fitzroy, the club destined to merge with the Queensland expansion side at the end of 1996.
The Bears became Lions — Voss, Akermanis and current Collingwood coach Craig McRae among them.
The trio would soon help put the Lions on the Brisbane map, winning three consecutive premierships from 2001 and given the ceremonial keys to the city.
Michael Voss (#3) and Jason Akermanis became stars as part of the triple premiership-winning Brisbane Lions side of the early 2000s. (Getty Images: Tony Feder)
"I grew up here," Akermanis said of Brisbane.
"When I started playing we had 12,500 members.
"And the end of 2003, '04, it was around 33,000, so it definitely changed.
"By the end we were very recognisable, very famous in the city. It was really cool.
"I probably stood out, I had the rock star (image) but Vossy was quite recognisable.
"We had a bigger reach because by then, we were playing the finals, we were all on TV, all on radio, all in the papers. No-one didn't know who we were by then."
Voss became arguably the Lions' greatest player, feted as Brisbane's triple premiership captain, Brownlow medallist and five-time All Australian.
He ended his decorated 289-game playing career at the end 2006 — the same year Akermanis moved to the Western Bulldogs and two years after McRae retired.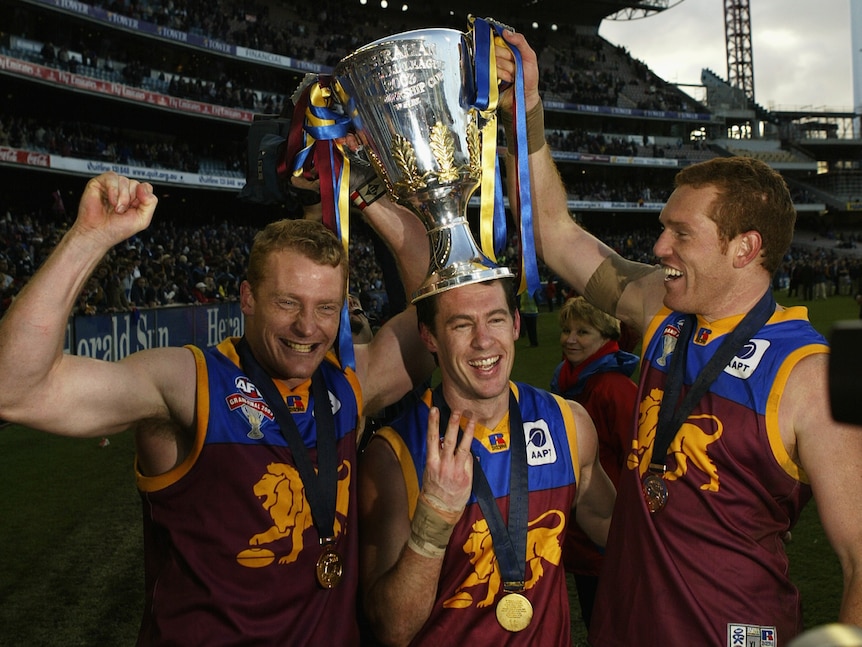 (L to R) Michael Voss, Craig McRae and Justin Leppitsch were triple premiership players for Brisbane, but now they are coaches for rivals Carlton and Collingwood.(Getty Images: Hamish Blair)
Now Voss coaches Carlton, and McRae is in charge at the Magpies, with another Lions triple premiership player — Justin Leppitsch — as his assistant.
"They're all competitive beasts and want to whoop each other," Akermanis said of the current-day head coaches.
"It was a very competitive playing group. That is why we were so successful.
"Craig McRae worked at Brisbane when Vossy was coaching as well.
"It's crazy that 12 years on, they're still in footy and both their teams are in prelims."
In 2009, Voss, aged 33, was appointed Brisbane coach.
He immediately took the Lions to the promised land: his first final was an elimination match against Carlton, for a seven-point win.
The Lions lost the semifinal and missed the play-offs in the next four years under Voss, who was sacked by the club towards the end of the 2013 season, with Brisbane still among the chances to make the finals.
"He was probably a bit green," Akermanis said of Voss's first stint as an AFL head coach.
After spending 2015-2021 as a Port Adelaide assistant, Voss won the head coaching role at the club he first supported.
Carlton's first season under Voss ended in agony, with a last-gasp loss in their closing home-and-away game costing them a finals berth.
This year, Carlton wobbled early before recovering to take fifth spot.
"Where he was at earlier in the year and how he's turned it around, that's the difference with his experience," Akermanis said.
Two sudden-death final wins later and Voss's wheel is about to turn full circle.
AAP
Loading
Source: AFL NEWS ABC