The Brisbane Lions had a great season in 2023, but it will not mean much right now to Chris Fagan and his team after a heartbreaking loss to Collingwood at the MCG.
The Lions know full well that runs of successful seasons don't just happen: you have to take advantage of them when they come, and turn them into grand finals and premiership wins.
The Brisbane side of the early 2000s knew this very well, and made hay when they could — there is no dishonour in being beaten in a fourth grand final after three straight flags.
But following the loss to Port Adelaide in 2004, it took 19 years for Brisbane to get back to the MCG for the biggest game of the year.
Moments, not statistics decide epic
Coming into the game, the consensus was that whoever won the clearances would be odds-on to emerge victorious.
Of the 16 times the Lions won the clearances in 2023, they won 14 times and lost just two. There was an even more lopsided record for the Magpies.
So, the battle in the middle was more anticipated than ever, but as goes the saying — there are lies, damn lies and then come statistics.
Led by their core four of Oscar McInerney, Lachie Neale, Josh Dunkley and Hugh McCluggage, the Lions won the clearances by six.
They took the advantage in centre clearances — their particular strength during the year — by four, and fought the Magpies to a standstill on contested possessions, 122-122.
They even kicked more goals, yet still lost (for only the second time ever in a grand final, along with Essendon in 1968).
This wasn't a game decided by statistics, but by moments and efforts and plays — either executed or not.
From Zac Bailey's umpteen pressure acts and smothers, to key goals by him, Joe Daniher, Charlie Cameron and others, the Lions pushed the Magpies to the limit.
For Collingwood, Bobby Hill's spectacular Norm Smith Medal-winning performance, Nick Daicos's incredible composure and vision, and Scott Pendlebury's stellar fourth quarter all made a difference.
In the end, Brisbane fell short by just four points — there have been only three closer games in the past 47 seasons, and those include two draws.
The biggest question left for the Lions after Saturday's game is whether they will remain in their 'window'.
Fagan guides Lions to the threshold
For Brisbane, the decade after the end of their previous premiership era was a roller-coaster with more downs than ups. There would be one finals series in 12 years from 2005 to 2016 —a rock-bottom, three-win year — prior to Chris Fagan's arrival at the club in 2017.
Under Fagan, the Lions have rebuilt, winning five games in 2017 and 2018, to 16 wins and a top-two finish in 2019.
But finals remained a problem.
Since 2019, Brisbane has averaged 16.4 wins a season, building to 19 this year. But before 2023, the Lions had lost five out of six finals, and the pressure was on.
Those 19 wins in 2023 saw them finish second and again hold destiny in their hands.
The qualifying final at the Gabba was straightforward, as Port Adelaide was eliminated without much fuss. Then they overcame Carlton's torrid start to clinch a grand final spot.
The Lions had arguably the perfect match-up against Collingwood, a side they had beaten in six successive matches, including a 3-0 record against the Magpies under Craig McRae.
They had the number-one attack in the AFL, against a team that struggled to kick goals in finals.
They had the in-form defender in Harris Andrews, whose reliability heaped pressure on the Magpies' forward line.
So, given Brisbane scored 86 points, it should have equated to victory. But the most common thread defining Collingwood under Craig McRae is an ability to win close games.
While the Lions had a 5-1 record during the home-and-away season in games decided by 12 points or fewer, the team under Fagan is now 1-3 in finals decided by similar margins.
Where to from here?
Joe Daniher had a good season, kicking 61 goals in total including 10 in finals — but he will turn 30 early in 2024.(Getty Images: AFL Photos/Robert Cianflone)
Brisbane's loss is not the end of the world, but it is a blow.
There is plenty of young talent at the team, including Jaspa Fletcher and Will Ashcroft, Darcy Wilmot, Deven Robertson, Payne, Zac Bailey, Cam Rayner and others.
But across the Lions' key cohort, it's a different story.
Dayne Zorko is 34, Jack Gunston is 31, Lachie Neale is 30, Joe Daniher, Charlie Cameron, Oscar McInerney and Lincoln McCarthy are 29 or on the verge of turning 30.
Only Zorko would be seen as coming towards the end of his career, but this team has been up since 2019 and nothing is certain.
The Lions had an 8-2 record against eventual finalists in the home and away season, so their best compares favourably with the top teams.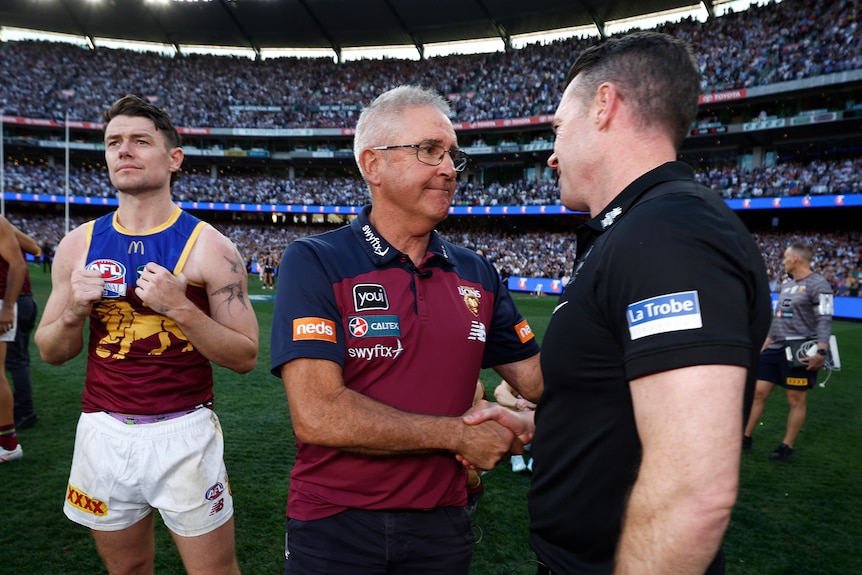 Lions head coach Chris Fagan (C) will fancy his chances of dethroning Collingwood in 2024, but there are no guarantees.(Getty Images: AFL Photos/Daniel Pockett)
In particular, they came within one kick of winning all three matches for the season against the premiers.
The "Fortress Gabba" factor is also a live one, with Brisbane a perfect 13-for-13 at home in 2023.
Everyone at the Lions will be confident they can bounce back and give the premiership another almighty shake in 2024.
But right now, the only thing that can be said for certain is that 2023 was a golden opportunity lost.
Sports content to make you think… or allow you not to. A newsletter delivered each Friday.
Source: AFL NEWS ABC