The story's already impossible enough.
This weekend is the first time in history Brisbane's AFL and NRL teams have both played in a grand final in the same season.
Now consider the men who've orchestrated the occasion:
One is a club legend – who's captained his club and state, won premierships and Origins – years before he even considered coaching.
The other is a former schoolteacher who never played top-flight football and became the oldest debuting coach in AFL.
They're two vastly different paths that could, this weekend, lead to ultimate glory:
A premiership. Two premierships. And both for Brisbane.
Imagine that.
Kevin Walters
If there's something to be done in a rugby league jersey, Kevin Walters has done it.
He's won premierships, Origins and World Club challenges.
He's captained his club and state, and he's shone, consistently, on the field from the moment he debuted in 1987.
Back then, Walters was wearing Canberra Raiders green. He was named the club's Rookie of the Year for his debut season.
Rumours circulated in 1989 that Walters would move to Brisbane – there's a video from the time of the young man trying to play it cool while being questioned about the move.
"There's a lot to be done yet before I can actually go up there and start playing for 'em," the then 22-year-old said with a smile.
Kevin Walters in his playing days.(AAP: Daniel Berehulak)
He recovered some aloofness, saying: "I'd like to, in one way, go and play for 'em, yeah. And in the other way I wouldn't want to leave Canberra because I like it down here."
Walters put pen to paper in 1990 and pulled on the maroon and gold jersey in which he'd make his biggest impact.
In his Broncos career, Walters would claim five premierships including the club's first, in 1992, and captaining their fifth in 2000.
"That was very special for me personally, because I never thought I'd captain a premiership-winning side in the NRL," Walters said during an ABC interview in 2001.
In the same interview, Walters joked that he'd be coaching the Broncos in only "a matter of time" – he was coaching the Toowoomba Clydesdales back then.
It was time indeed. Walters waited 20 years to take the reins at Red Hill.
Loading…
But he didn't twiddle his thumbs — Walters padded his resume with stints as assistant coach for the Broncos and Maroons before becoming Queensland's head coach for the 2016 State of Origin.
Walters' Maroons won that series, and the next, and only lost the 2018 series in the closing seconds of the third game.
By then, the Broncos powerbrokers had seen enough. Walters was given the top job for the 2021 season.
He inherited a side in turmoil. The Broncos had claimed their first wooden spoon in 2020.
"The most important thing is uniting the club again," Walters said at the time.
"My main role is to bring that together and unite us to be a powerful force, which we can do — and when we do it, there's going to be some wins."
Walters took over the Brisbane Broncos head coaching job in 2021.(AAP Image: David Mariuz)
It, too, took time.
The Broncos finished 14th in 2021 and in 2022, despite showing promise, their campaign ended much the same.
Brisbane capitulated in the closing rounds of the season to finish ninth and miss the finals.
But in 2023 the Broncos have proved themselves a united, powerful force, finishing second on the ladder, going through to the grand final and appearing to enjoy every step of the journey.
Walters would surely tell you that the premiership remains the goal, but ring or no ring, he's already fulfilled his coaching promise.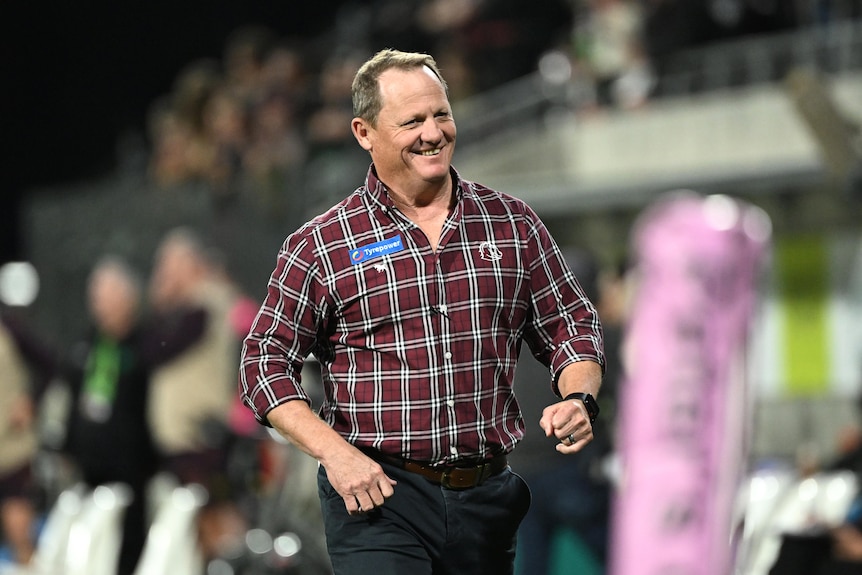 Walters could potentially take Brisbane from wooden spooners to premiership winners in just three years.(AAP: Darren England)
He's also shown that 22 years after he ended his Broncos playing career, his passion for the jersey remains as strong as it's ever been.
"I think he's more [passionate] now," Broncos prop Thomas Fleger said about Walters ahead of the team's trip to the 2023 grand final.
"To see the pride and passion he has for the jersey puts a lot of belief in us guys."
Chris Fagan
If Walters' coaching story seemed written in the stars, then Chris Fagan's comes from left field.
The 62-year-old Tasmanian never played in the AFL, nor did he play for a Queensland team.
But this weekend he'll take one to the grand final.
In doing, so he'll become the oldest AFL grand final coach.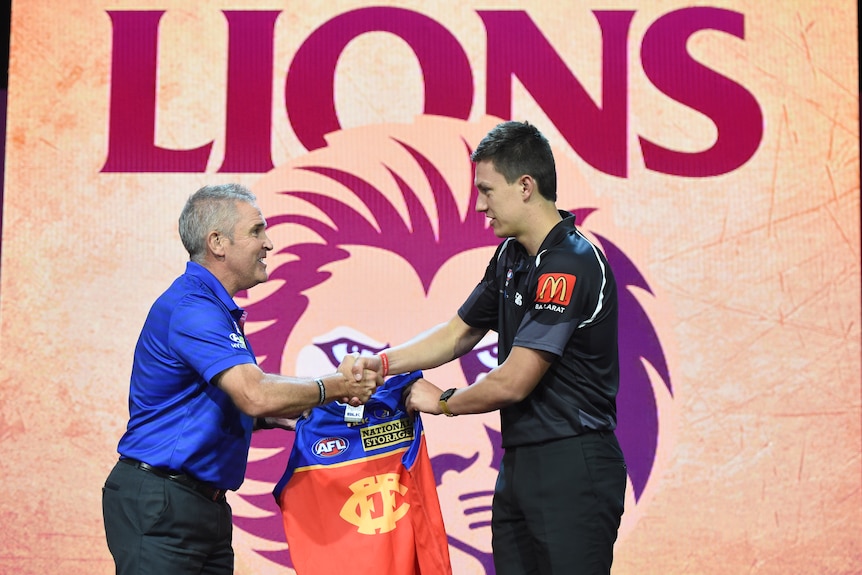 Chris Fagan shakes hands with number three draft pick Hugh McLuggage leading into the 2017 AFL season.(AAP: Dean Lewins)
Fagan was 55 years and 275 days old when the Lions called him to take over.
He claimed another record with that call — becoming the oldest debutant coach in AFL history.
Fagan had spent the years before as an assistant coach with Melbourne and also with Hawthorn.
The years before that, he was a schoolteacher in Tasmania and a stalwart of the Tasmanian Aussie Rules leagues, the TANFL and the TFL.
Back in 1987, Fagan's mother Beth was watching him and his brothers play for Devonport, and told the ABC:
"You have to be dedicated to succeed. Chris just puts hours and hours in. He just lives football."
Fagan played 263 senior games in Tasmania and kicked 430 goals.
There was another goal for Fagan as assistant coach of Melbourne in 2000, when the team reached the AFL grand final.
The Dees lost to Essendon, and Fagan had to wait eight years for another shot at glory.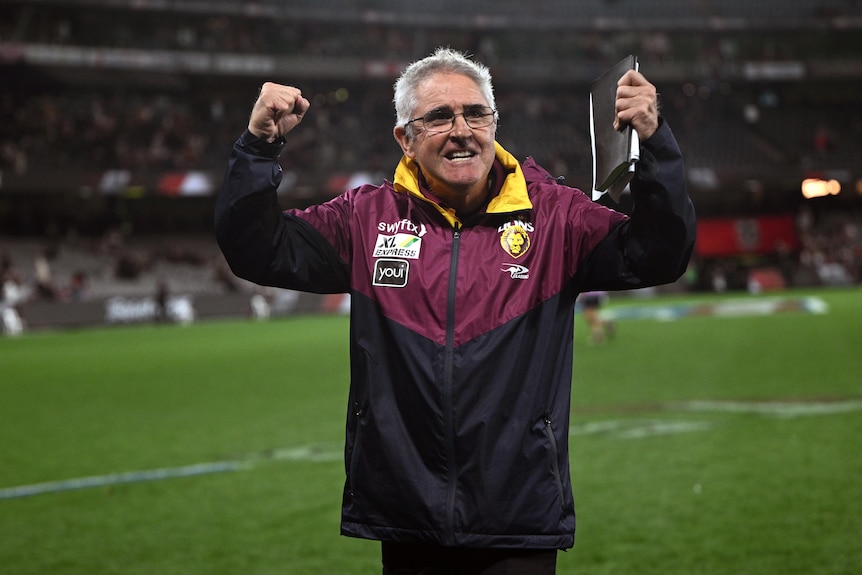 Fagan will this weekend become the oldest person to coach an AFL grand final team.(AAP: Joel Carrett)
He was in Hawthorn colours by then – serving as an assistant coach for the team's 2008 premiership.
Hawthorn won three more premierships (their famous three-peat in 2013, 2014 and 2015) during Fagan's time at the club – he served as assistant coach until mid-2013 when he became general manager of football.
Then, in 2017, came the Lions.
Brisbane were floundering at the time. They'd won only three matches in 2016 and finished second-last.
Fagan reminded the ABC in an interview back then that he was a teacher.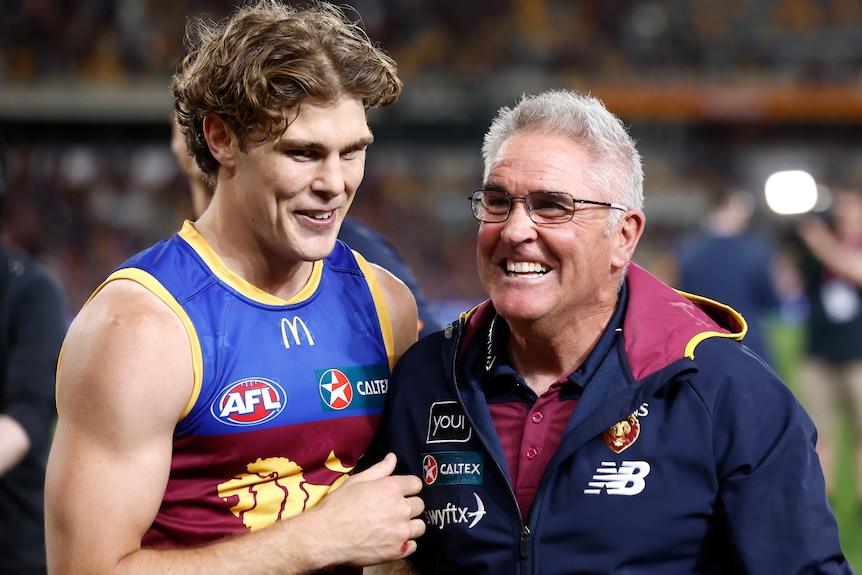 Fagan and Deven Robertson celebrate a prelim final win.(Getty Images/AFL Photos: Michael Willson)
"A young group of players who are still developing need people to be patient," Fagan said the year he took over as coach.
"What motivates me is getting people to work together well, and to watch people grow and develop.
"There's a magnificent opportunity [at Brisbane] to get these players and the club on the right track."
The Lions, like the Broncos, took two years to turn around.
Brisbane finished last in Fagan's first year as coach and 15th in his second, before rising to second place in 2019.
They've made the finals every year since.
That's despite a dark start to the 2023 season when historical allegations surfaced about racism at Hawthorn Football Club during Fagan's tenure.
Fagan took a leave of absence, and the AFL launched an investigation.
It made no adverse findings against him, and Fagan's return to coaching proved joyous.
The Lions finished the season undefeated at the Gabba and, again like the Broncos, second on the ladder in their competition.
'Our year'
Brisbane's teams have already made history. Could they claim glory too?
"It would mean everything for me and everyone else at the footy club to give Fagan the premiership," Lions co-captain Lachie Neale said this week.
"I feel like he deserves it as much as anyone. Obviously he's been through a lot over the last 12 months.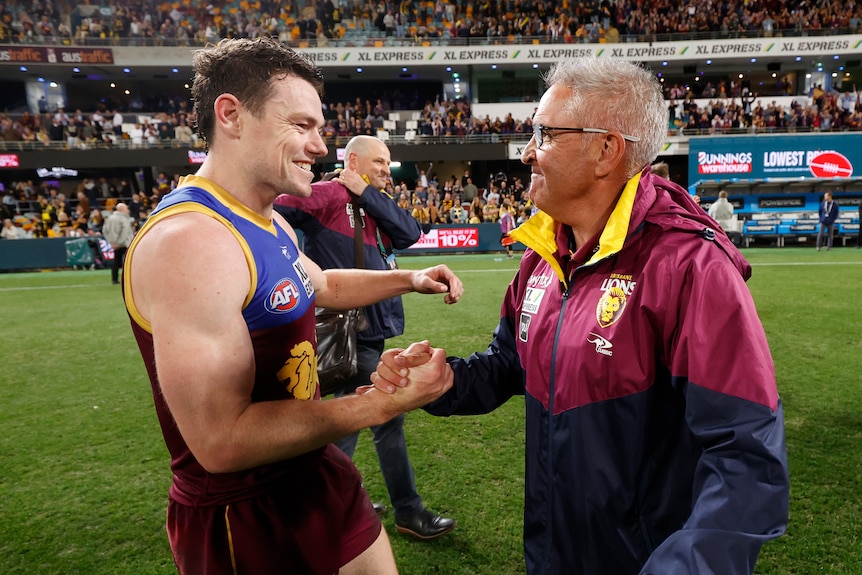 Lachie Neale says Fagan deserves to win a premiership with the Lions "as much as anyone".(Getty: Michael Willson/AFL Photos)
Earlier this week, a loyal supporter was watching the Broncos train while holding her baby son.
He was wearing a tiny Broncos shirt in the style of an AFL jumper.
"We're manifesting 23," his mother said.
"He's born on the 23rd of the second, 23. 2023 is our year."
This whole story's already impossible enough.
Why stop it there?
Source: AFL NEWS ABC