Brownlow Medal favourite Nick Daicos is set to miss six weeks with a knee fracture, sidelining the Collingwood young gun until well into the AFL finals series.
Key points:
Nick Daicos was injured in the second quarter of Collingwood's loss to Hawthorn
The current time frame suggests a potential preliminary final would be around Daicos's return date
The Magpies will also lose Nathan Murphy for two to three weeks with an ankle injury
In massive fallout from Saturday's shock loss to 16th-placed Hawthorn, the ladder-leading Magpies also have lost defender Nathan Murphy for two to three weeks with an ankle injury.
Daicos was hurt in the second term of Saturday's twilight game at the MCG as he was tagged out of the game by Hawthorn's Finn Maginness.
The prolific ball winner only had five disposals for the game, well below his usual output.
Collingwood football boss Graham Wright said the younger of the Daicos brothers has a hairline fracture in the lateral tibial plateau of the right knee joint.
"Nick has been seen by a specialist knee surgeon this morning and, while fortunately this does not require an operation, it will need time to heal before he returns to football," Wright said in a club statement.
"At this stage, the expected time frame for Nick is six weeks."
Murphy, a mainstay in defence for the Magpies, finished the game on the bench alongside Daicos after needing to be helped from the field.
Hawthorn targeted Daicos physically, with Finn Maginness running a tight tag.(Getty Images: Dylan Burns)
Wright said Murphy was diagnosed with a low-grade syndesmosis injury in his right ankle.
"Nathan and Nick have played important roles this season, they are consummate professionals and will do all they can to progress through their rehab," Wright added.
Daicos's injury came three days after he and older brother Josh signed long-term deals to stay with the Magpies.
After he was hurt in the second term, the younger Daicos was crunched in a clash with Hawthorn defender James Blanck early in the third quarter.
With the young gun clearly not as his best, Collingwood sent Daicos deep into attack for the second half and eventually brought him to the bench to finish the game after sustaining the injury.
While Collingwood remain top of the ladder, the injuries to Daicos and Murphy come on top of successive upset losses to Carlton and Hawthorn.
It is the first time the Magpies have lost two in a row since rounds eight and nine last season.
Every week, opposition coaches have been asked how they plan to stop Nick Daicos, whose previous lowest disposals in a game this season had been 27.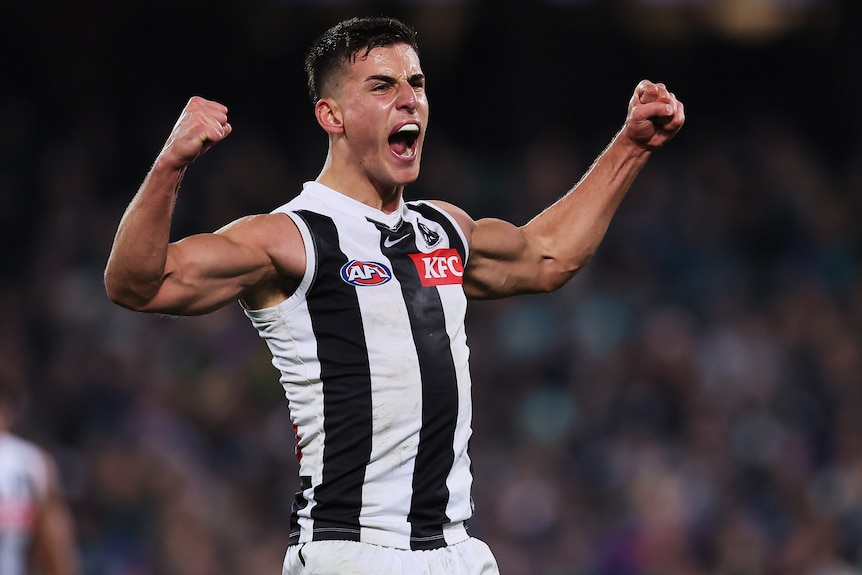 Nick Daicos is the Brownlow Medal favourite with three rounds of the home and away season remaining.(Getty Images/AFL Photos: James Elsby)
While Maginness claimed a big scalp, Hawthorn coach Sam Mitchell said it was not straightforward.
"I'd love to tell you it was easy. It's an absolute nightmare," he said.
"In the coaches' box, it's a nightmare. We have a meeting before the game — a 'what ifs' meeting.
"I would say 30-40 per cent of it is 'okay, what if Daicos starts here, does this, does that?'."
What was in no doubt is that Maginness had a blinder.
"Daicos is an absolute star. But Finn, I was really proud of him," Mitchell said.
Magpies coach Craig McRae acknowledged Maginness, but was asked if Daicos had enough support from his teammates.
Certainly the Magpies fired up when there was a tussle early in the third term — leading directly to a double-goal when Daicos was paid a free kick before the ball went back to the middle.
But McRae said it was an "interesting question" whether overall, the young Daicos had enough help to beat the Maginness tag.
AAP
Source: AFL NEWS ABC