Dreams will become reality for the best up-and coming footballers when the 2023 AFL draft gets underway.
Of the players whose names will be called during the November draft, one in particular is expected to be read out before all others – Harley Reid.
The gun midfielder is widely regarded as the best player available and is almost a certainty to be selected with pick one, with the hype around him only growing throughout the year as he racked up performance after impressive performance.
But sitting at a cafe in Shepparton, it is hard to tell that the country teenager is the most highly regarded football prospect in the country.
He comes across as a friendly, kind, and humble person, and that's for a very simple reason — it's exactly what he is.
Harley Reid says he is thankful for all the support he has received.(ABC Shepparton: Bransen Gibson)
Special town, special club
Reid grew up in Tongala, a small country town in north-central Victoria with a population of less than 2,000 people.
His junior footy career began at the Tongala Football Netball Club.
Even as his football profile has grown, Reid has maintained a loyal connection to the Blues.
Reid said the Tongala community would always be special to him.
"I look at it like where I am today, every single one of those people, that area, that club, they've done so much for me to get to where I am today," he said.
"It's where a piece of me is and it is probably a part of me that I'll miss when I probably head off, but as much as I can, I'll be getting back there to support them as much as they support me."
Harley Reid celebrates with his Tongala teammates after playing his last game for the Blues.(Supplied: Tongala Football Netball Club)
He took an opportunity in July to pull on the jumper for his beloved home club one more time before heading to the AFL, kicking three goals in a best-on-ground performance that helped Tongala earn a special victory.
"To get that game in this year probably meant so much to me," Reid said.
"In the lead up to that I hadn't really been enjoying my footy.
"To sing the song with those boys, they hadn't won in probably about six weeks or so, so to get that, it was pretty wholesome."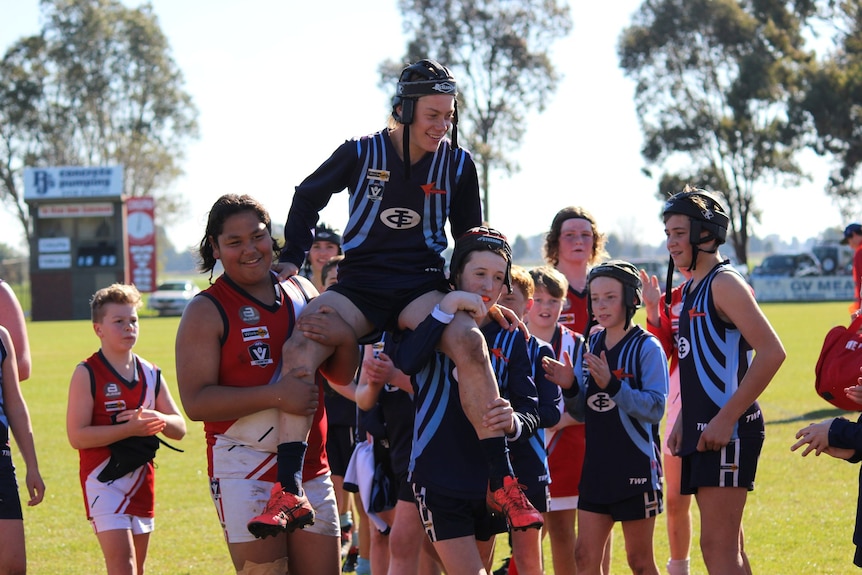 Harley Reid is chaired off the field after kicking his 100th goal of the season.(Supplied: Tongala Football Netball Club)
Connecting with community
Reid described his year as "flat out". Alongside finishing Year 12, footy has been a huge part of his routine.
Reid played for six teams this year, suiting up for Essendon and Carlton's VFL sides, representing Vic Country and the AFL Academy, playing for Coates Talent League outfit the Bendigo Pioneers and his home club Tongala.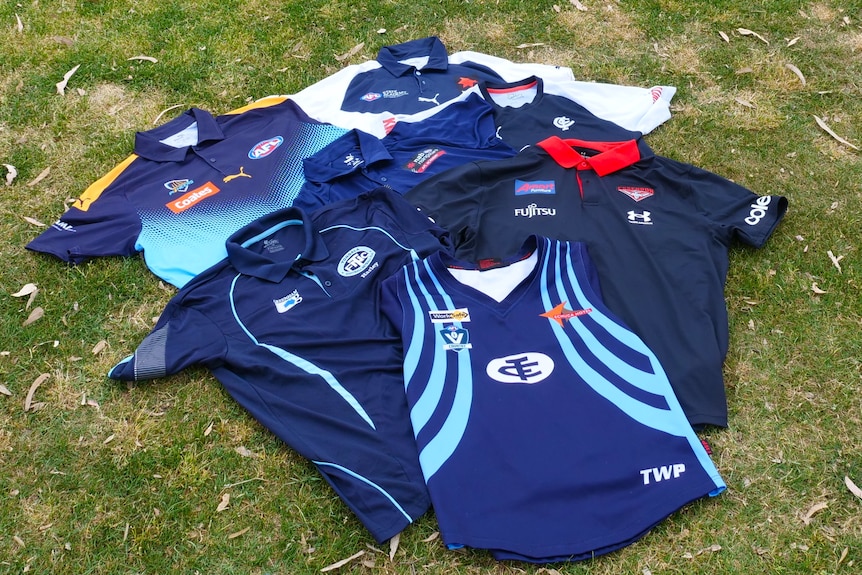 Harley Reid has collected his fair share of club gear this year.(ABC Shepparton: Bransen Gibson)
But Reid has been a familiar face at Tongala games, serving as the team runner and water carrier on multiple occasions, cheering on the Blues' footballers and netballers whenever he gets the chance.
He has also helped at coaching clinics at Tongala Primary School and Kyabram P-12 College, supported his high school footy team and trained with other community clubs as well.
"There's a lot of supportive people out there who support me so it's good giving back to them," he said.
Reid has also been cheering on his sister, Hollie, who plays A-grade netball for Kyabram and was selected in the Goulburn Valley League's interleague team this year.
"She always reckons she's the sportiest in the family, so I said I will always go check and see if it's true," he said, laughing.
"I'm just getting back to support them as much as they support me too."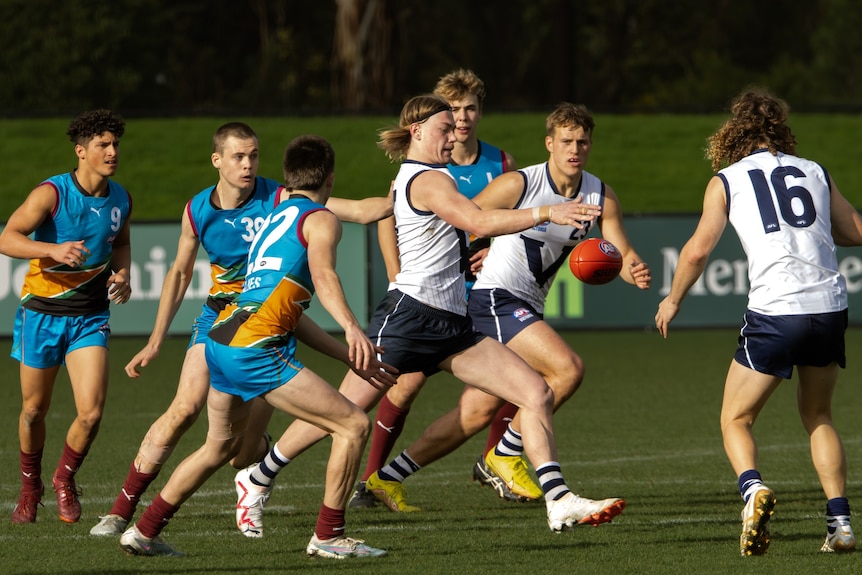 Harley Reid is unsure which team will select him.(Supplied: Bendigo Pioneers)
One game can change everything
An awful lot can hang on a game of football. And this year for Reid, that rang especially true.
Reid's future has seemingly been tied to whichever team holds the first pick of the draft.
But as the season neared its conclusion, who that pick would go to was up in the air.
In three consecutive weeks, the rights to that selection flipped from West Coast to North Melbourne and back again.
Reid's potential future home has shifted from opposite sides of the county.
There is still the possibility of a club trading to acquire the first pick.
Reid said he did his best to ignore the ladder and noise about who might finish where or where he might get drafted to.
"It's funny, a lot of people say that 'do you look much at the ladder, do you keep track'," he said.
"Honestly, like nah, I didn't at all really. I just followed the season really and followed my mates and that around locally.
"There is no certainty that I am going pick one, anyone else could be taking that spot or in that window."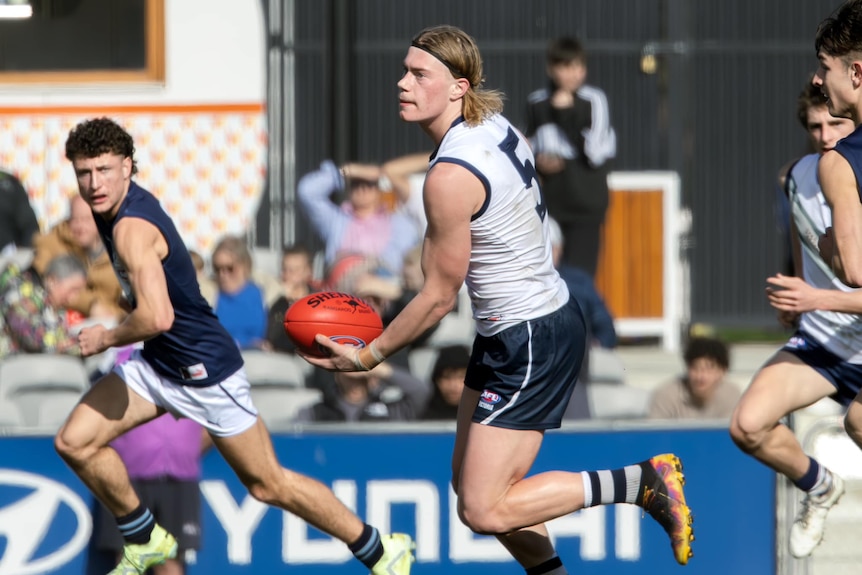 Harley Reid says there is no certainty he will be first pick of the draft.(Supplied: Bendigo Pioneers)
Reports emerged earlier this year that Reid's camp had told West Coast he didn't want to be drafted by the Eagles.
Reid's manager strongly condemned and denied the rumour, with Reid himself saying it would be silly to not become an Eagle.
"Obviously, Perth is a long way, but when you look at it, if you ever have got to really move interstate, I feel like it would be best to do it at the start of your career," he said.
"It's everyone's dream, really, so you'd be probably silly not to take the opportunity."
Source: AFL NEWS ABC