Adelaide has claimed a tense 10-point win over Melbourne to hand the reigning premiers its first loss of the AFLW season and take outright top spot on the ladder as the league's only unbeaten team.
Key points:
The Crows beat the Demons 8.8 (56) to 7.4 (46)
The Magpies triumph over the Lions 5.3 (33) to 3.10 (28)
The Swans, Saints and Giants also posted wins
Meanwhile, Collingwood pulled off one of the upsets of the season on Saturday night, stunning an inaccurate Brisbane Lions by five points away from home.
In other matches earlier in the day, Sydney got the better of Port Adelaide in a shootout to pull away in the final quarter and triumph by 15 points to keep their finals hopes alive.
A club-record equalling third straight AFLW.win for St Kilda was marred by a serious injury to Steph Chiocci in a nine-point home victory over Hawthorn.
And GWS posted its first victory of the season after beating West Coast by 20 points.
In Melbourne, the Crows delivered a stunning run of six consecutive goals across the second and third quarters, then withstood a late Melbourne charge for an 8.8 (56) to 7.4 (46) win at Casey Fields.
The result ended Melbourne's 14-match winning run stretching back to last season.
Ebony Marinoff led the charge for the Crows, booting two goals from 27 disposals and laying 13 tackles, alongside Anne Hatchard (32 disposals and two goals) and Danielle Ponter (two goals).
Eden Zanker booted five goals for Melbourne, almost hauling the Demons over the line.
With Paxy Paxman (concussion) sidelined, Tyla Hanks (22 disposals, 12 clearances), Kate Hore (19 disposals, six clearances) and Olivia Purcell got to work in midfield.
Zanker booted the first two goals of the match as Melbourne earned a 16-point quarter-time lead, with Adelaide kept scoreless.
Then, the Crows took off.
Ponter and Marinoff helped their side draw level at half-time as the Crows held the Demons to their first scoreless quarter of the season.
In the third term, the Demons had no answers for the Crows' fierce intensity and pressure.
Hatchard went forward and put the Crows in front for the first time, before Marinoff, Eloise Jones and Ponter extended the lead to 25 points.
Eliza McNamara scored a goal seconds before three-quarter time to cut Adelaide's lead to 19.
Zanker took back-to-back contested marks and kicked truly both times to cut the deficit to seven points early in the final term.
But when Tayla Harris bumped Marinoff late as she kicked inside 50, Hatchard earned a down-field free kick and coolly converted to give the Crows some breathing room.
The Demons had not conceded a fourth-quarter goal in their previous 14 matches.
McNamara and Zanker each struck again as the Demons made a late charge, but Caitlin Gould ran into an open goal to seal victory for the Crows.
Magpies cause boilover
Mikala Cann (centre) was the hero for the Magpies with her match-winning goal.(Getty Images: Albert Perez)
The Magpies fought back from a 16-point deficit at half-time to boot the final four goals of the match and claim a dramatic 5.3 (33) to 3.10 (28) victory in Springfield.
The Lions kicked 1.6 in the second quarter and 0.4 for the whole second half, before Mikala Cann nabbed the winner for the Magpies in the final term.
Collingwood sits outside the top eight on percentage, while Brisbane is fourth.
Bri Davey (19 disposals, seven marks and a goal), Brit Bonnici (20 disposals) and Sarah Rowe (21) all had plenty of the ball for the Magpies.
Sophie Conway (16 disposals), reigning AFLW best and fairest winner Ally Anderson (24) and Orla O'Dwyer (16) were busy for the Lions.
Nell Morris-Dalton danced through traffic to draw first blood for Collingwood, with O'Dwyer responding for Brisbane.
Davey was taken off after a collision with Courtney Hodder's knee left her bleeding from the forehead. She passed a precautionary concussion assessment.
In the dying seconds of the first quarter, Stacey Livingstone grabbed Conway and spun her around.
Conway hit her head on the ground, receiving a free kick for a dangerous tackle, before giving Brisbane the lead from her set-shot.
The Lions extended their advantage early in the second term after Hodder marked and was clattered high and late by Selena Karlson.
She received a 50-metre penalty and kicked truly to put Brisbane ahead by 14, with only a general lack of accuracy from the Lions keeping Collingwood in the contest.
But Davey took a contested mark and scored in the third term, then set up Eleri Morris for another goal to draw Collingwood within touching distance at three-quarter time.
Eliza James put the Magpies in front early in the final term, with Anderson and Taylor Smith kicking a point apiece for Brisbane, before Cann's goal snared victory for the visitors.
Swans finish strongly to beat Power
Separated by just two points by three-quarter time, the Swans snatched their first away win with a 6.9 (45) to 3.12 (30) victory at Alberton Oval in a thrilling arm wrestle.
It was a far cry from the first clash between the two sides last season in which the Swans scored only two behinds to lose by 66 to the Power.
The 13th-placed Swans enjoyed an even team performance across the field, complemented by a stand-out display from Laura Gardiner (33 disposals, six clearances) in the midfield and Lucy McEvoy (11 intercept possessions), who was a brick wall in defence.
Cynthia Hamilton opened the scoring for the Swans but was upstaged by a terrific goal from the Power's Gemma Houghton.
Scholz had sent a long bomb to an empty forward 50 as Houghton flaunted her speed to leave Alice Mitchell in the dust and grab the six points for the Power.
With the Swans leading by one point at quarter-time, Bec Privitelli and Bella Smith kicked back-to-back goals in less than two minutes as their lead extended to 18.
Two goals by Ash Saint kept the Power alive, but inaccuracy in front of the posts cost the hosts.
With just two points the difference going into the final term, Jaide Anthony put boot to ball to slot her first AFLW goal, while Swans co-captain Molloy finally kicked a major to grab a comfortable win for her side.
The Swans return to Henson Park to host 15th-placed Hawthorn next round, while Port Adelaide faces a formidable challenge against third-place North Melbourne at Arden Street.
Chiocci injury sours Saints win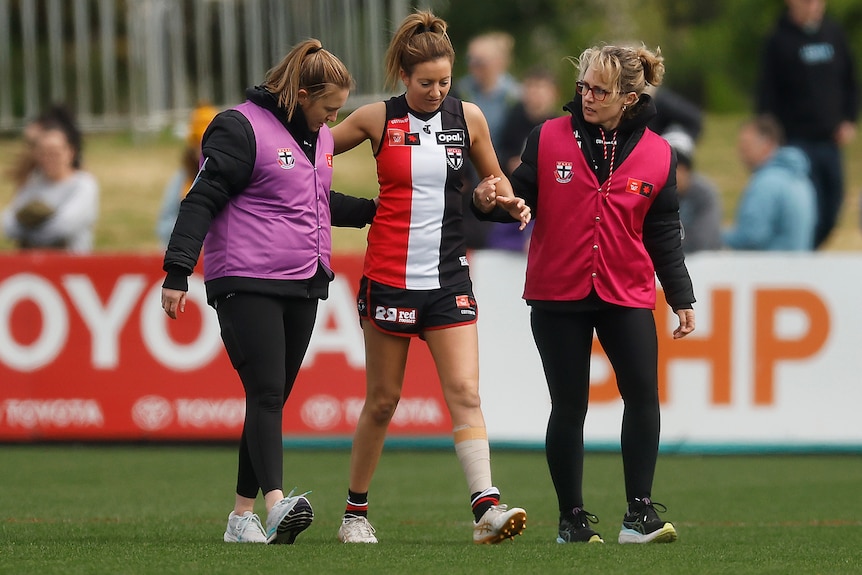 Steph Chiocci will miss the remainder of the season after suffering a ruptured ACL.(Getty Images: Daniel Pockett)
A season-ending knee injury to star recruit Steph Chiocci tempered St Kilda's joy following its 7.3 (45) to 5.6 (36) home victory over a feisty Hawthorn.
Former Collingwood star Chiocci injured her right knee just a few minutes into the first quarter as she tried to get out of a tackle from Kaitlyn Ashmore.
She was later seen on crutches with an ice pack strapped to her right knee and the Saints said scans confirmed an anterior cruciate ligament rupture.
The Saints gave themselves a fighting chance of a first AFLW finals appearance as they improved to a 3-3 win-loss record, while Hawthorn slumped to 1-5 following a fourth straight loss.
Hawthorn notched more disposals, clearances, marks, tackles and contested possessions and tallied and an equal amount of inside 50s.
But inferior goal kicking accuracy through the first three quarters cost the Hawks dearly, as they scored just 2.5 up to three-quarter time
Jaimee Lambert was the workhorse for the Saints, gathering 26 disposals, nine tackles, seven clearances and a goal.
Nat Exon booted two majors for the winners.
Giants snap losing streak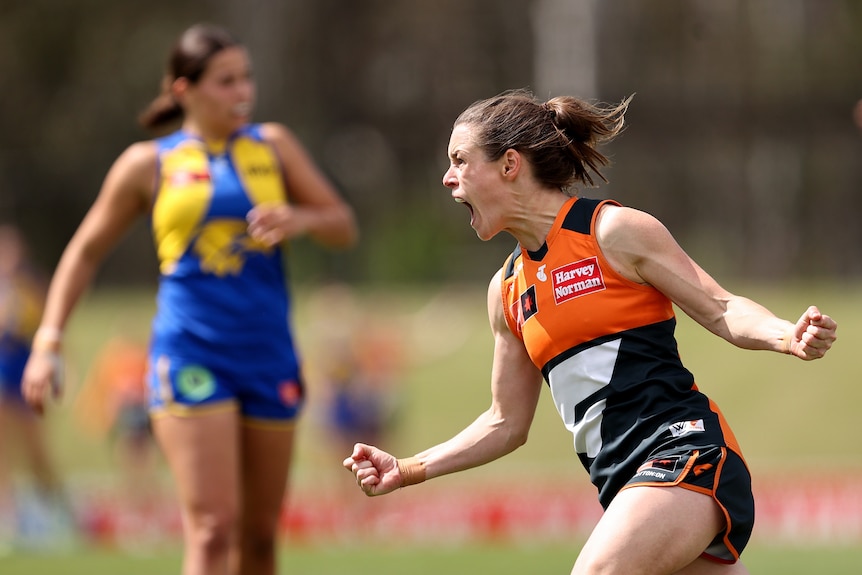 Alicia Eva was prominent for the Giants in their win over the Eagles.(Getty Images: Brendon Thorne)
GWS ended its five-match losing run with a defiant performance, claiming a comfortable 20-point win over West Coast.
The Giants overcame a slow start to seal a 6.8 (44) to 3.6 (24) victory over the Eagles at Blacktown and put their winless first half of the season behind them.
The ever-prolific Alyce Parker (23 disposals, 10 clearances) was reliably prominent for the hosts and she was supported by Nicola Barr and Rebecca Beeson.
But it was 18-year-old Zarlie Goldsworthy who stole the show with her class.
The emerging star kicked three goals in an electric performance.
GWS has a chance to build a winning streak when it takes on 12th-placed St Kilda in the next round.
West Coast faces an uphill battle against Melbourne.
AAP
Source: AFL NEWS ABC