The best teams in the AFLW this season have been decided after the 10 home and away rounds. Two clubs will play their first ever final this week, while the dominance of the top four of Adelaide, Melbourne, North Melbourne, and Brisbane continues.
Over the course of the season, each of the top eight has developed a distinct brand of footy, from Melbourne's attacking game to Gold Coast's midfield balance.
As the first week of finals approaches, what is each remaining team's biggest asset?
Adelaide – Control
What three-time premier Adelaide does better any any other team is control play. It does so by winning a record number of uncontested possessions per week, with an average of 148.3 throughout the home and away season.
Off the back of so many uncontested possessions, the Crows were the best ball users in the competition this season with a disposal efficiency of 66.7 per cent. This allows them to not only win, but maintain possession for long periods throughout games.
That smart ball use isn't just evident around the ground, but also in front of goal. This season, Adelaide is averaging a goal accuracy of 53 per cent, another AFLW record, making it particularly deadly once inside 50.
Ebony Marinoff and Madi Newman are the biggest uncontested possession winners at the club, while tall quartet Chelsea Biddell, Caitlin Gould, Zoe Prowse, and Jess Allan are among the best ball users in the side.
Melbourne – Attack
Reigning premier Melbourne has set a new standard in attack this year thanks to a deep forward line and team-first attitude. As a result, the Demons boast this season's equal-leading goalkickers in Eden Zanker and Kate Hore, each kicking 20 goals throughout the home and away rounds.
The Demons are an attacking force.(Getty Images/AFL Photos: Dylan Burns)
Averaging a record 65.3 points per game, leading to an average winning margin of 36 points, the Demons have also set records for marks inside 50 with 12.5 and goal assists with seven.
The latter two metrics in particular represent Melbourne's want to bring teammates into the game, often hitting up an option in a better position to generate a higher percentage shot on goal.
While Hore and Zanker have kicked 20 goals each, Alyssa Bannan has also been responsible for 12 and 12 other Demons have kicked double-digit goals this season. Hore and Zanker have also been the main marking targets inside 50 with 22 and 20 marks inside 50 respectively.
North Melbourne – Defence
Essentially the opposite of Melbourne, the Kangaroos have built their game around a very stingy team defence.
Conceding just 21.3 points per game, North Melbourne squeezes its opposition, allowing just 2.5 marks from 23.8 inside 50s each week. Not only do the Roos severely limit their opponents' opportunities to attack, they also make teams take low percentage shots on goal if they are able to break through.
It is with a layered defence that North Melbourne is able to achieve this, with Jasmine Ferguson, Sarah Wright, and Emma Kearney working in successive layers out from their defensive goal line.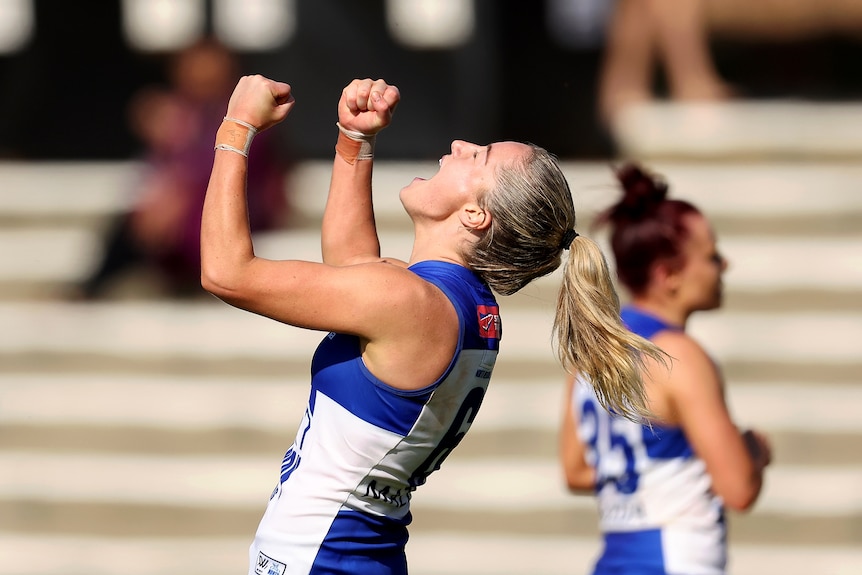 Alice O'Loughlin celebrates a goal for the Kangaroos.(Getty Images: Paul Kane)
In addition, the Roos' solid clearance work, averaging a record 32 per game, prevents quick forward entries that can put a defence under immense pressure.
Brisbane – Forward Pressure
A side that has prided itself on setting new standards in forward pressure season on season, Brisbane has done it once again this year.
Laying a record average of 17.5 tackles inside 50 throughout the home and away season, the Lions work hard to unsettle defensive units and maintain territory control for patches throughout games.
That pressure isn't simply provided by Brisbane's forward unit, but its wingers also have a big role in maintaining that pressure. The work rate of players like Sophie Conway, Jade Ellenger, and Orla O'Dwyer assists in pressing inside 50 to outnumber opposition backlines.
This has led to an average of 17 shots on goal per game, only let down at times this season by a goal accuracy of 42.4 per cent.
Gold Coast – Midfield balance
In the past, Gold Coast has been guilty of relying too heavily on winning the contest and not being able to transition the ball effectively to the outside. This year, however, the Suns have found an impressive balance between inside and outside ball.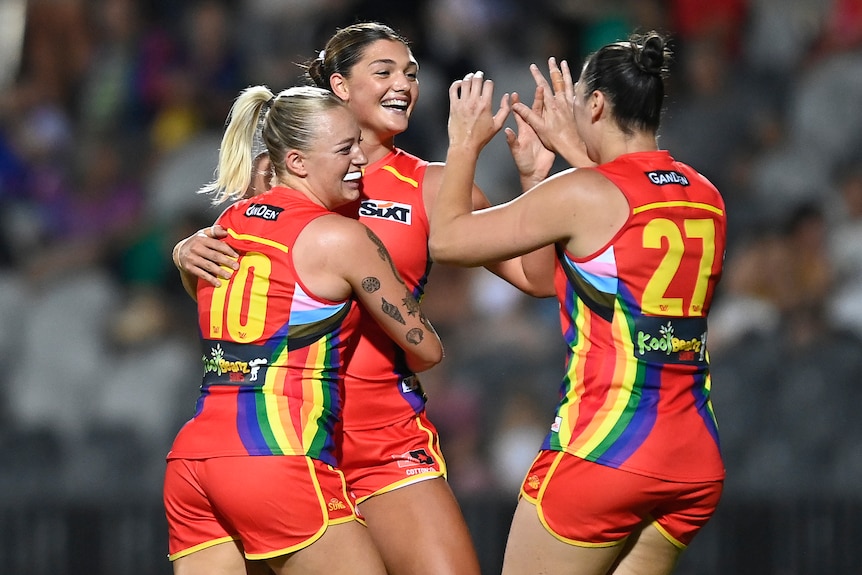 The Suns have found balance within their midfield.(AFL Photos via Getty Images: Ian Hitchcock)
With 52.1 per cent of Gold Coast's possessions uncontested this season, it has been able to better employ its outside runners to transition clearances into attacking opportunities. Niamh McLaughlin's powerful running ability, and intent to take ground by foot, is represented in her 19 bounces this year, the second-most in the competition.
While Charlie Rowbottom, the Suns' leading clearance winner this season, will be out of action for the finals series due to an ankle injury, the likes of Claudia Whitfort, Lucy Single, and Alison Drennan are prepared to fill the void.
Geelong – Outside game
Similar to how Adelaide plays, Geelong is intent on shifting the ball into space and using the ball neatly by foot to transition down the ground.
With their 136.6 uncontested possessions per game, the Cats are the second-best ball users in the competition this season, going at 66.1 per cent disposal efficiency.
Thanks to powerhouse contested ball winners in Amy McDonald and Georgie Prespakis, the Cats are often able to gain possession in the clinches and get it out to a host of elite ball users. On the wings, the likes of Zali Friswell (77.6 per cent disposal efficiency), Mikayla Bowen (71.8 per cent) and Nina Morrison (69.6 per cent) worked it into attack.
Meanwhile, key members of the Cats' defensive unit in Georgie Rankin, Chantel Emonson, and Meghan McDonald have each recorded disposal efficiencies over 72 per cent this year.
Essendon – Pressure game
In just its second season, Essendon has qualified for finals thanks to its ability to take away the opposition's ability to control the footy.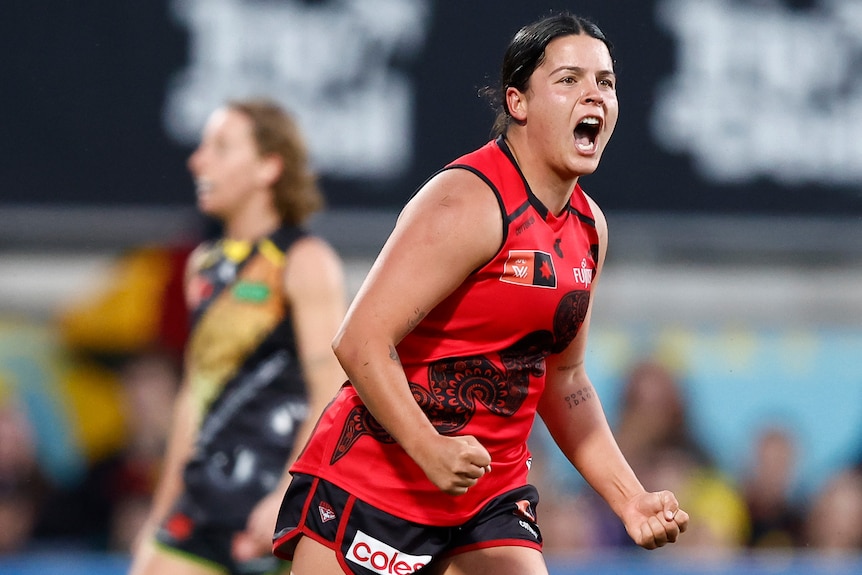 Maddy Prespakis will be pivotal as always for the Bombers in finals.(Getty Images: AFL Photos/Michael Willson)
Against the Bombers, opposition sides win the fewest disposals this year, averaging just 211.6 per game. Not only this, but the pressure Essendon also applies forces the lowest disposal efficiency of the season with teams using the ball at just 59.2 per cent against the side.
That pressure is not necessarily representative in tackle stats, with the Bombers sitting ninth this season for average tackles. Instead, it is a result of persistent work rate to close space when the opposition is in possession and worry turnovers or poor disposal out of the ball carrier.
Sydney – Momentum
Although more of a philosophical perspective, Sydney carries momentum into the finals series after going winless in its maiden season last year and leaping into calculations this year.
The Swans are the only side to have won their last three games leading into the finals, having beaten the Western Bulldogs, Collingwood, and Fremantle to close out the home and away season.
After being the lowest-scoring side of season seven, Sydney is now the fifth-highest scoring side in the competition this year and the fourth-most efficient side once inside 50.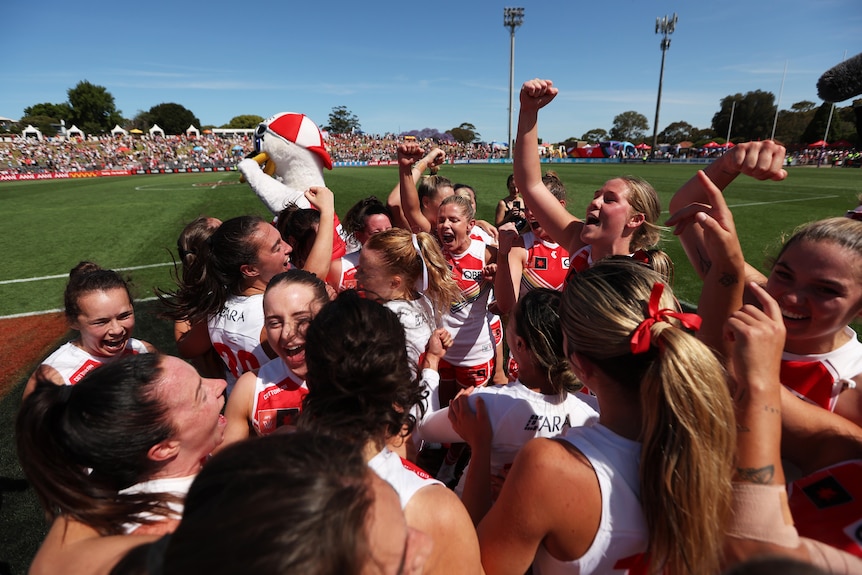 The Swans have come home strongly to crack the top eight.(Getty Images: Matt King )
While the addition of Chloe Molloy, Lucy McEvoy, and Laura Gardiner have been significant factors in this improvement, the commanding presence of Bec Privitelli inside 50 has also been a major factor.
Source: AFL NEWS ABC