Sharkscope is a search engine that allows you to access database with online poker tournaments results. It is the biggest database of that kind and covers all online poker rooms that host tournaments. Sharkscope is one of the crucial applications that tournament players use during the play and in preparation for the play. Sharkscope results provide much-needed information about your opponents and statistical details about the specific tournament. 
Why use the Sharkscope
The player pool, especially in micro and low stakes, is so big that you won't have any information about your opponents at the table. You might have some regulars marked or some big fish from previous sessions, but other than that, you mostly will have very little information about your opponents.
Even if you use tracking software and a HUD, it takes some time to acquire big enough of a sample to make an informed judgment about your opponents. With the help of Sharkscope, you can instantly "scope" players (Poker slang when you search for a player with Sharkscope) at the table and have an insight look at their results. 
If the sample is big enough, you can very easily recognize who is the recreational and who professional. That simple information can sway your decision process massively when playing versus a particular villain. Even the lack of a sample is information on its own since it is almost impossible for somebody to be an excellent player if he only played 150 mtts in two years. A more detailed look at the results can tell you who is a crusher at a certain stake level or if somebody is barely beating the game. 
Sharkscope pricing 
Sharkscope has a subscription-based payment program. Different subscription plans are available so you can choose your plan based on your personal needs. They offer five free daily searches to all users. Those five free searches are added to your subscription plan. For example, If you buy a bronze plan with 10 daily searches, you can still use those 5 free ones, giving you a total of 15 searches.
The main difference between the plans is the number of daily searches, but they do offer extra perks if you choose an advanced plan. Mind that you can use free searches only for basic search without advanced filters.
There are two types of searches: basic and advanced. Basic search gives you all the data about the player, while advanced search gives you the options to use filters. With those filters, you can make precise inquiries about players. Subscription plan# of daily searchesAdvanced filtersSharkscope HUDHand trackerFree5///Bronze10✔//SIlver150✔✔/Gold1000✔✔✔Platinum3000✔✔✔Table 1: Sharkscope perks increase with the subscription plan.
Plan pricing changes with the length/amount of time that you want to subscribe to. They offer monthly, quarterly, and yearly billing. Yearly plans are the cheapest, but you have to commit for an extended period, and you are unable to pause your subscription. That is not a problem if you plan on playing for a full year non-stop but becomes one if you want to take a month off or play cash games for a while. For cash games you don't need the Sharkscope, but a Software like HoldemManager or PokerTracker instead.
From my personal experience, a Silver plan with a quarterly subscription offers the best value if you are playing professionally. 150 searches per day to use is more than enough for the daily grind, and 14$ monthly expense is nothing compared to all the benefits that you are getting. 
Subscription lengthSubscription planMonthlyQuarterlyYearlyBronze$10$8$6Silver$16$14$12Gold$32$29$26Platinum$60$50$42Table 2: Subscription plan pricing changes with subscription length
Advanced filters
Advanced filters are great for analysis of your own or your opponent's tournament results. They allow you to dissect and give you a more in-depth look into tournament results. For example, you can check how someone is doing in PKOs versus regular tournaments, or you can sort tournament results based on stake level and compare them with each other. 
How to use advanced filters
In this chapter, we are going to show you point by point how to use advanced filters to increase your search accuracy and achieve better results.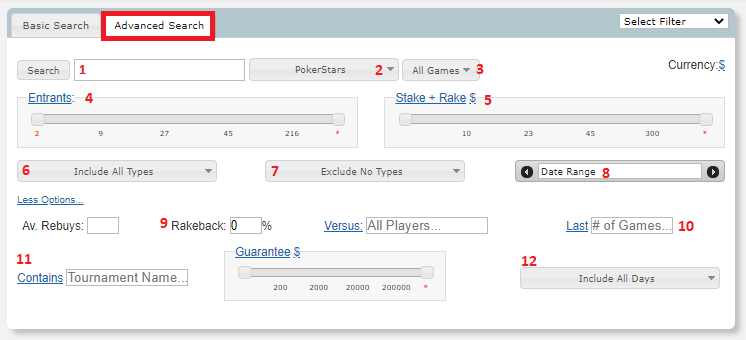 Image 1: Screenshot of "Advanced search" lobby Type in nickname that you want to lookup
 You can select a specific network or search through all of them. Some players use the same nickname on all the sites that they play.
 You can choose between scheduled mtts and Sit and go's. ScheduledSit and goPKO tournamentsOne table Sit and goRegular tournamentsJackpot sit and go (Spins, Twisters, expresso..)Turbos, hypersOn-demandShootout180,45,18 mans (SNG mtt)Table 3: Two different categories of tournamentsSelect minimum and maximum entries per tournament. 

Image 2: Comparison of tournament result at the different stake levelHere, you can select a buy-in range. For example, you can check how your results differ per stake level. In the first search, we selected a buy-in range between 11 and 30 and in the next one between 1 and 10.
Select the type of tournament. Here you can isolate different types of tournaments.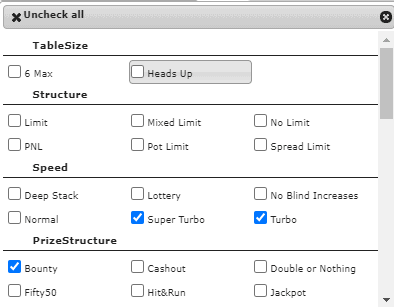 Image 3: Menu for selection of tournament types
Only the results of the types that you chose will be displayed.


Image 4: Search results for limited for hypers, turbos, and knockouts
 Exclude the type of tournaments. This works the same as the previous, but here, selecting a type, you exclude it from results. 
Here, you select a date range or specific period.

Image 5: Dropdown menu for time selection
Type in the amount of rakeback that you are receiving so it can be added to your results.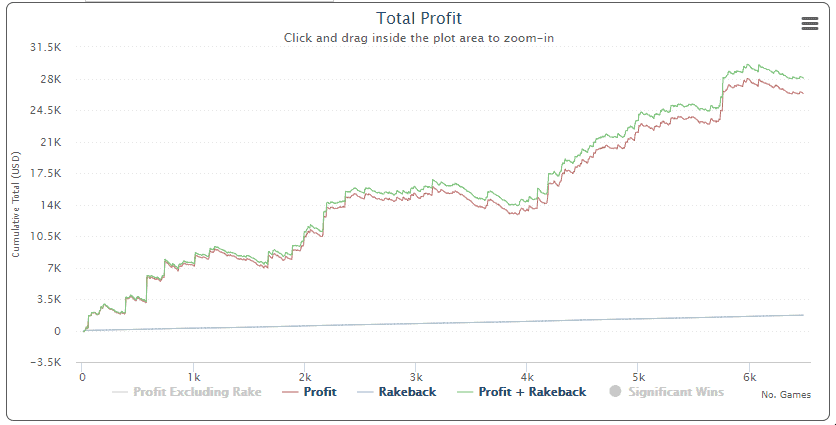 Image 6: Tournament results graph with Rakeback.
If you want just to check the results of the last 100 tournaments that you played – type in 100
You can see the results from specifically named tournaments if you type in their name here like "The Big" and "The Hot" on PokerStars or "Monster Stack" on Winamax (Check image 11).
Here, you can sort your results per day of the week. You can compare different days with each other and see which ones are more profitable.

Image 7: Dropdown menu for playing day selection
Creation of a group: Useful for playing on multiple poker sites
Sharkscope gives you the option of creating a group of players. This comes very handy if you are playing on multiple poker sites. You can join all your aliases into one group and check the results as one. To create a group, you first have to scope all the nicknames that you want to add in the group.
Select "Players Groups" option (1) and press "Create New." In the next step, add all (2) the players from the right side of the window into the left side. To merge all selected players into one, you have to choose the "Consolidated" option (3) and press apply. To scope your group, you have to choose "Player Group" in "Select a network" menu (4), type in your player group, and press search. The results will be shown as one combined player (5).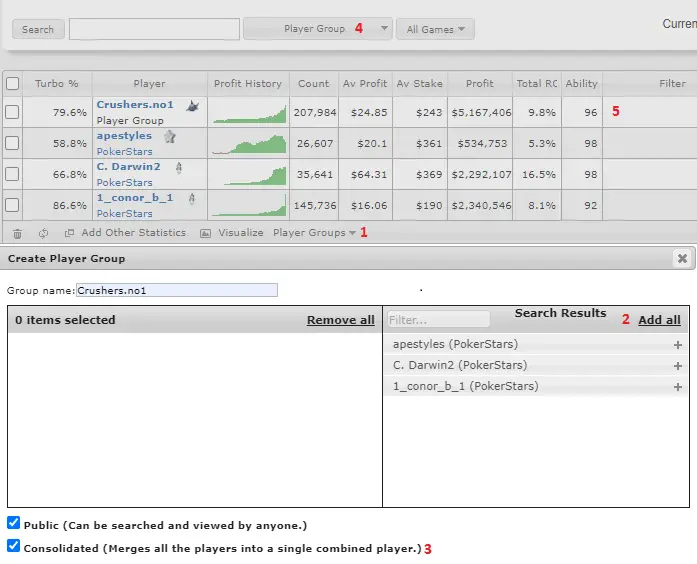 Image 8: Group creation in Sharkscope
Group creation isn't just useful for your personal results display but also for the analysis of the profitability of tournaments. To do that, you can incorporate another function of Sharkscope, Leaderboards. Sharkscope leaderboards provide coverage for many poker rooms, tournament types, and buy-in levels.
The leaderboards track players with the most profit and the biggest volume (number of mtts played) per year. To figure out how good the games that you are interested in are, you can use the results from the leaderboards. To do that, you can join all the players from the leaderboard with the highest volume into one group.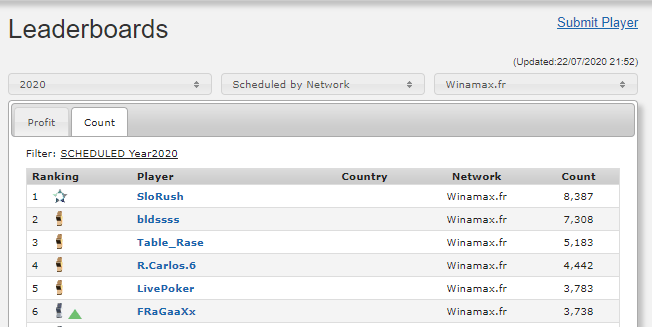 Image 9: Leaderboard in Sharkscope
Let's say that you want to start incorporating new tournaments into your playing schedule from some smaller sites. But first, you would want to check how good the offered games are. In our example, we checked how much profit you can potentially make per game in the poker room Winamax. We joined the players from the leaderboard who played the most mtts into a group and checked the results.
To check how the group is doing at different buy-ins, you have to click the "breakdown" tab. The results displayed will give you a rough estimate of how much money you can potentially make at various buy-level. In our case, we checked the profitability of tournaments in the 10€ to 20€ buy-in range on Winamax. We can see in the picture below that games can be extremely profitable that of course if we have the skills to beat them.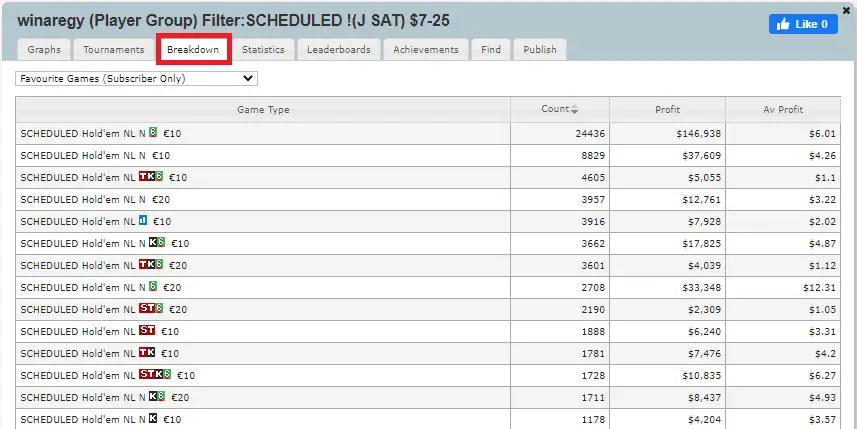 Image 10: Breakdown of filtered results in Sharkscope
With the use of the filters, you can check how the group is performing in turbos, PKOs or you can isolate your search to a specifically named  tournament like "Monster stack" (which is a popular type on Winamax).

Image 11: Group tournament results per tournament type
How to find a good tournament
"Find a tournament" function gives you the report of the tournament with all the essential information about it. To find a tournament, you first need an ID number of mtt. An ID number is found in the lobby of the tournament, usually in the lobby window title.

Image 12: Tournament lobby with tournament ID marked with red
Function "Find a Tournament" is excellent when you are creating your poker playing schedule. You can check how tough the field of the tournament is by looking at the Av. Ability number.
Sharkscope ability is the rating that Sharscope assessed to a player based on their poker player stats and results. The rating mostly depends on the stake level and success at it.
Av. Ability of the tournament is the average of all players' abilities. It's a pretty neat way of figuring out how profitable the tournament is. Av. ability grows with the buy-in price.
A 100$ tournament with 75 average ability is extremely soft while a 10$ with the same av. ability is unplayable because the field is too tough. Even if you are playing poker just recreationally, it is a good way of finding the softest game in your buy-in range.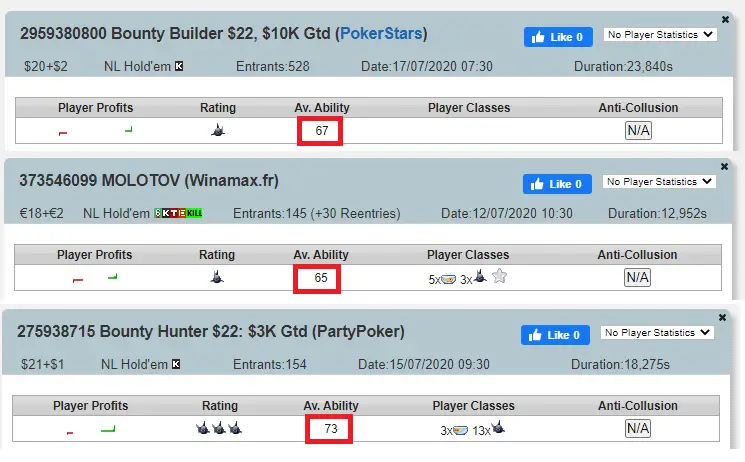 Image 13: Comparison of three tournaments at the same buy-in lever at different sites
Sharkscope alternatives
Sharkscope is not the only database that tracks tournament poker results. There are other sites like Sharkscope. The other two most commonly used are Officialpokerrankings.com (OPR) and Pokerprolabs.com.
OPR is a free database, but unfortunately, since 2019, they track only Partypoker tournaments. So if you are mainly playing on Partypoker, OPR will do the job for free. You can't do deep tournament results analysis like in Sharkscope, but you can still check players' results. You can still check the old results from other covered sites, but you can only see data before June 2019.
Pokerprolabs offers basic information about a player for free, which is enough if you just want to check if somebody is regular or recreational. Basic stats like avg. BI, ROI, profit are provided along with graphs, favorite games, recent large cashes, and last 10 tournaments. More features are offered, but you have to be a subscriber.
Pricing is very similar to Sharkscope, and they offer 10 advanced free searches per day. The bad side of Pokerprolabs is that they don't count rebuys, add ons, and bounties, which can skew the results. In rebuy tournaments, your profits will be shown bigger than in reality while in PKOs smaller.
These alternatives provide the basic information almost just as good as Sharkscope so you can use their free searches for quick inquiries about players (Mostly if somebody is regular or recreational). 
How to Opt-in / Opt-out on Sharkscope
As a subscriber, you have an option to opt-in or opt-out your results from public display. Some poker sites do not allow the public display of players' results without consent. So you have to manually opt-in to see your results. Every poker room has a different way of allowing players to opt-in.
On 888, you have to register for the imaginary tournament "Sharkscope opt.in," while on Pokerstars, you have to transfer 0.03$ to a player with ID "SharkScope." You can also request that your results be completely hidden. In a game of incomplete information, it is actually smart to hide your results from the public display, especially if you have other means to track your results like Pokertracker or Holdem Manager.
When you manually request an opt-out, there will be no information available about your playing alias. To hide your results, click on the options menu, find opt-out, and follow the instructions that are provided for your particular poker room.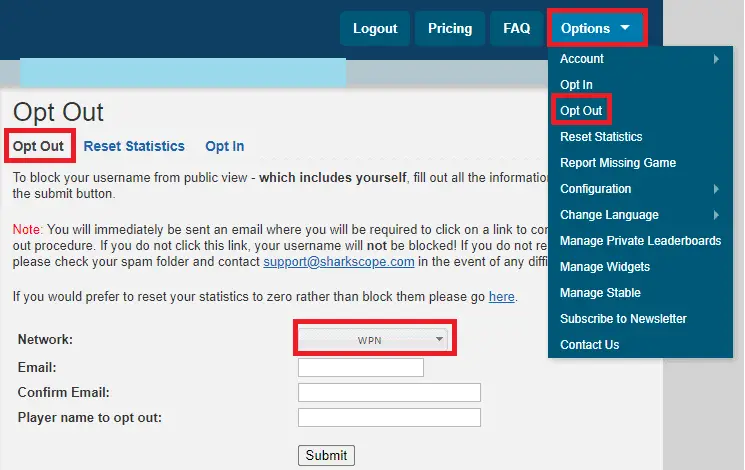 Image 16: How to Opt-Out
Sharkscope also has a "Reset statistic" possibility, which clears your previous results and kind of gives you a blank slate. Some players like to reset their tournament results on a monthly or a yearly basis. To use all the options mentioned above, you have to be a paying subscriber.

Image 17: Display of opt-in and opt-out results.
Conclusion
Sharkscope is by far the best tournament results database. There are other databases that track online poker tournament results, but none of them do as good of a job as Sharkscope. Sharkscope provides coverage for the vast majority of poker sites, while alternatives lack the handling of newer or smaller poker rooms. Sharkscope allows you to dig deeper into tournament results and extract information that can potentially increase your profitability.
For the creation of a playing schedule, it is absolutely crucial to use the help of Sharkscope to optimize your playing time frames and selection of tournaments. The tournament results are displayed very clearly and are easily manipulated for specific inquiries.
If you are playing poker occasionally for recreation and having some fun, it's probably best to use up the free searches on all mentioned databases to avoid extra costs. But suppose you are planning to move your game on another level – in that case, you should strongly consider buying those extra searches and scope as many opponents as possible to gain a small competitive advantage.