The AFL draft is only a week away, with all 18 clubs finalising their plans and dozens of young men anxiously waiting to learn their fate.
We go through every club to examine what picks they will take to the draft, and what players they might be looking at in the hope of uncovering their next superstar.
Check out our full top 30 rankings here, and join us for our live blog on draft nights November 20 and 21.
Adelaide
Picks 10, 14, 20, 89
The Crows have three strongly-placed picks in the first round to work with and are well-placed to snatch up any sliders around the end of the top 10.
The outside running strength of Caleb Windsor and Darcy Wilson will appeal at picks 10 and 14, and if the versatile James Leake is available he would be in contention too.
Caleb Windsor is a smooth mover with damaging skills.(Getty images: Jonathan DiMaggio)
Key position defence is another spot that could use addressing, but any hopes of Connor O'Sullivan slipping to a Crows pick are optimistic. Ollie Murphy would be another option — he would be a smart choice at pick 14, or Adelaide could take a risk and hope he gets to their third selection.
Brisbane
Picks 30, 39, 51, 54, 67, 97
The Lions will likely only take a couple of picks in this draft, and will need to recruit wisely given their first won't come until nearly pick 40 after father-son and academy bids come in.
Brisbane can afford to be patient and target developing talls. Wil Dawson would be a shrewd selection as a 200cm Harris Andrews protege and is likely to be available for their first pick.
Archer Reid would be a long shot to slip that far too, while Will Patton would likely be another option. Aside from talls, the Lions would do well to look at Vic Country pair Joel Freijah and Billy Wilson as wing and half-back options.
Carlton
Picks 22, 28, 70, 78, 96
Another club likely on the lookout for talls, the Blues are well placed to snatch up some high-potential big men.
Ruckman Will Green looks a very solid AFL prospect and would likely be available at Carlton's first. Key forwards Logan Morris and Archer Reid would also be strong options.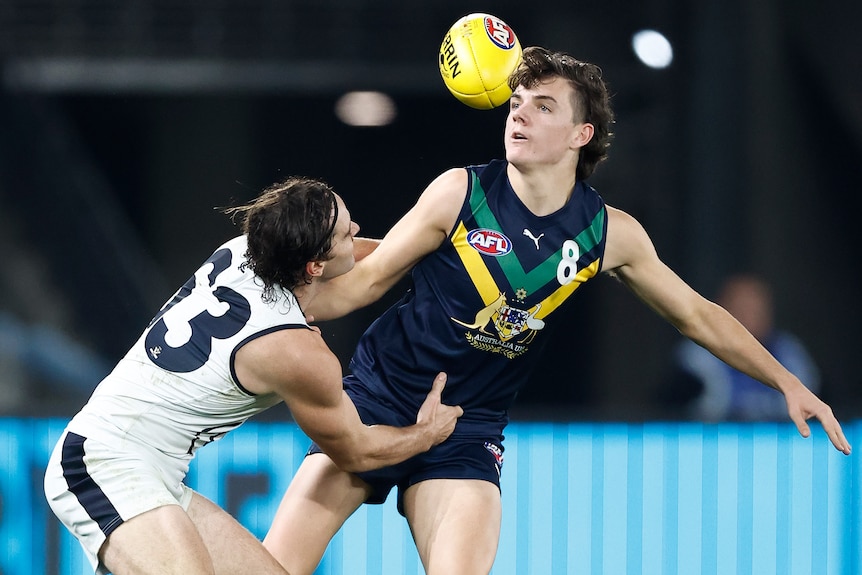 Archie Roberts is a lively rebounding half-back.(Getty Images: Michael Willson)
Angus Hastie would be a fine selection as a lightning-quick two-way defender, with Riley Hardeman and Archie Roberts possible options off half-back too.
Collingwood
Picks 19, 33, 80, 98
The reigning premiers are well-stocked already but have two picks in interesting positions.
If Koltyn Tholstrup was available at the Pies' first pick, he would be an almost perfect addition to that club as an all-energy mid-forward. But he is likely to be off the board by then.
Slick on-baller Charlie Edwards would be a midfield option with Collingwood's first pick, while talls like Logan Morris, Archer Reid and Zane Zakostelsky would be around the mark for either of the first two selections.
Essendon
9, 31, 35, 61, 88
Nate Caddy would be a popular choice with the Bombers' first pick, but the run of Caleb Windsor or versatility and potential of James Leake would be good picks too.
Nate Caddy has the size and strength to make an early impact at AFL level.(Getty Images: Jonathan DiMaggio)
Essendon would love to see Archer Reid, brother of Zach, slip to one of their second-round selections, but if not Logan Morris is a key forward alternative.
If Arie Schoenmaker got to pick 31, the Bombers would also likely be very interested. Other half-back options at that point in the draft could be Angus Hasite and Luamon Lual.
Fremantle
Picks 34, 46, 60, 64, 85
Small forwards seem the obvious point of call for the Dockers, who might have to get aggressive with some trades to strengthen their draft hand on the night.
If not, Koen Sanchez and Jack Delean are small goalkicking options around Freo's first picks, with Jack Callinan another option.
Ashton Moir, a top-three fancy before the year who has slipped back heavily, would be a risky but potentially high-reward gamble with a later pick.
Geelong
Picks 8, 25, 76, 87, 94
The Cats look likely to hold their position in the draft and use their two early selections.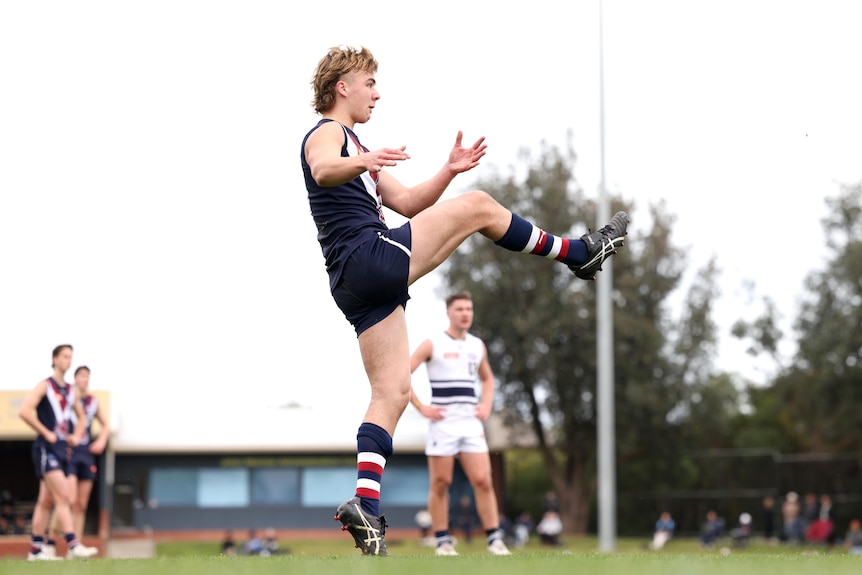 Ryley Sanders will find a home inside the first 10 selections on draft night.(Getty images: Jonathan DiMaggio)
The Geelong dream would be Ryley Sanders getting to pick eight, but that is unlikely. If midfielders are the order of the day, then Caleb Windsor and Darcy Wilson would come under consideration.
If Harry DeMattia slipped to the Cats' second pick they would likely snatch him up, while Archer Reid could come into contention as a long-term Tom Hawkins replacement.
Gold Coast
Picks 24, 26, 27, 32, 36, 38, 66, 71, 74, 84
This is an easy one. The Suns will wheel and deal wherever necessary to bring in their four academy-aligned players — all who have potential to be stars.
Key forward Jed Walter headlines a group that also includes ruckman Ethan Read, midfielder Jake Rogers and dashing defender Will Graham.
It might take a bit more pick-trading on the night to make it all come together, but the Suns will find a way.
GWS
Picks 7, 16, 43, 59, 77, 79, 95
Two relative bolters could be leading contenders for the Giants' first pick, with Caleb Windsor and James Leake both boasting appealing attributes.
GWS are well stocked for electric small forwards, but both Lance Collard and Phoenix Gothard could be options to bolster that position further with their second pick.
Harvey Thomas, a slick but undersized midfielder, is aligned to the Giants' academy and could be snatched up in the national draft.
Hawthorn
Picks 4, 44, 47, 49, 62, 63, 83
The Hawks will have plenty of options to choose from at pick four, but the one they want most might be off the board by then.
Goal machine Zane Duursma would surely be the first priority for the Hawks, but there's a strong chance he will have been taken by North Melbourne already.
After that, the Hawks will probably pick between small forward Nick Watson and skilful defender Daniel Curtin, with tall defender and father-son Will McCabe to be scooped up later in the first round.
Melbourne
Picks 6, 11, 42, 93
The Demons have a strong hand, bolstered by the Luke Jackson trade 12 months ago.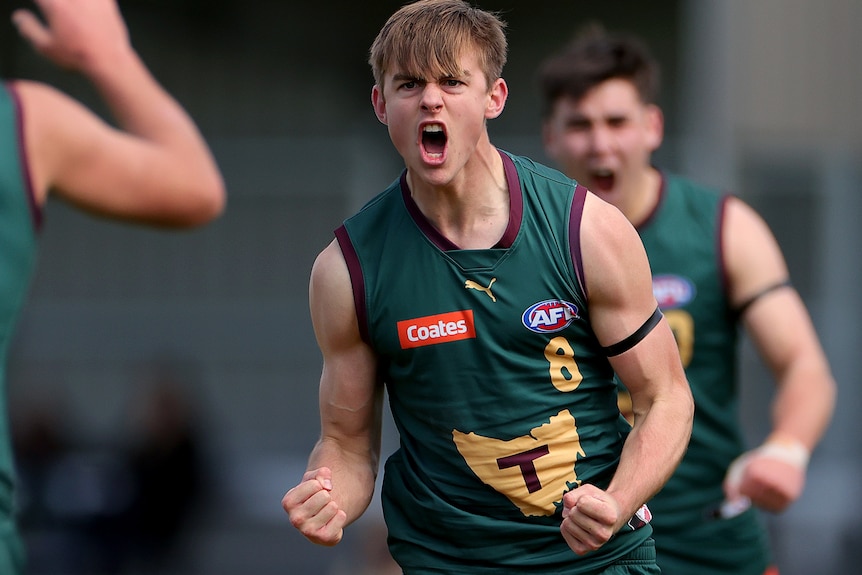 James Leake has risen into top 10 calculations late in the year.(Getty images: Kelly Defina)
James Leake is a likely target, possibly with their first pick but definitely with their second if he's still on the board.
Dan Curtin would come under consideration with pick six, and if Nate Caddy slipped to 11 he would be a strong addition to the Melbourne forward line.
North Melbourne
Picks 2, 3, 15, 17, 18, 57, 82
Working under the assumption that the Kangaroos go with what they've got, they will take in a draft hand to be envied.
Two of Colby McKercher, Zane Duursma or Daniel Curtin will surely be taken with the first two picks, and then North can stock up on other needs with the later picks.
They can afford to take risks on players like Lance Collard with those picks in the teens, while someone like Ollie Murphy would be a smart key-defensive addition if he is available.
Port Adelaide
Pick 73
Port Adelaide's strategy will be very simple — wait and see who falls through the cracks.
It's near enough to impossible to guess who might still be available and worth picking by the time of Port's first pick, which will come in from 73 and likely end up somewhere in the 50s.
Maybe SA midfielder Kane McAuliffe? Could Billy Wilson slip that far? Luke Lloyd's goalkicking exploits with Sandringham Dragons could put him in the frame?
Richmond
Picks 29, 41, 65, 68, 86
The Tigers will be dealing in the latter stages of the draft mostly, but will look to find a bargain with their first selection.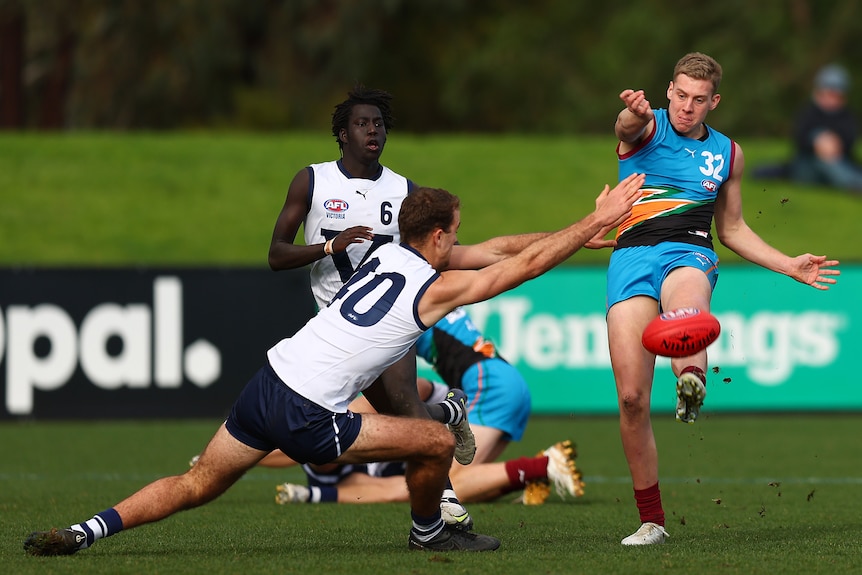 Arie Schoenmaker is the longest kick in his draft class.(Getty Images: Graham Denholm)
If Richmond are looking for talls, Archer Reid and Logan Morris could be options with their first pick. Arie Schoenmaker might be available around that mark too.
Alternatively, small forwards Phoenix Gothard and Koen Sanchez could fit the Tigers' system with either of their first two picks.
St Kilda
Picks 13, 21, 40, 92
The Saints have a solid draft hand and can target a range of players with their suite of selections.
Darcy Wilson would likely be the best midfielder available with their first pick, and would be a solid choice. If a key back is of interest, Ollie Murphy would be a smart pick at this point too.
St Kilda's second pick will end up in the mid-20s. Options could vary from small forward Lance Collard to athletic ruck Taylor Goad to long-kicking defender Arie Schoenmaker.
Sydney
Picks 12, 45, 55, 91
The Swans loaded up in the trade period, but still have a bit to work with on draft night.
Ollie Murphy would be a key defensive option with Connor O'Sullivan almost certain to be off the board by then, while someone like Koltyn Tholstrup would be a good fit with Sydney.
Caiden Cleary will join as an academy prospect, and could well end up one of the best midfielders from this draft.
West Coast
Picks 1, 23, 37, 58, 81
As it stands, the Eagles look set to hold firm and keep the number one draft pick despite interest from a number of clubs.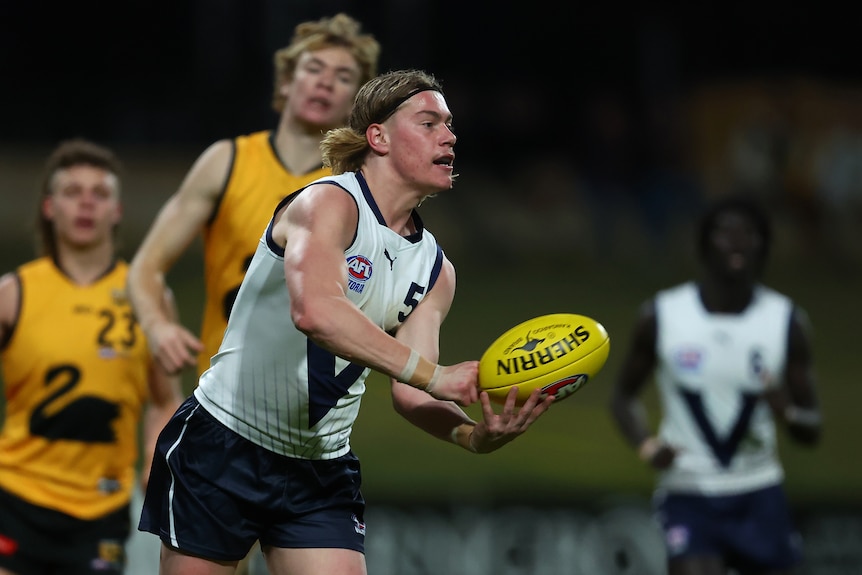 Harley Reid will be the number one draft pick.(Getty Images: Paul Kane)
The reason for their steadfastness is Harley Reid, the best player in the draft and an absolutely perfect fit for what the club needs right now both on and off the field.
After Reid, local options Zane Zakostelsky and Koen Sanchez could be around the mark with their next two picks, while another WA prospect in Clay Hall could slip to a later one.
Western Bulldogs
Picks 5, 48, 50, 52, 53, 56, 69, 72, 75, 90
The Bulldogs have loaded up with draft picks to make sure they can pick up father-son forward Jordan Croft, while still securing some other top-end talent.
Nick Watson will be high on the list for pick five, while tall midfielder Ryley Sanders could be an alternate option.
The Dogs will hope Luamon Lual gets past pick 40 and is available as an NGA selection, while outside runners like Joel Freijah and Tarkyn O'Leary could come into contention with later picks.
Source: AFL NEWS ABC