The son of not one but two sporting guns will become the youngest Brisbane Lion ever to play in an AFL grand final today.
Jaspa Fletcher will be just 19 years and 218 days old when he runs on the hallowed turf of the Melbourne Cricket Ground, only 13 games into his short AFL career.
The teenager takes the honour from Brisbane Lions legend and former club captain Jonathan Brown, who was 19 years and 335 days when he played in his first AFL grand final back in 2001 against Essendon.
As Fletcher has since making his AFL debut in round 14 earlier this season, the fresh-faced winger says he won't shy away from playing on the biggest stage in Aussie rules.
He has his parents to thank for that.
Jaspa Fletcher comes from a family of sporting dominance.(AAP: Darren England)
Sport is in Fletcher's DNA
Dad Adrian played 231 AFL games, including 107 at the Brisbane Bears-turned-Lions.
Mum Narelle was a 296-game Women's National Basketball League player and represented Australia in basketball.
"He had that ability and hand-eye contact," Adrian says.
"He could play basketball, he played golf when he was young, he was pretty good at that, he played cricket, so he's played all different sports."
But Adrian says his son always had a soft spot for Aussie Rules, the game Jaspa really "fell in love with".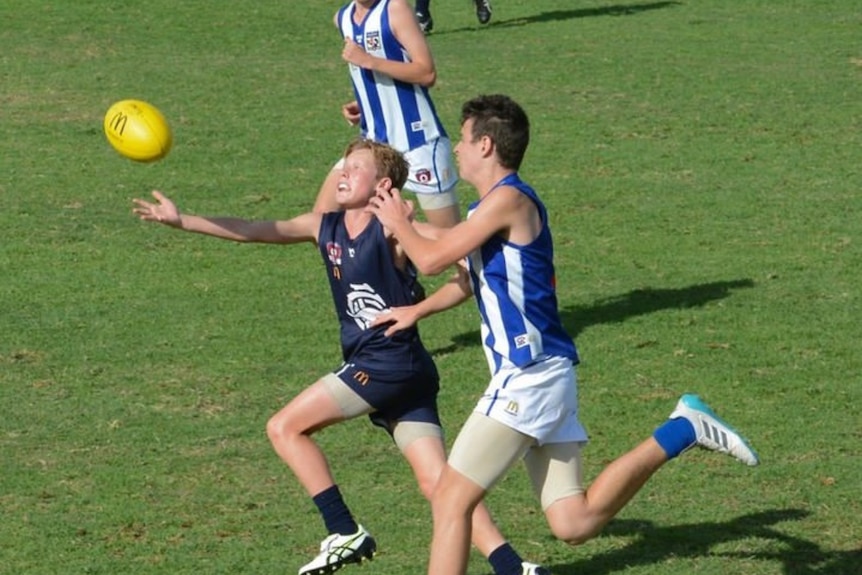 A young Jaspa Fletcher playing for Coorparoo JAFC.(Supplied)
"Probably when he was about 16 he knew that this was the game he wanted to play and he really put his head down and he trained hard and now he gets his opportunity to live his dream," Adrian says.
"For Jaspa to grow up living in Queensland, and now play for the Brisbane Lions, is amazing.
"He probably will look back in 10 years' time and say 'how did this happen?' But you've got to take it when it's there and you never know if you're going to get there again.
"I'm just excited for him. I know he'll do well and hopefully the Lions play really well on the day."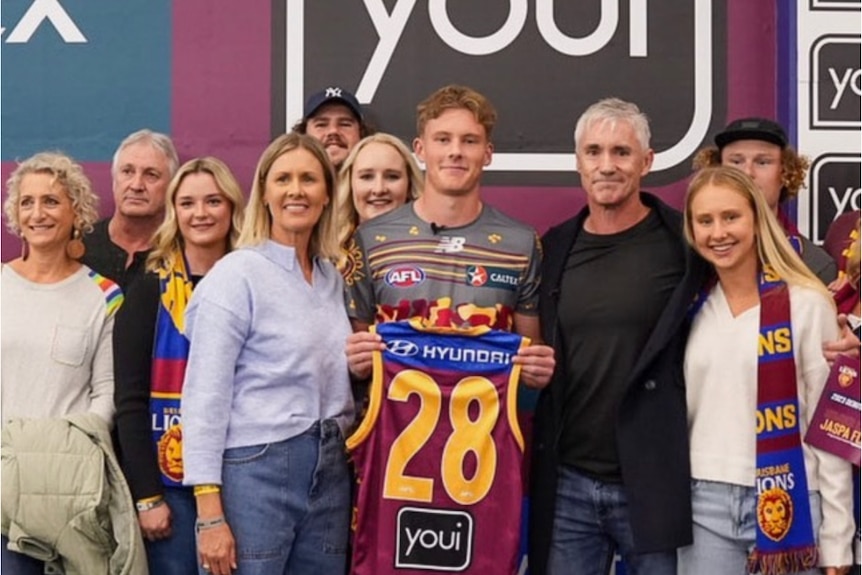 Jaspa Fletcher comes from a family of powerful sportspeople.(Supplied: Brisbane Lions)
Bragging rights
Jaspa says he'll have family bragging rights after this weekend, if the Lions can prevail over Collingwood.
"Mum made two grand finals, but she didn't win one," the 19-year-old explains.
"So I've got one up on dad already making it to a grand final but if I can win one, I've got mum covered too so that'd be pretty handy at the dinner table."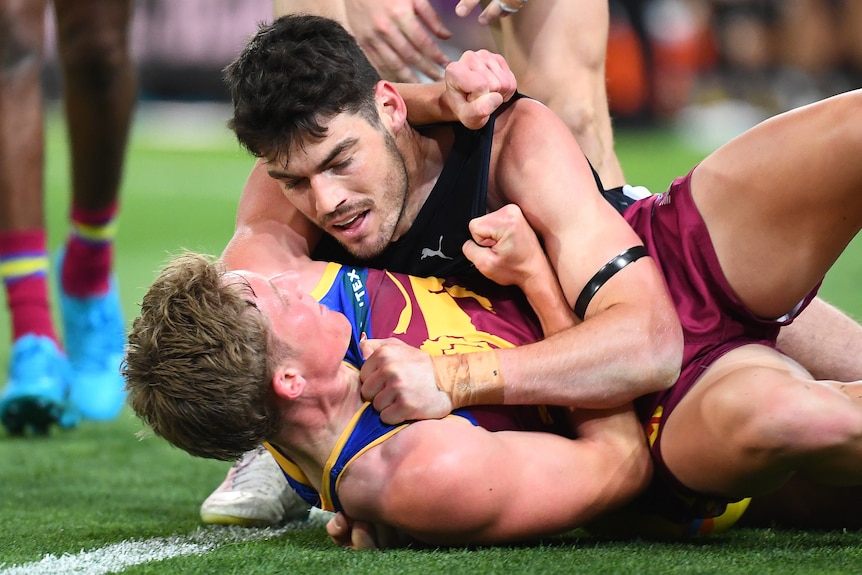 Jaspa Fletcher has only played 13 top-level AFL matches.(AAP: Jono Searle)
The former Brisbane State High School student says he's been leaning on guidance from both his parents in his first AFL season, especially ahead of the grand final.
"I'm so grateful and fortunate to have someone like [dad] in my corner and every week I go back to him and call him on game day," he says.
"It's been super special to be able to come in and have an impact and just try and play my role within such a great team with great players and to be able to make this final is really special."
While Adrian never played in an AFL grand final, he does have a unique connection to the Lions' most recent premiership-winning era, when the club featured in four-straight grand finals from 2001-2004.
"I had the opportunity to be assistant coach there at Collingwood in 2002 and 2003 under Mick Malthouse, and we were on the other end of it," Adrian said.
"We were basically sitting there, especially in 2002, it was down the last three minutes before Akermanis kicked that goal and you can just see how much it means to players to win a grand final so I've seen it from the other side."
Jaspa thrived in the only AFL match he's played on the MCG ahead of today's decider, with 14 disposals, three tackles and an incredible goal, which sent commentators into overdrive against Melbourne back in Round 18.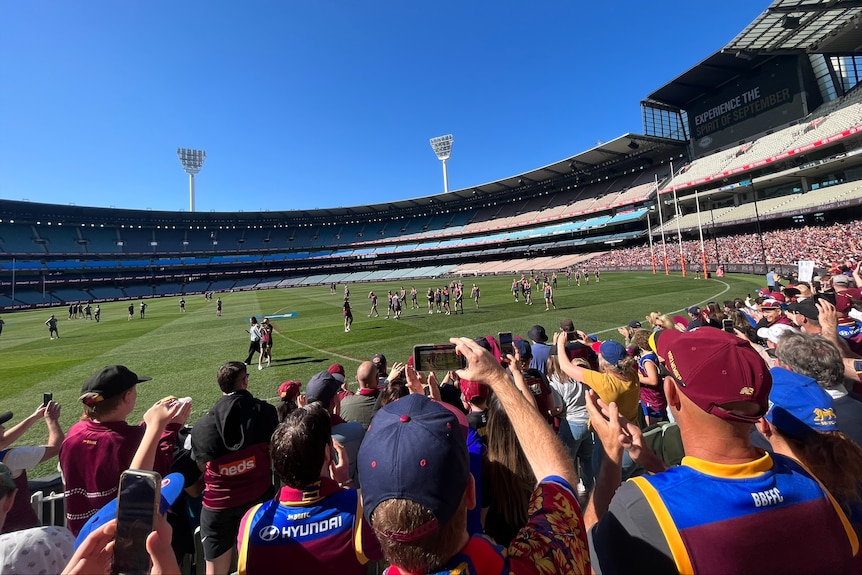 Brisbane Lions fans showed up in their thousands at the side's final training session at the MCG ahead of the AFL grand final.(ABC News: Jess Stewart)
Keeping faith
Adrian's backing his son to be fearless again today.
"He's a pretty level-headed kid," Adrian says.
"You know, when you're young, it probably doesn't affect you as much as when you're old, you just play on instinct.
"He plays with flair and he sees it pretty well, the game, and he has that 360 awareness so the pressure shouldn't worry him, but I'm sure it's going to be a hot contest in the first quarter, so he'll have to be ready for that."
Jaspa will play in front of what's expected to be nearly 100,000 spectators.
"Saturday evening at the Gabba was pretty loud and I know it's going to be three times that," the teenager says.
"When I'm playing, I don't really notice the crowd too much.
"I'll obviously soak it in running out there but when I'm playing, I'm all about footy and just trying to get the ball going forward and do my job to get the win."
Source: AFL NEWS ABC