Success is not just hard-fought wins and premierships for the players and leaders at the Yardgee Dockers Football Club — it means changing young lives in a community with enormous social problems.
This season Jock Mosquito returned home from boarding school in Perth and noticed a new attitude among the teenagers on the training track.
"During the season it was a big struggle for the young boys because they were getting into a lot of trouble," the 16-year-old said.
"They were just walking around thinking they just owned the streets.
"That's why we dragged them into footy to change their lives for a bit, to do something."
Dennis Chungulla and Jock Mosquito say football helps troubled teenagers realise their potential.(ABC Kimberley: Ted O'Connor)
Assistant coach Dennis Chungulla said many boys and young men in the Kimberley town of Halls Creek were caught up in an intergenerational cycle of crime, alcohol and drug abuse and low school attendance.
The Gija and Walmajarri man said the East Kimberley Football League team's nurturing culture helped steer them on the right path.
"Get these young fellas involved in the football, and week by week, we didn't know this mob would turn or change but we kept on encouraging them," he said.
"And I've seen a change in their life … training come Monday to Wednesday and they would be there … first thing."
Brawl mars grand final triumph
But the Dockers' players and coaches lament that what should have been the perfect season has been tarnished.
Yardgee's slick and skilful brand of football propelled them to the grand final last month in which they defeated the Kururrungku Roos, based in the community of Billiluna, by 33 points.
When the siren blew, spectators came onto the field and a brawl broke out, injuring three police officers.
More than a dozen people have been charged for their alleged involvement and the brawl has become the subject of criminal court proceedings.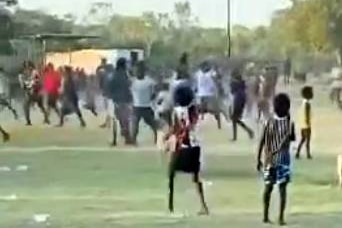 More than a dozen people have been charged over the grand final brawl.(Supplied)
The incident meant Yardgee's players, including Jahmal Stretch, did not receive their premiership medallions after the match.
"I felt bad … hurt. That we're not getting a medal or anything."
Jock said his joy on the field quickly turned to disbelief.
"It just made me feel like it wasn't a grand final. Everyone was scattered on the field. Everyone was going crazy," he said.
Feuding fuels fighting
The ABC has spoken to several leaders in Halls Creek and the surrounding communities who say football has too often become a magnet for drunken anti-social behaviour in recent years, which often involved family feuding.
Katie Darkie said she had relocated from Billiluna to the community of Balgo in recent months to escape ongoing violence and harassment.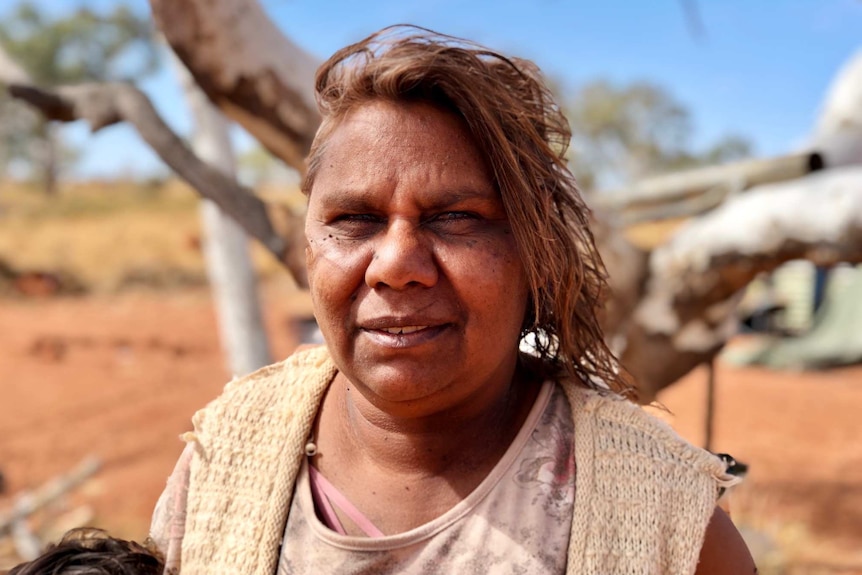 Katie Darkie left Billiluna to escape ongoing feuding.(ABC Kimberley: Erin Parke)
She has close family ties to players and supporters of the Yardgee Football Club.
The Jaru woman said she was traumatised after one of her family members was badly beaten.
The artist raised her children in Billiluna and for decades had been a community advocate.
She said people with little to do in their day were more likely to feud and fight.
"Maybe they are bored. They don't have a job in the community," Ms Darkie said.
"They just sit in their house and every time they want to move it's just for football.
"That's the only thing they like … just football. They don't know how to work in their community."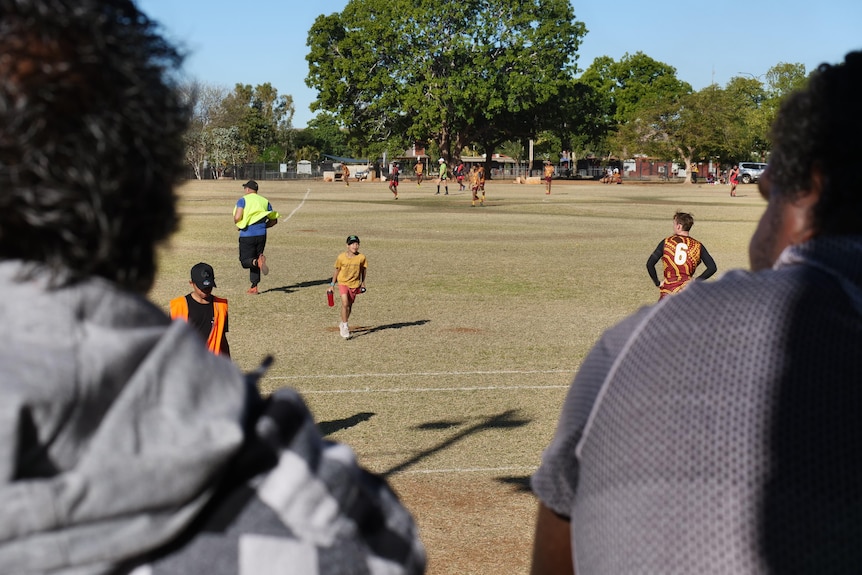 People from Halls Creek and surrounding communities love coming into town to watch local football.(ABC Kimberley: Ted O'Connor)
Yardgee community chair Rose Stretch said in the lead-up to the grand final she and other leaders told young people not to be baited by outsiders looking for a fight.
But she conceded it was difficult, given some felt they needed to defend themselves and their family.
The Gija woman feared the next generation would grow up thinking violence was acceptable.
"They're going to say, 'If that community can do it, we'll do it too'," she said.
"When they're old enough like this mob, they'll say, 'You came to our community and you fight with my family. I want to fight you now'.
"We don't want that to happen to our kids."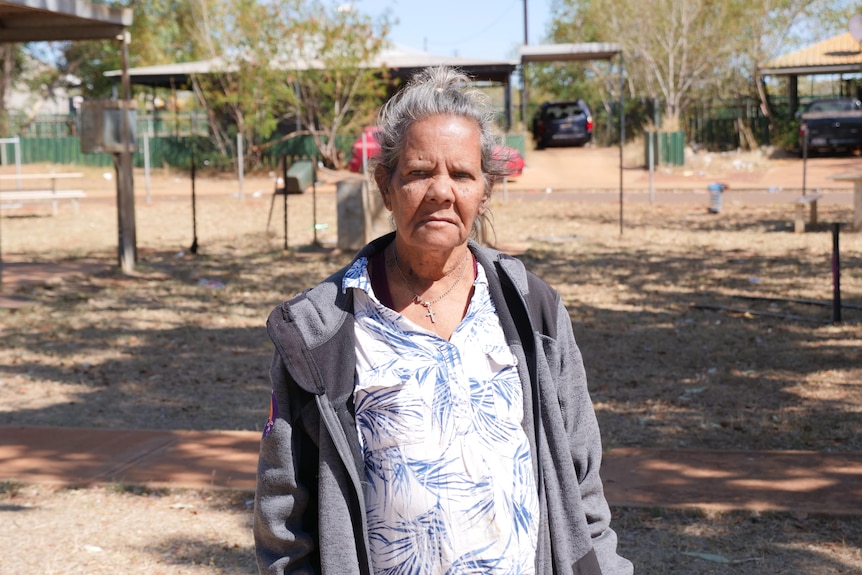 Rose Stretch says she feared spectator violence would happen at the grand final.(ABC Kimberley: Ted O'Connor)
Yardgee's leaders and Ms Darkie insist they warned the league some spectators would likely cause trouble at the grand final.
They now want league officials to sit down and meet with them to discuss tough action against teams, spectators and players involved in anti-social behaviour.
The ABC has contacted the East Kimberley Football League and the Kururrungku Roos for comment.
More respect
Mr Chungulla said parents and elders should combat feuding and anti-social behaviour by being better role models.
"Respect is the most important thing you can have in the community, but when the feuding comes in there's no respect," he said.
"You're a role model to your family, even to your kids; how do you want to see them grow up … by fighting? You start in your home and teach them respect."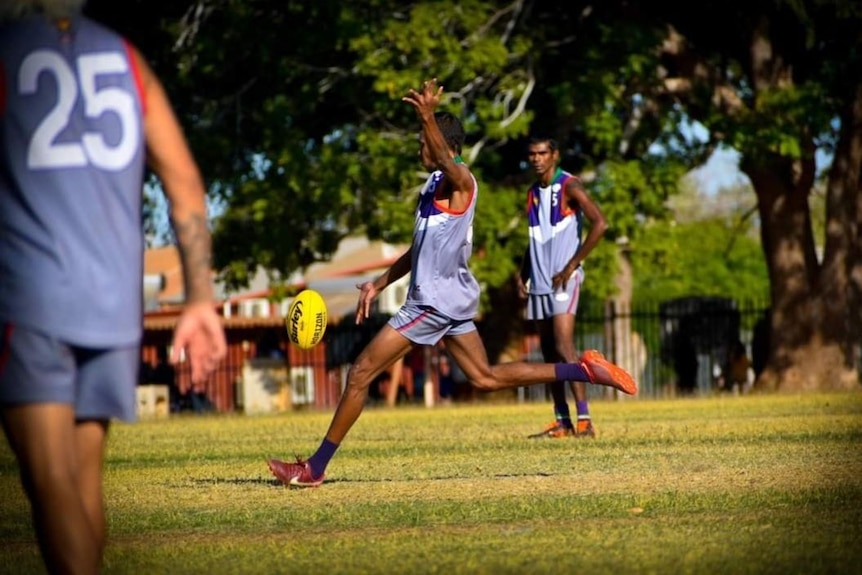 Jahmal Stretch, a former AFL draft prospect, is a dominant player in the league.(Supplied: Jahmal Stretch)
Yardgee coach Nathan Stretch said his team needed more recognition from the wider community and should be celebrated for their achievements.
"We got a big mob of players here, but they're not getting support … help from the town … how to get them away somewhere or find them a good job," he said.
Jock said he wanted to play in front of big crowds in Halls Creek that were there to enjoy the rich pool of high-level talent the town had.
"You're there to play footy. You're there to play your game. You can't come on the field and fight someone and all that, bringing up all your trouble there," he said.
"Football is not a place to start a fight."
Loading
Source: AFL NEWS ABC