Nicole Dumesny went from proud football mother, to holding her son as he contemplated a surgery he might not survive.
Key points:
Adelaide footballer Zac Dumesny had been getting headaches for more than a year and a half
His mother prompted him to see a neurologist, an MRI revealing a brain tumour
Dumesny wants to get back to football in any way he can, with chances of relapse low
"You have your 20-year-old pretty much hysterical in your arms going 'why me' … that's hard," she remembers back to what was a dark summer's day.
Zac Dumesny was a member of the AFL Academy for the nation's top young players.
He was going through his best pre-season training campaign with SANFL club South Adelaide last summer when his mum noticed he was going through quite a few pain killers.
"Why is it that every time that you go to get Panadol there's never any here?" Ms Dumesny said she had asked her son.
"I felt like I was buying it, so when I questioned him, he goes 'I've been getting headaches, I guess I didn't guess they were as bad as what they were'."
Zac Dumesny had been a member of the AFL Academy.(Supplied: Nick Hook Photography)
Dumesny said at that point he had been getting headaches for about a year and a half.
"It wasn't anything extreme, like I was still able to go through my daily activities, through footy training," he said.
But a mother's instinct kicked in and Ms Dumesny urged her son to see a neurologist for her own piece of mind.
Alarm bells ring after MRI
Not overly concerned, she set off on a pre-arranged girls' trip to New South Wales with her daughter.
While they were away, alarm bells were suddenly and unexpectedly being rung by her son's newly-found neurologist.
"He sent me to get an MRI and it came back that I had a large cyst on my brain and I had a tumour connected to it," Mr Dumesny said.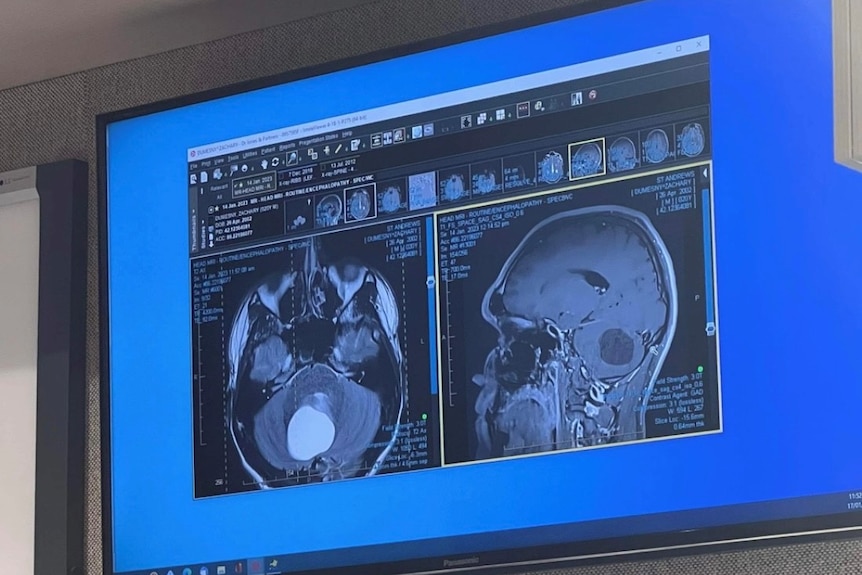 Medical imaging found the now 21-year-old had a cyst on his brain.(Supplied: Zac Dumesny)
Ms Dumesny and daughter Chloe rushed back home as surgery was quickly being organised for several days later.
"We got told he might not be able to walk, he might not have normal speech, his face could droop, there was lots of different situations," she said.
"Obviously with any surgery death [was possible], so we had to process all of that."
Surgery that was meant to go for three hours on the back of his head, instead went for eight hours, with anxious family waiting in the hospital for news.
Surgeon Stephen Santoreneos evenutally brought the family good news — he was happy with how the operation had gone.
However, Dumesny spent three days in intensive care dealing with intense pain caused by his neck being placed in an awkward position for so long as the surgery was carried out.
Rehab begins with mentor by his side
Then came the real recovery, driven on by realising how lucky he was compared to others.
"It was almost like I had to know how to walk again and learn how to talk again," Dumesny said.
As he began the critical walking and talking rehabilitation process, the burn was always strong to get back to football.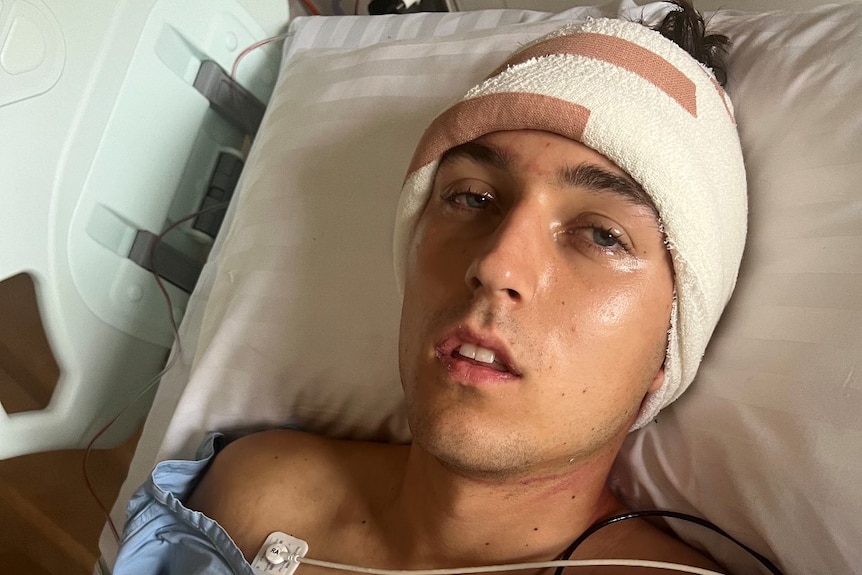 Zac Dumesny underwent an eight hour surgery on the back of his head.(Supplied: Nicole Dumesny)
But that goal was like being in a long dark tunnel and not being able to see even a glimmer of a light.
Luckily he had South Adelaide's general manager of football, Brent Reilly, in his corner.
The former Adelaide Crows defender had gone through a similar experience when playing AFL after he fractured his skull in a freak training accident in 2015.
He was forced to retire from the AFL immediately and then went through a lengthy recovery process.
"It helped me being around him just to calm him down, around what's going to happen," Reilly said.
Dumesny did have one setback when he started getting nauseous, the headaches returned and his appetite disappeared, causing him to lose up to six kilograms.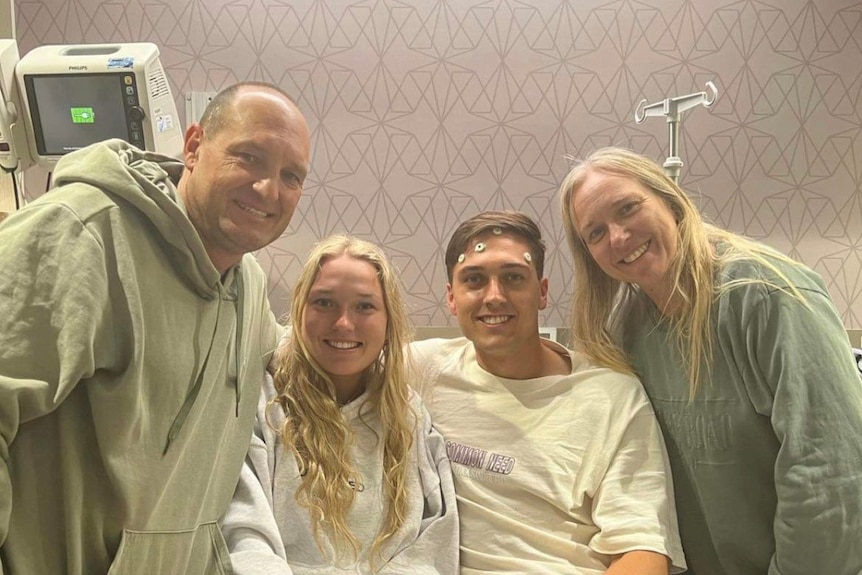 The tumour turned out to be benign.(Supplied: Nicole Dumesny)
Those symptoms have largely passed and the overall signs are good — the tumour turned out to be benign and the chances of him relapsing are slim.
"They weren't certain that it was cancerous or not, and thankfully it wasn't," he said.
"My surgeon, he's sort of pretty confident that he wants me to play again which is what I want, it's what the family wants and what everyone wants," Dumesny said.
"He's young, he's healthy, I will want him to wear a helmet, just to protect the cerebellum part of his head, so I'm not against it, I want to see how he goes training," his mother said.
If he gets the official medical green light to resume playing, Dumesny has been told to treat it like he has had several significant concussions.
Reilly did not get that chance.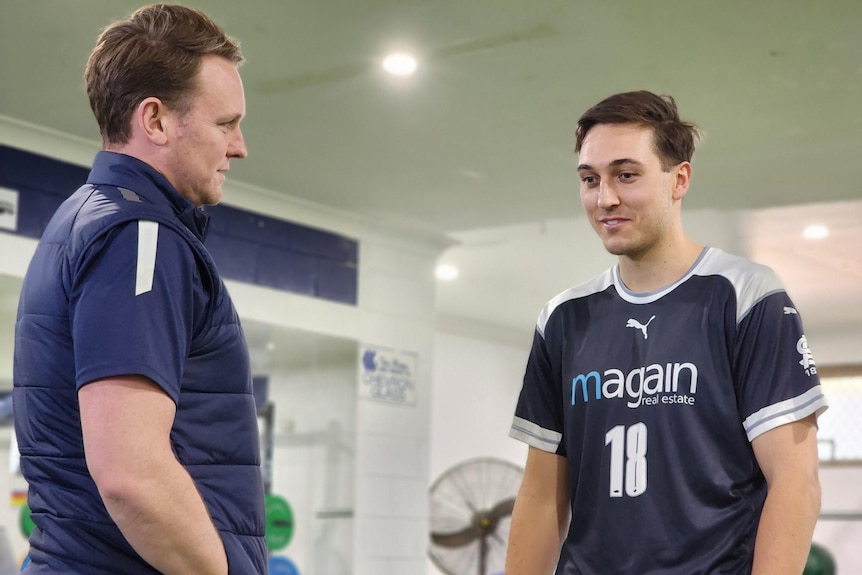 Brent Reilly and Zac Dumesny formed a close bond during the recovery.(ABC News: Matthew Smith)
"He can play which is good. I was a little bit different, I got told I can't play ever again," Reilly said.
"It's just the confidence he's got to go out there, when it's time to put his head over the ball, take a mark, that's when it's going to be a bit of a challenge for him."
The now 21-year-old said he has bonded with Reilly, with his support being invaluable in the recovery process.
"It's good to have him there and bounce ideas off," Dumesny said.
"He said if I can't come back to football then I might even be able to look at something like coaching and coming through juniors and then progressing to senior football."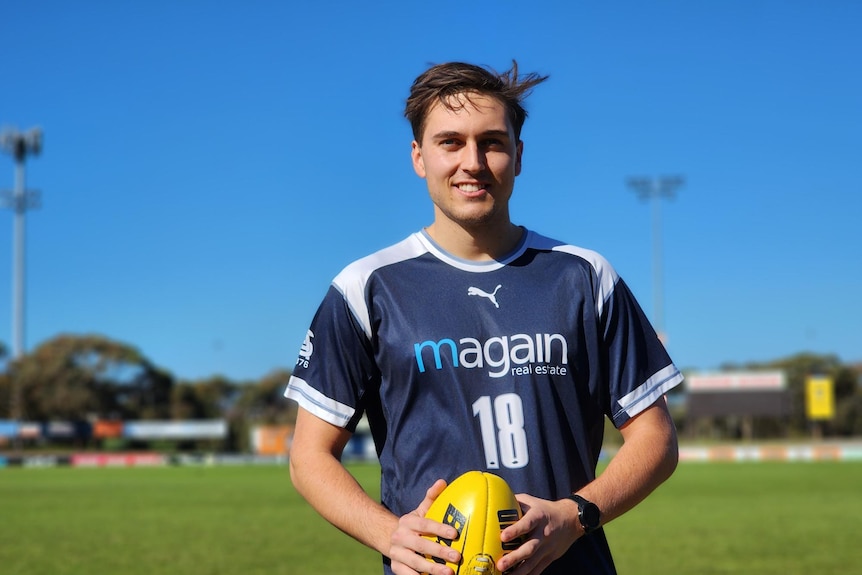 Zac Dumesny plans to continue his football career and study.(ABC News: Matthew Smith)
Off the field, life is gradually returning to normal for Dumesny who continues to work in the disability sector and plans on doing a masters in speech pathology next year.
But it is football that has been at the centre of his life.
Dumesny has been back at South Adelaide for months doing whatever he can to help his beloved Panthers, even volunteering to help on the scoreboard when needed.
That time at the notoriously windswept Noarlunga Oval gives him moments to dream that maybe come 2024, he will be pulling his old jumper back on again.
Source: AFL NEWS ABC