A prominent climate scientist says he is "shocked and dismayed" after the Fremantle Dockers signed a new multi-million dollar sponsorship deal with Woodside Energy.
Key points:
The partnership has been extended for another two seasons
Climate scientist Bill Hare says the move will not be popular with younger generations
The Dockers says it took climate change concerns into consideration
Bill Hare, who was among high-profile supporters who urged the club to cut ties with the mining giant a year ago, expressed his disappointment over the AFL club's decision to re-sign with the gas giant for another two seasons.
"This year, we've seen such an awful array of really extreme climate events, really extreme heat, massive wildfires, extreme flooding," Dr Hare said.
"I would have thought the club would see it's way to getting out of fossil fuels sponsorship because of that."
Climate Scientist Bill Hare, right, was among high-profile signatories to a letter that urged the club to drop the sponsorship deal. (Supplied: Miles Tweedie Photography via Sophie McNeill)
He believed the decision would upset the club's younger supporters.
"A lot of young supporters are really concerned about climate change. That's something that the club doesn't seem to have seriously taken into account," he said.
"It says to the young supporter base of the Dockers that the Dockers don't really care about climate change, that they don't care about the urgency of it.
"It sends a message in ongoing support of one of the largest fossil fuel companies on the planet."
Gas giants 'buying social license'
ACT Senator and former Wallabies forward David Pocock criticised the decision on X, formerly Twitter.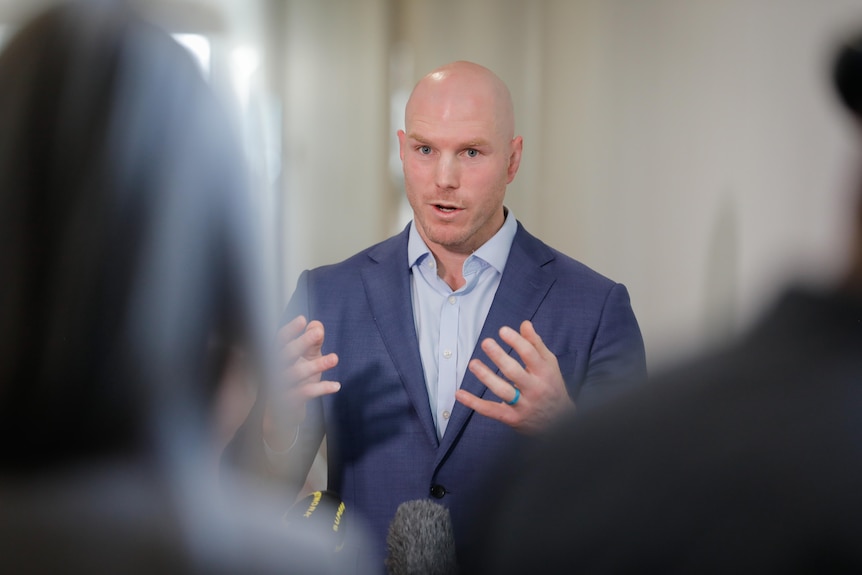 David Pocock says gas giants are buying social license by sponsoring sport.(ABC News: Matt Roberts)
"Fossil fuel companies, like Woodside and Santos, are expanding their operations, with no credible plans to decarbonise, while buying social licence by sponsoring sport," he wrote.
Greens Leader Adam Bandt described the deal as a "disappointing free kick to the fossil fuel industry".
"Woodside will try anything to distract from the fact they're opening up new gas in the middle of a climate crisis, but people are not falling for it," he said.
Climate concerns considered: Dockers
Dockers chief executive Simon Garlick defended the club's decision, saying climate change concerns were taken into account.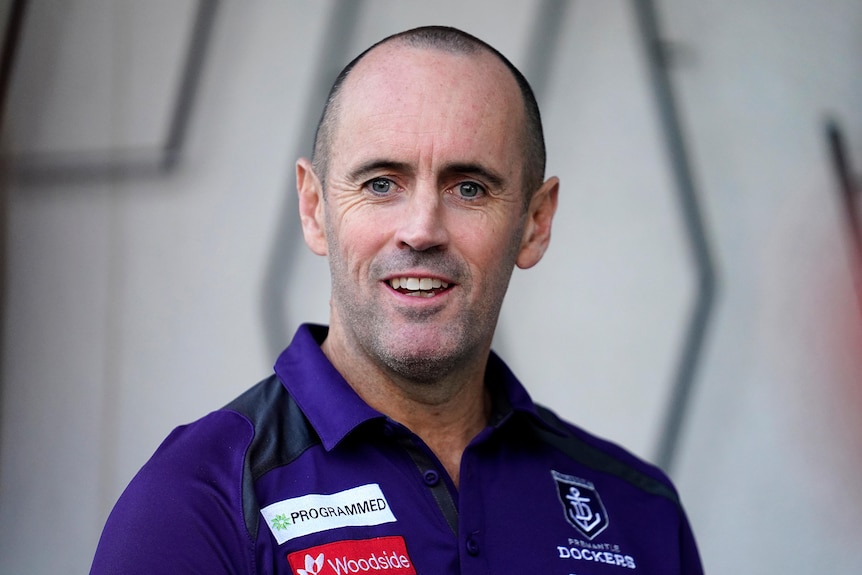 Simon Garlick said Woodside would play a key role in the renewable energy transition. (AAP Image/Dave Hunt)
"We clearly understand and acknowledge that climate change and sustainability is a key and complex social issue for our members, our supporters, our players, staff and the broader community," he told ABC Radio Perth.
"With that in mind, and Woodside's key role in the transition to new and more renewable energy sources being at the forefront of our mind, it was a significant consideration and something we worked through over what in reality, was a 12 to 18 month period."
Mr Garlick said the deal was struck in an environment where corporate organisations with capacity to support clubs on this scale were difficult to find and maintain.
"We're incredibly fortunate and grateful … to have a partner like Woodside who've been with us for 14 years … through thick and thin… in an incredibly challenging and competitive industry, it's a significant partnership and one that's really important," he said.
While he refused to answer if there were other sponsorship options at the same financial level as Woodside's, he said the club was constantly in contact with other organisations about partnership opportunities.
"Organisations that have the capacity at that level are very few and far between and our priority was, as it always is, to look to prioritise discussions with our incumbent [sponsors], particularly those who've been so loyal and important to us for such a long period of time".
Garlick said Woodside was making "significant commitments" towards addressing climate change, and the club would continue to support their initiatives.
"They're clearly supplying an incredibly important resource that is critical to the livelihoods of millions of people across many countries … there is a need for that asset whilst alternate supplies of renewable and cost-effective and secure energy sources are established," he said.
"We know this will take some time to deliver but we look forward to partnering with them."
Fossil fuel industry bankrolling sport
The Dockers are far from the only major sporting organisation or event that relies on sponsorship from the fossil fuels industry.
Oil and gas company Santos sponsors the annual Tour Down Under bike race in South Australia, while Fortescue is a major partner of the Western Force rugby union team.
BHP, Caltex (owned by Chevron) and Mineral Resources sponsor the West Coast Eagles.
Earlier this year, Cricket Australia and Alinta Energy ended a sponsorship agreement, following the decision by captain Pat Cummins to withdraw from advertisements for the company.
Hancock Prospecting withdrew $15 million in funding from Netball Australia following a player backlash against the sponsorship.
Partnership serves communities: Woodside
Woodside chief executive Meg O'Neill said the partnership with Fremantle continued to deliver valuable community benefits.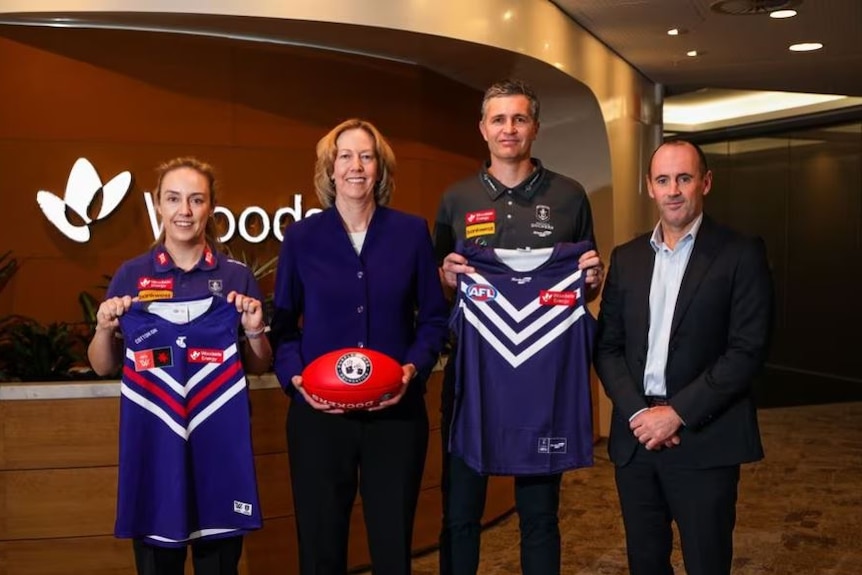 Woodside chief Meg O'Neill, second from left, says the partnership will deliver valuable benefits for the community. (Supplied)
"As a proud Western Australia-based company, we are excited to continue our longstanding partnership with the Fremantle Football Club," she said.
She said Woodside worked with the club to deliver reconciliation and educational outreach opportunities, which were vital for creating pathways for young people.
"Our renewed partnership with the Dockers will make a genuine difference to communities in Western Australia," she said.
"As we move forward in the energy transition, partnerships with organisations such as the Dockers who prioritise sustainable outcomes will be critical.
"We are proud to work with the Dockers as we all focus on a lower carbon, equitable and sustainable energy future."
Source: AFL NEWS ABC