The GWS Giants are through to a preliminary final after downing Port Adelaide on Saturday night by 23 points.
Giants vice-captain Stephen Coniglio produced a first-half masterclass and Jesse Hogan slotted four goals, setting up their 13.15 (93) 9.16 (70) semifinal win.
Coniglio inspired a five-goal blitz in 10 golden minutes in the second quarter at Adelaide Oval on Saturday night as the Giants book a preliminary final against minor premiers Collingwood.
Port exit the finals with consecutive losses, as did fellow top-four outfit Melbourne on Friday night.
Coniglio, who missed last week's elimination final triumph against St Kilda because of an eye injury, collected 22 disposals, kicked a goal, and had five clearances and eight score involvements to half-time.
The ex-skipper finished with 30 disposals and two majors while fellow stalwarts Lachie Whitfield (33 disposals), Josh Kelly (19 disposals, two goals), Tom Green (29 disposals) and Callan Ward (24 disposals) were other standouts.
Hogan and captain Toby Greene (three goals) were attacking menaces and defenders Sam Taylor and Jack Buckley were superb.
Port's Willie Rioli dazzled with three goals, Zak Butters had 25 touches and Dan Houston 22 disposals, while Travis Boak collected 21 disposals in what could be the 35-year-old's last game.
Toby Greene led from the front for the GWS Giants.(Getty Images: James Elsby/AFL Photos)
All Australian skipper Greene and Rioli potted two goals each in a free-flowing first term with the Giants ahead 4.4 (28) to 4.1 (25) at quarter time.
The Power hit the front via a Willem Drew left-footer but GWS responded with the match-defining burst of 5.1 to 0.1 in a 10-minute purple patch.
The Giants stunned the 45,250-strong pro-Port crowd, creating a match-high 33-point break before leading by 29 at halftime.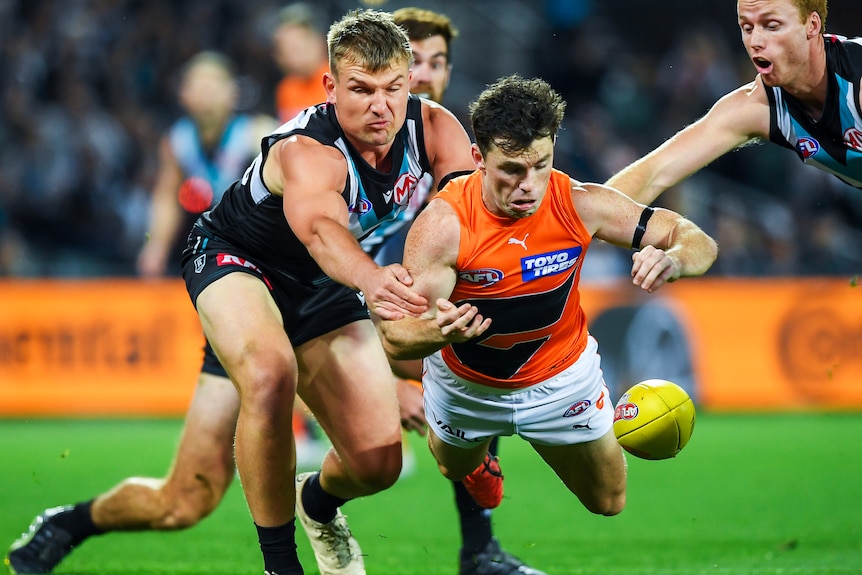 Brent Daniels (right) was one of the Giants' early goal-kickers as both teams traded scores in the first quarter.(Getty Images: Mark Brake)
The advantage should have been greater but after the five consecutive majors, the visitors scored six successive behinds in a period of complete domination.
Adding injury to insult for the Power, they lost ruckman Scott Lycett to a right ankle ailment.
Port's Rioli crumbed a goal to opening third-quarter scoring and the hosts were within 18 points some 15 minutes into the term.
But the Giants, with Conigilo adding another major, then rallied but were again cruelled by inaccuracy, missing multiple chances and taking a 26-point lead into the final term.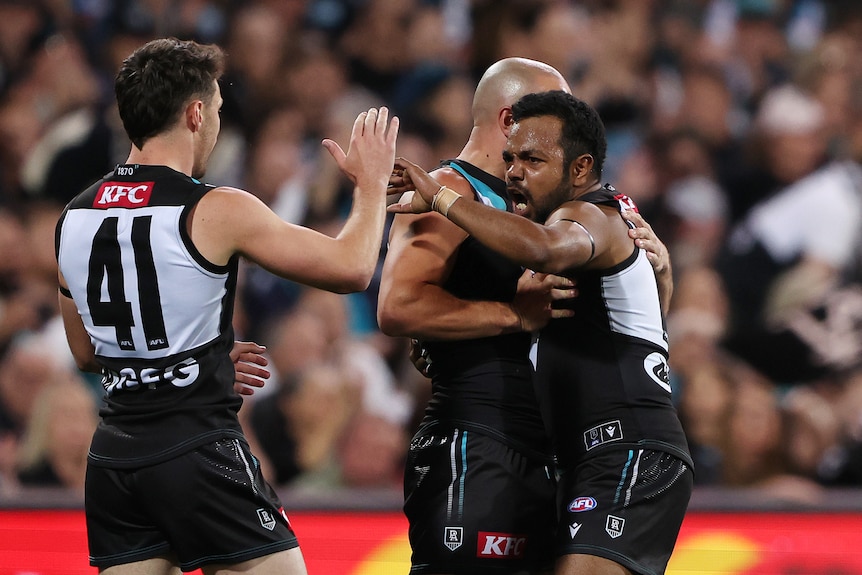 Junior Rioli kicked the opener for Port.(Getty Images: Sarah Reed/AFL Photos)
The Power issued a last-ditch press but couldn't cash in, kicking 1.4 to sneak 16 points down with 10 minutes remaining.
But GWS forward Jake Riccardi snapped Port's spirit with a long-range set-shot from near a boundary line before skipper Greene rubber-stamped victory with his third goal.
GWS last played a preliminary final in 2019 when they stunned Collingwood by four points, only to lose the grand final by 89 points to Richmond.
AAP/ABC
Catch up on the action in our blog.
Key events
Show all key events
Port Adelaide vs GWS
That's it for another weekend of finals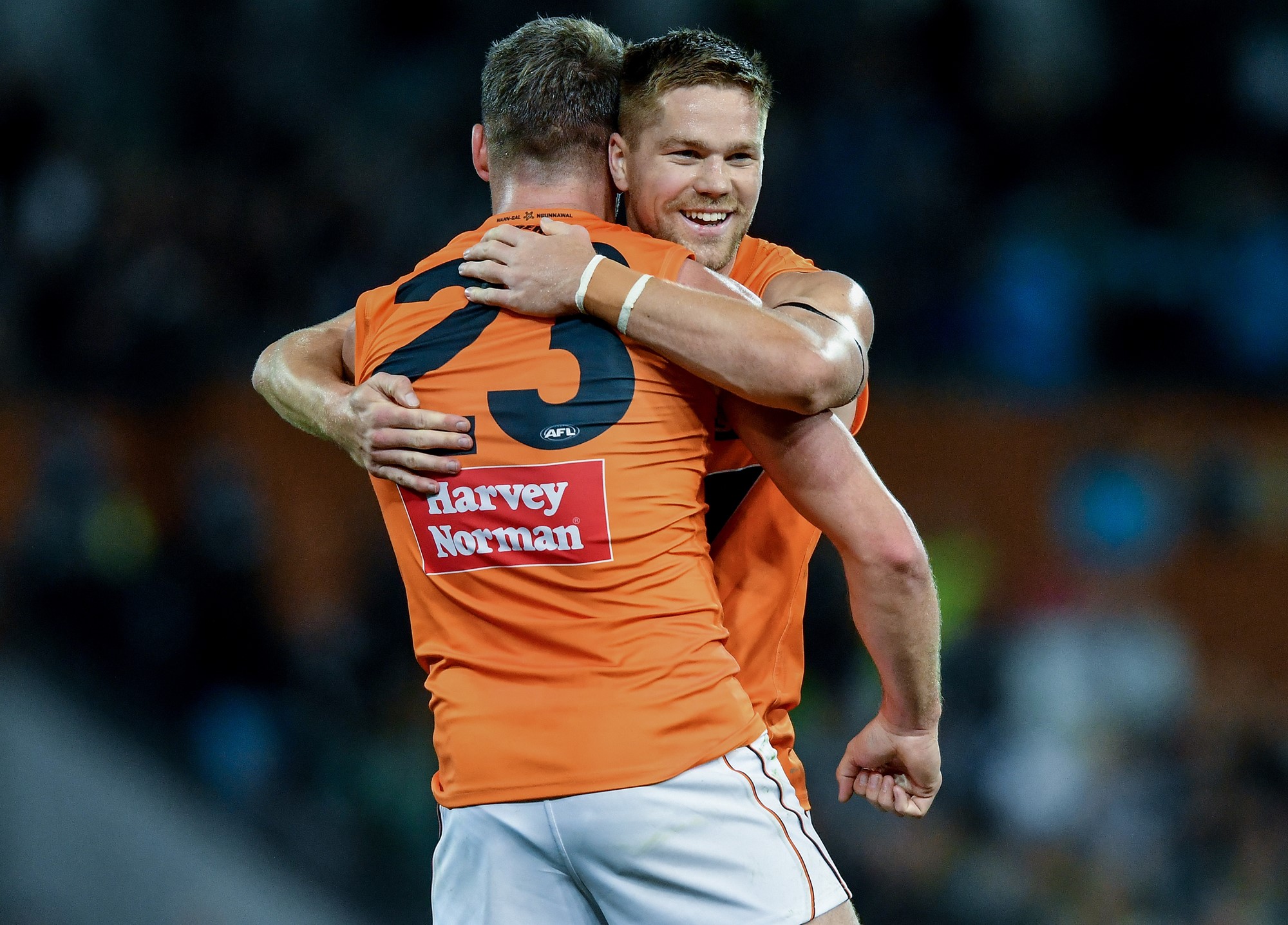 (Getty Images)
We'll leave it there from Adelaide Oval as the Giants continue celebrations and Port Adelaide start to think 2024 and beyond. It's a night to savour for the league's youngest club, who once again are punching above their weight at the business end of the season.
Our preliminary finals are set — Collingwood will play GWS at the MCG on Friday night, and Brisbane will play Carlton at the Gabba on Saturday twilight.
The top two teams hosting the league's two hottest and most in-form sides sounds like a pretty juicy prelim weekend to me. Those are going to be two unmissable games, and you better believe the blog will be back for all of it.
Thanks for your company tonight, and I look forward to seeing you again next week.
Toby Greene leading his team to a prelim
A special season isn't done yet for GWS and Toby Greene.
He spoke with Channel Seven after the game:
"We were full of confidence, we knew if we played close to our best we were going to be hard to beat. They are a good side and made us work.
"We had full confidence that if we played our brand we would be tough to beat.
"We've always been a super close club. We travel a lot, last two weeks has been so much fun. Feels like we're back home at the MCG next week. That was the plan. We are pumped. Travelling and getting wins like this, that is what football is about."
The Giants are up and about
FT: The Giants are into a prelim, winners by 23 points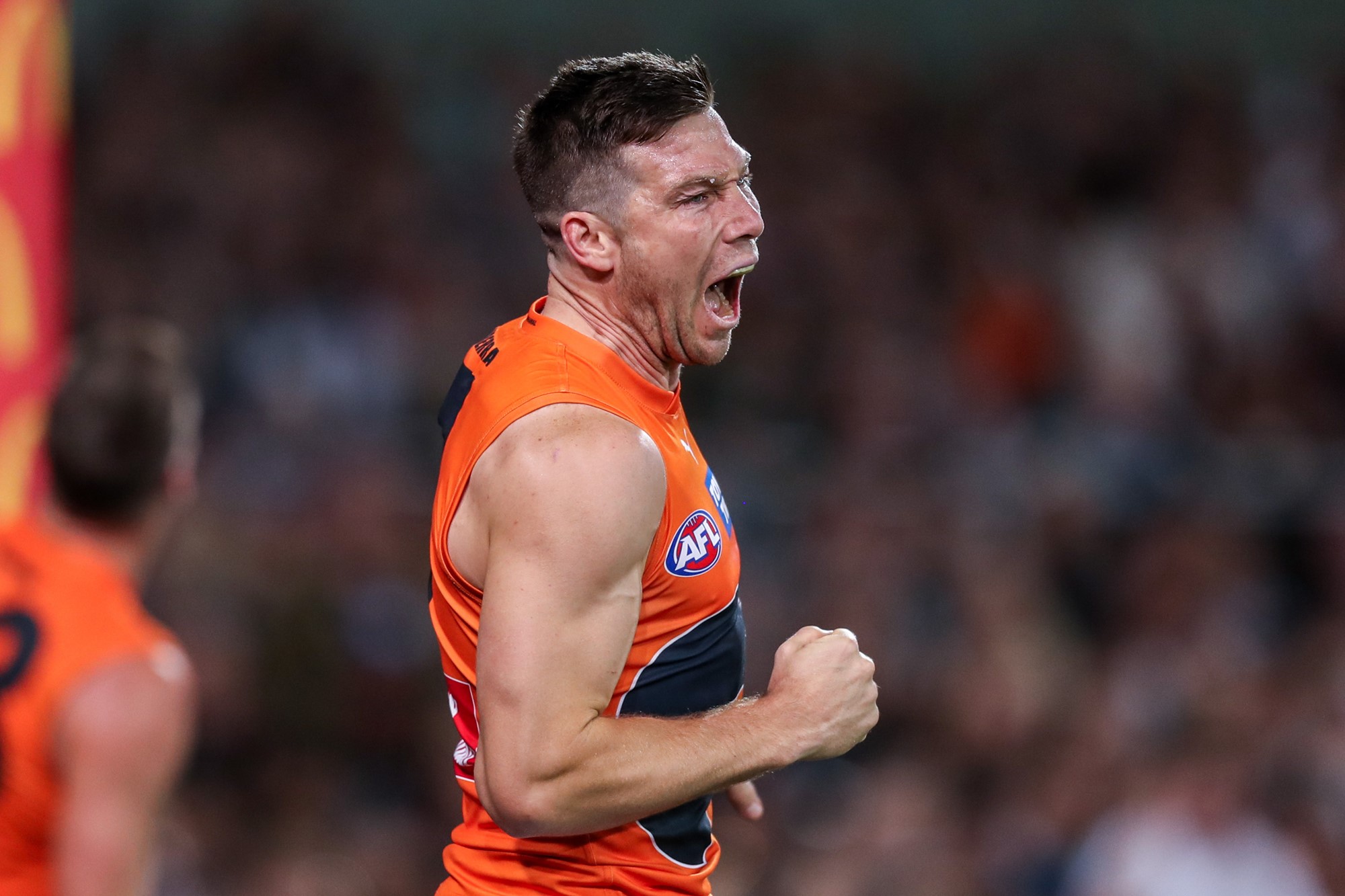 (AAP)
And I tell you what, these Giants will take some stopping.
That was a fearsome performance on the road in a big final, dominating every key area of the game and holding complete control for the majority. There aren't many weaknesses in this team, and there are more than enough superstars to stand up in the big moments.
Collingwood await for GWS now, and a preliminary final at the MCG on Friday night. I'm getting 2019 flashbacks already, and I absolutely wouldn't put another stunning win past the Giants next week. They couldn't be more impressive right now.
As for Port Adelaide, all of their perceived flaws were badly exposed in this finals series. It's resulted in a straight-sets exit, two bad losses that will force some introspection over the offseason. A busy trade period awaits.
But it's the Giants's night. The orange tsunami is heading to Melbourne again.
1′: Into the last minute at Adelaide Oval
And it's 60 seconds until one of the great wins in GWS history is completed.
4′: Byrne-Jones has a flying snap
And it's another behind for Port Adelaide.
The Port players and fans are coming to terms now with the fact their season is over, and a straight sets exit is on the cards.
Update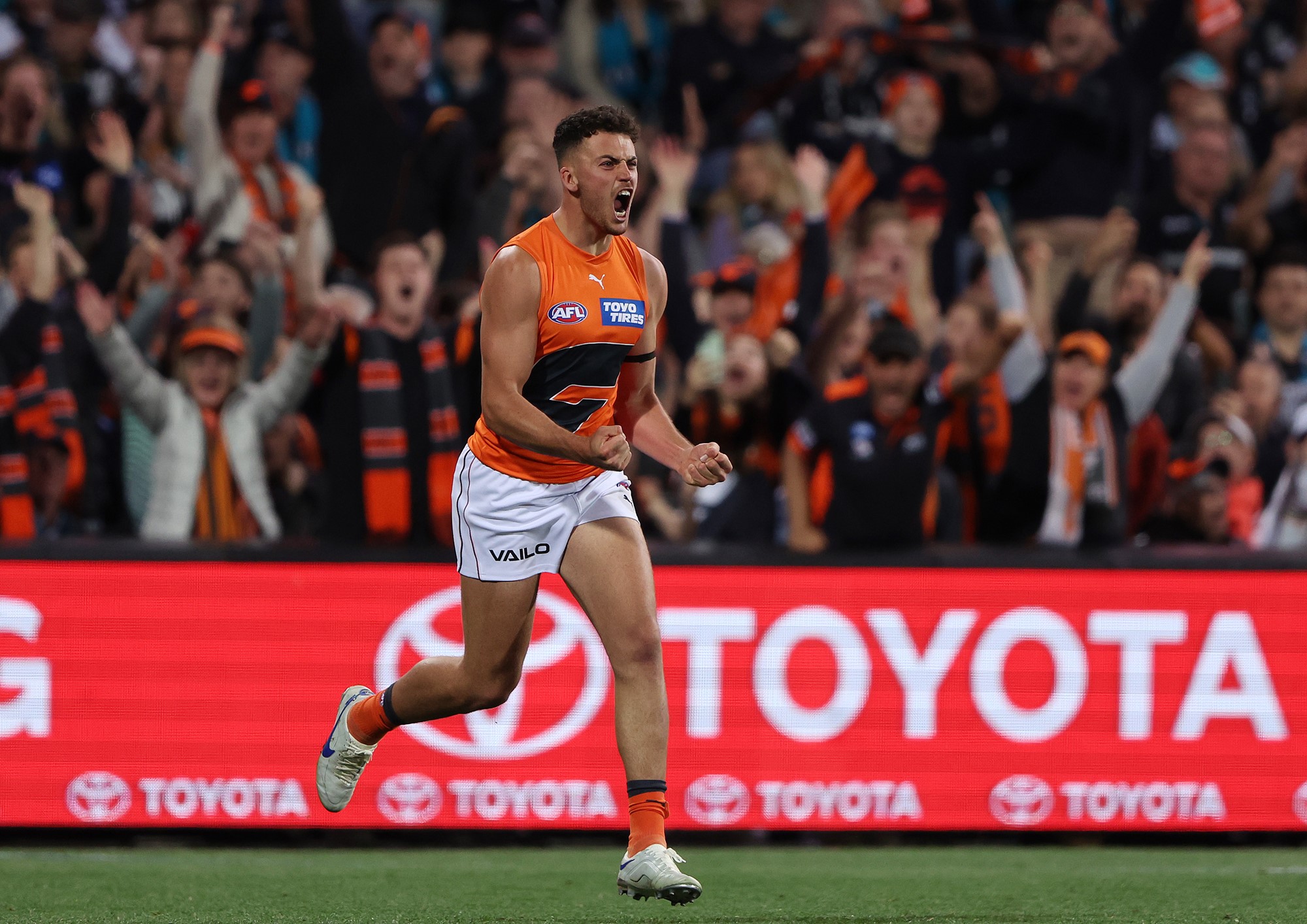 (Getty Images)
6′: Toby Greene seals it! The Giants will surely play in a prelim!
After a big first quarter, Toby had been a bit quieter since. So of course it would be him to have the decisive final say with five minutes left on the clock.
It's just about party time for the Giants.
7′: Toby Greene takes the mark! The smallest man in the pack!
And of course it falls to Toby to land the knockout blow. Such a clever mark, standing under the high ball and holding his nerve as the pack formed.
Now Toby Greene can seal it.
8′: Powell-Pepper misses
Against all odds, Port Adelaide have had a chance in this last quarter. They've kicked 1.5 to this point.
Now McEntee bombs one out on the full. It's getting away from them now.
9′: Sam Powell-Pepper marks inside 50
Chance for a quick response.
It has to go through. Nothing but a goal will do here for Port.
9′: Riccardi kicks the goal! Incredible kick!
And that will rock Port Adelaide to their core! All those misses at one end, and then Riccardi rips one from deep in the pocket, all of 40 metres out.
The leas is back out to 22 points, but that goal feels like a dagger.
10′: Jake Riccardi marks in the pocket
First time this quarter the Giants have got out and running, and it's ended up with another mark inside 50.
Really tough shot this for Jake Riccardi.
11′: Jason Horne-Francis … misses!
He explodes out of a stoppage, the crowd ready to erupt, but the effort was poor. Port have kicked four straight behinds in this game now.
It's a 16-point game, but the clock is ticking.
13′: The Giants are slowing things down
You can understand why GWS want some heat out of the game, but their best footy has come with pace on the ball. Will be interesting to see if this shift in tactics will prove counter-intuitive.
14′: Port having to do some defending
The Giants have field position and the Power are struggling to clear the ball out. Big test for the Port defence.
16′: Boak from the boundary … post!
There have been a hell of a lot of behinds in this second half. Both sides struggling to convert chances, even the easier ones.
That wasn't an easy one for Travis Boak. But the behind gets the lead under three goals.
Update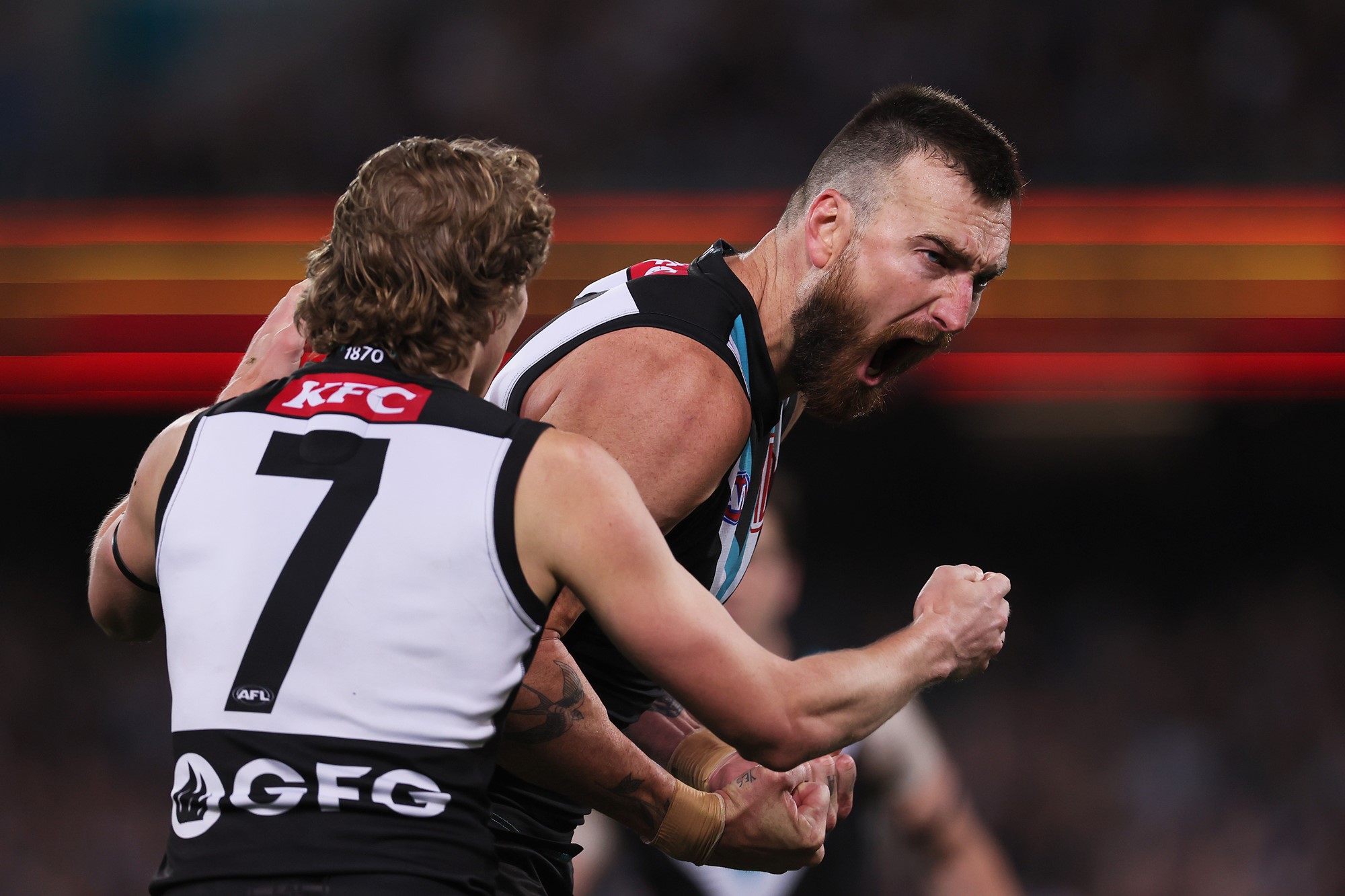 (Getty Images)
17′: Finlayson misses across the face
It's an 18-point game. Three straight goals.
Show more posts
Source: AFL NEWS ABC