Saturday night's controversial and costly AFL goal-line call which ended the Adelaide Crows' finals hopes has triggered calls for rule changes, extensive redress, and a revamp of the league's score review protocols.
Key points:
The Crows say they are seeking "redress" for the error, which ended their finals hopes
Chairman John Olsen has urged an overhaul of the score review system
A lawyer says the financial hit to the club is likely a six-figure sum
The AFL yesterday admitted the decision not to award a goal to Crows midfielder Ben Keays in the final minutes of the must-win match against Sydney at Adelaide Oval was a mistake due to "human error".
But Crows chairman John Olsen slammed what he described as an "appalling, inexcusable injustice", and said the club was now in discussions with the league about compensation.
"It's unfair, it's a loss not only on the field but off the field as well," Olsen told ABC Radio Adelaide's Stacey Lee and Nikolai Beilharz.
"Just imagine you're playing in a grand final and something like this happens in a grand final — it was bad enough for us, leading into the finals series, let alone a mistake of this nature in a grand final itself."
With 78 seconds of game time left, and the Crows trailing the Swans by two points, Keays snapped a free kick from the boundary and immediately began to celebrate the apparent goal — but the ball was deemed to have hit the post.
While subsequent replays have shown it made no contact, no score review was called for, and a point was awarded.
The one-point loss has guaranteed the Crows will miss the finals series for a sixth consecutive year, and Olsen said the result had not only "disadvantaged" his side but had a "knock-on effect" on other AFL clubs also "vying for the finals series" — a group that includes Essendon and the Western Bulldogs.
He said it was "inexplicable" that a score review was not called for, and suggested the league consider rule changes to strengthen video review protocols.
"The whole system needs to be reviewed in the light of the circumstances," he said.
"If a mistake has been made by any umpire then there should be the capacity in the rules for a field umpire to then intervene, even if — even if — the play has moved on."
The defeat has compounded other club grievances, with Olsen citing the failure to award Crows' skipper Jordan Dawson a free kick for high contact in the dying moments of the Round 15 two-point loss to Collingwood as another decision that had cost his side.
"There are eight premiership points that we have been denied this year by umpire decisions at critical times in the last few minutes of games," he said.
Olsen said the Crows have begun discussions with the AFL about what he described as "redress" measures, which would potentially include "recruiting concessions", "travel allowances" and a more favourable fixture.
'Debacle' avoidable with soccer-style VAR, lawyer says
While the chairman did not estimate how much missing the finals had cost the Crows financially, prominent lawyer Greg Griffin said it was at least a six-figure sum.
"Ten years ago, the Crows paid a $300,000 fine for the Tippett issue and they lost two draft picks, which really sent them into oblivion for a year or two," he said.
"Now, I would have thought that $300,000 would be a good starting point for John Olsen to go to Melbourne and demand to be paid. I think that once the administration of the Crows work out what the true loss is, it will be closer to $1 million."
Isaac Heeney celebrates the one-point win.(Getty Images/AFL Photos: Sarah Reed)
Griffin — who is representing former players in a concussion lawsuit against the league — urged the AFL to consider adopting decision review systems currently operating in other sports, such as soccer's video assistant referee (VAR).
"This debacle would have been avoided had the AFL not just believed that it is the only body able to put together a system for a video assistant referee," he said.
"There were four field umpires — one of them surely could have gone 20 metres into the goal square and said, 'Whoever wins this game goes into the finals, it seems that that looked like a goal, take it upstairs'. No-one did that.
"The AFL has done itself no credit in the way it's dealt with the goal umpire — yes, he made two mistakes, but he didn't deserve to be thrown under the bus as badly as he has been."
At a media conference on Sunday AFL boss Gillon McLachlan said he took "accountability for the mistake on behalf of the league", and said that the umpire was "dealing with the issue and is taking personal accountability for that mistake".
"The system would have dealt with this, if it was referred," he said.
But McLachlan urged fans to remember that it was a case of human error of the kind that happens frequently throughout games, rounds and seasons.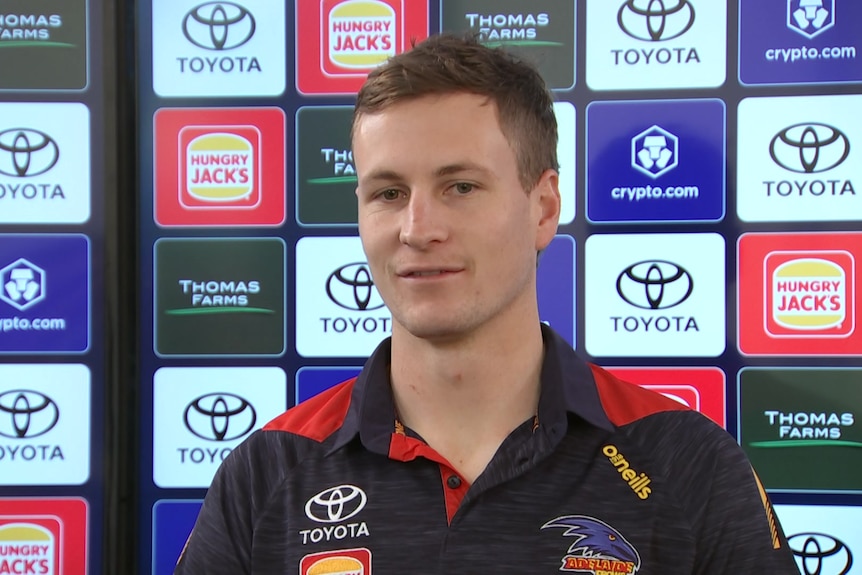 Adelaide Crows captain Jordan Dawson was philosophical about the match result.(ABC News)
Sydney coach John Longmire this morning expressed sympathy for the official, and for the Crows.
"Firstly, it's important to acknowledge how disappointed I'd be if I was [Crows coach] Matty Nicks. There's no question that you get disappointed when those type of things happen," he said.
"It's disappointing for the AFL, disappointing for the umpire involved — we feel for him as well. Footy can be a cruel game sometimes."
Crows captain Jordan Dawson was today philosophical about the match result and the goal-line decision.
"It's hard because it is a very crucial time of the year, and a game and a moment, and for us, we want to show our disappointment," Dawson said on Monday.
"But we also don't want that umpire to feel like he's cost us the year, because we know there's been plenty of games we probably should have won.
"We would have loved to use the technology in that scenario but it's just one of those things, I think.
"Don't take it out on the goal umpire because at the end of the day we didn't really play the footy we wanted to."
Source: AFL NEWS ABC