Melbourne premiership coach Simon Goodwin has publicly denied he has off-field behavioural issues, as star Demons Clayton Oliver and Joel Smith were put on notice for their own behaviour.
Key points:
Simon Goodwin said he did not have off-field behaviour issues as he addressed rumours of alleged misconduct
Reports suggest Goodwin had been investigated by the club at the start of 2021 but was cleared of wrongdoing
Star Demons Clayton Oliver and Joel Smith have been put on notice for their own off-field behaviour
Goodwin has been the target of unsubstantiated rumours for almost three years, after a gathering with his players in a Mornington Peninsula pub at the start of 2021 sparked talk of off-field issues at the club.
Reports this week suggested the club had investigated Goodwin's behaviour before the start of the 2021 season, with the Herald Sun writing that AFL bosses Gillon McLachlan and Richard Goyder had met with then club president Glen Bartlett to discuss the issue.
Goodwin was given the all-clear by the club and the Demons would go on to win the 2021 premiership.
"I do not use illicit drugs," Goodwin said in an interview with SEN on Tuesday morning.
"I know where it started in terms of a rumour on the Mornington Peninsula.
"It then led to an allegation. An allegation that was fully investigated … there was nothing in it. I give everything I can to my family, my team in a way that dedicates my life to my footy club.
"To have this play out over a three-year period … it's been documented over and over and it's taken its toll on myself, my family, everyone. Enough is enough. I don't use illicit drugs, and I never will."
Goodwin said while he enjoyed a drink and a punt, 'the rumours have to stop'.
"It's gotten way out of control … rehashing of a story over and over again where it's become a fact. Which is just not fair," he said.
"It's gone from a rumour to an allegation to a fact. I've had enough. As an industry, we have to be better.
"We haven't got a cultural problem — we've got some isolated incidents that we're going to deal with to help drive our culture forward."
Gary Pert said he had personally investigated the rumours around Goodwin and found them to be unsubstantiated.(Getty Images: Dylan Burns)
Melbourne chief executive Gary Pert said he was adamant the club did not have a culture problem, but said he was putting star midfielder Oliver and suspended utility Smith on notice.
Smith is provisionally suspended after he recorded a positive in-season drugs test for cocaine.
The future of Oliver has also been up in the air after worrying rumours emerged about his off-field behaviour.
Oliver, who is contracted until 2030, was also taken to hospital earlier this month following what the club deemed was a "medical episode".
In an extraordinary open letter to Demons fans on Monday, Pert put Oliver and Smith on notice and also addressed the ongoing rumours surrounding coach Goodwin.
Pert said Oliver must meet the club's off-field standards and discipline if he is to remain as part of the program long-term.
"The club is aware of the personal challenges that Clayton has outside of football and key club experts will remain part of his daily support team," Pert wrote.
"Club leaders have very clearly outlined to Clayton the behavioural expectations that we have of him, and these behaviours will be reviewed on a regular basis.
"It is the player leadership group, as well as Alan Richardson, Simon Goodwin and myself, who will decide if Clayton is meeting minimum behavioural expectations.
"In some ways, AFL football programs are akin to a large family.
"While honest feedback is often difficult, this approach will give Clayton the best chance to thrive within our high-performance environment, and the best chance for him to have a long career at the Melbourne Football Club."
Smith is facing a maximum four-year ban after his positive drug test following the Demons' win over Hawthorn in round 23.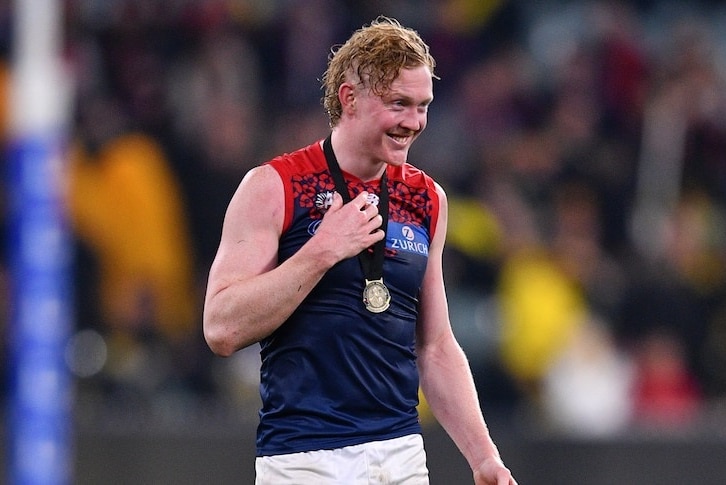 Star midfielder Clayton Oliver has been put on notice for his off-field behaviour.
Even if he gets off lightly, Smith will face the wrath of Melbourne's leadership group.
"Joel is aware that once club leaders receive the results of the investigation, they will then determine if any further action is appropriate based on cultural standards and expectations," Pert said.
Unspecified rumours about Goodwin's off-field behaviour have been swirling for years. Pert said the rumours were simply fake.
"I wish to address the three years of allegations and innuendo suffered by Simon Goodwin, which are completely without basis or truth," Pert wrote.
"I personally investigated the matter and did so by methodically interviewing every person that I was aware of who had spread the initial rumours.
"All admitted there was no basis to the claims but were simply passing on what they had heard from others.
"The only valid information was that Simon was seen having a drink with some of our player leaders at the Sorrento Hotel, which was hardly surprising, given his strong relationship with the players who were holidaying in the area over the summer break.
"The ongoing embellishment and spreading of untrue rumours have placed an enormous stress and mental toll on Simon and his family over the last three years."
Pert insists the culture is strong, saying isolated incidents do not reflect the culture as a whole.
"Unfortunately, a strong culture does not guarantee that we will not have isolated behaviour issues from time to time in the future," Pert said.
"This is not a sign of a fractured culture, but an opportunity for our club leaders, including myself, to take responsibility and reaffirm our expectations of individuals in a high-performance environment.
"It is also important that the players who live our standards and disciplines every day see that those who fail to do so are held to account.
"I am very aware that the recent player controversies surrounding our AFL program have in some cases damaged the trust between the club and you, our supporters.
"Please know that our leaders in myself, the board, general manager football Alan Richardson, coach Simon Goodwin, captain Max Gawn, vice-captain Jack Viney and so many others are committed as ever to making you feel proud to belong."
AAP/ABC
Sports content to make you think… or allow you not to. A newsletter delivered each Friday.
Source: AFL NEWS ABC