For many regional areas, football clubs are the centrepiece of the community.
Key points:
Fish Creek Football Netball Club was destroyed in a suspicious fire on Saturday morning
Nearly $90,000 has been raised to help rebuild the Fish Creek club
AFL Victoria is in discussions with insurers to determine how much financial assistance it can provide to the club
So when a small town in Victoria's east lost its club to a fire at the weekend, locals reeled, mourning the loss of an integral monument housing Fish Creek's history.
Ray Stefani grew up in the town and is the co-president of the Fish Creek Football Netball Club, which has welcomed generations of his family including his grandpa and now his children.
Mr Stefani said it had been a "rollercoaster of emotions" and he was devastated about the loss of the club and its memories.
"It's over 120 years of stuff in there … there's obviously all the honour boards, so many photos, the premiership cups, the premiership shields," he said.
Ray Stefani says the club provided the community with a social outlet.(ABC Gippsland: Georgia Lenton-Williams)
"A group of photos of the original committee and some of the players and original captain and some great old photos in a big timber frame … burned to a crisp.
"That just hurts because no recreation is going to be the same."
Fire out of control
More than 30 firefighters spent an hour bringing the blaze on Falls Road under control just after 5am on Saturday.
Police are calling on witnesses to contact Crime Stoppers and are treating the fire as suspicious.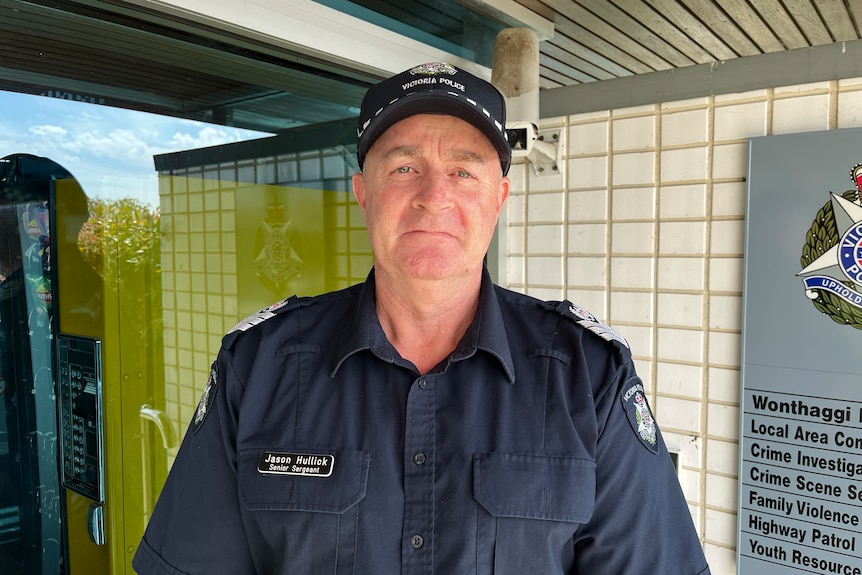 Jason Hullick says police are investigating.(ABC Gippsland: Georgia Lenton-Williams)
"One of the doors to the premises had been forced open," Wonthaggi Police Senior Sergeant Jason Hullick said.
"So that led us to believe most likely someone has broken into the building and, as a result of that, a suspicious fire has occurred within the building,"
The club has organised a GoFundMe to raise money to rebuild the club, so far raising nearly $90,000.
Mr Stefani said people across Australia had donated money in support of Fish Creek.
"It's a surprise but it's not … there are donations from past players and even from people who don't know the club, but they're involved in their own clubs," he said.
"And they know what it takes to run a community club and the effort that goes in and they're hurting like we are because it could have been them."
The club will be using the Fish Creek Bowls Club's facilities to host social functions and fundraisers, as well as the community's town hall in the short term.
AFL Victoria to help
The fire-damaged building will be demolished and rebuilt but it is still unclear how much will be covered by insurance and AFL Victoria.
The AFL's club development experience manager Paul Milo visited Fish Creek and told the community the AFL was there to help.
"We've reached out to our insurers as well to see how they can help. They're working through that in the background," he said.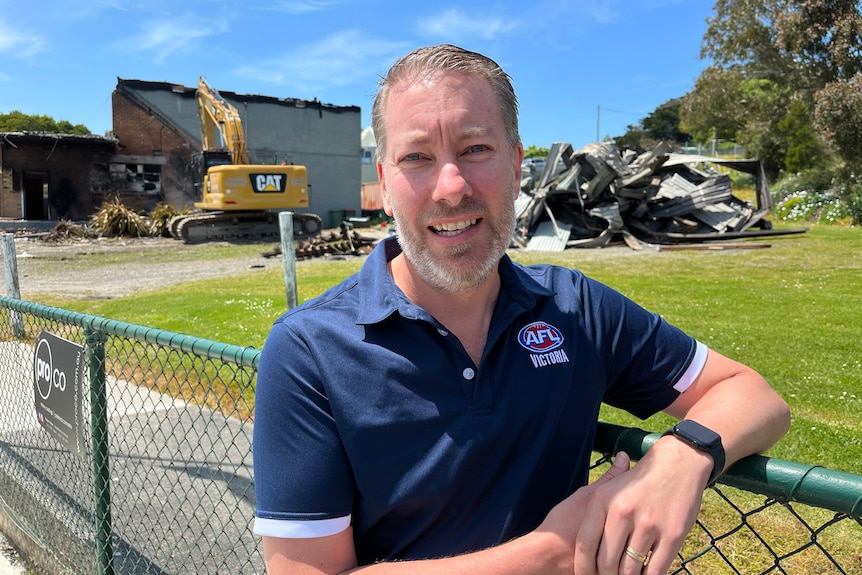 AFL Victoria club development experience manager Paul Milo.(ABC Gippsland: Georgia Lenton-Williams)
"It's too early to be specific about what that help looks like."
Senior Sergeant Hullick said there was no evidence to suggest the fire was linked to two burglaries that occurred in the nearby town of Meeniyan on Saturday.
Officers believe offenders forced entry to a supermarket on Whitelaw Street about 4:30am and stole alcohol, with another burglary occurring at a sports club at the Meeniyan Recreational Reserve, where alcohol and food was taken.
Get our local newsletter, delivered free each Tuesday
Source: AFL NEWS ABC