Amelie Borg will never forget returning to school the day after being drafted to Port Adelaide
At just 17 years old, and in the process of completing Year 12, a party was thrown in her honour.
"So many students came up asking me for a signature, and I was like, 'I don't even have a signature yet!" she laughs.
"I'd never had to sign anything before … maybe the back of my driver's license, and even then I just made something up on the spot."
Borg's school threw a party to celebrate her being drafted to Port Adelaide. (Supplied)
Borg was also sleep-deprived, having "barely slept" after hearing her name read out the night before by the club she grew up supporting.
"I wasn't really expecting to get picked up in the draft," she says.
One club had promised to pass on a selection, before taking her in the rookie draft. But she had barely engaged with the Power.
"My manager did speak to them [briefly] in the lead-up, but they didn't really give him anything," she says.
"I was so upset."
As a result, Borg didn't plan to watch the draft. Instead, she went out for dinner with a couple of friends, arriving home to her parents watching on TV.
Her mum, a Crows supporter, and dad, a passionate Port Adelaide supporter, watched in separate rooms.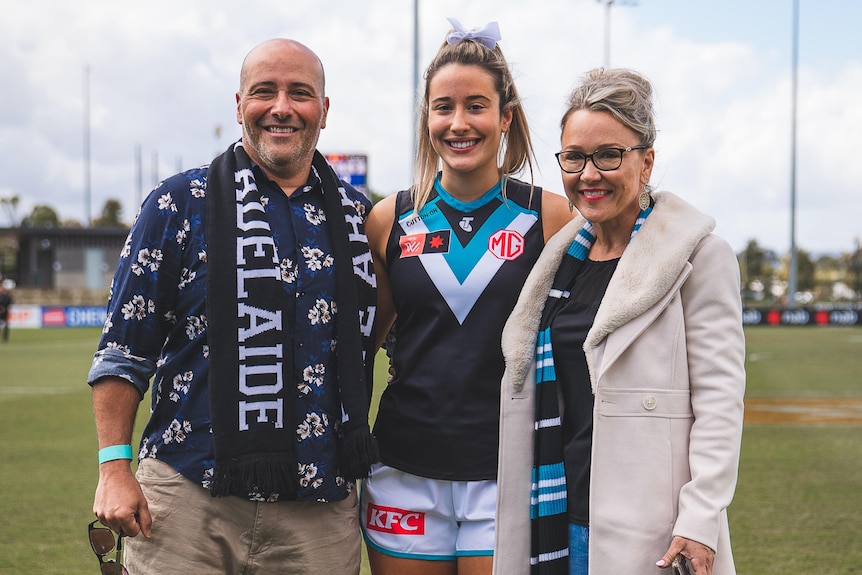 Amelie Borg's father supports Port Adelaide, while her mother is a Crows fan. (Supplied)
"They were like, 'Amelie, Port have the next pick', but I was like 'guys, it's not gonna be me'.
"I remember I was laying on my dog's bed in my pyjamas, and all of a sudden [Port Adelaide] called out my name.
"I've never seen my dad so happy, and mum came sprinting out as well.
"Next thing I knew I had a FaceTime call from [coach] Lauren Arnell, and [captain] Erin Phillips. It was amazing, just the best feeling in the world."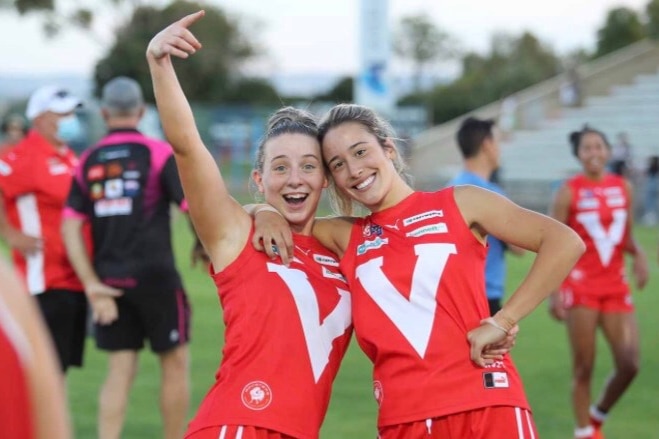 Amelie Borg didn't watch the AFLW draft, and didn't think Port Adelaide were interested in taking her. (Supplied)
Balancing Year 12 and AFLW 'hectic'
In 2022, there were two seasons of AFLW.
The unusual situation meant that a number of 17 year olds, like Borg, were still at school when they debuted.
Borg describes her first season as "hectic", finishing Year 12 a week before the end of the season.
"I chose not to go for an ATAR, so I actually only did three subjects in school. But even balancing that was tough."
Thankfully, Borg says the club was very supportive:
"Port were so good. We had a commitment that we would always put school first."
They assured her that it was OK to miss training sessions, and she was given a personalised program she could complete away from the club.
But there were still annoyances. Some games were played late on a Sunday, and others interstate, while Port Adelaide would win just one game in its debut season.
Port Adelaide would only win one game in their debut AFLW season. (AFL Photos via Getty Images: Sarah Reed)
It meant Borg often returned to school on a Monday having played in a loss.
"Everyone would come up to you and be like, 'what happened on the weekend?'," she explains.
"I'd be like, 'I don't want to talk about it right now, I got back late last night, I'm tired.'
"You'd also get one or two boys who'd be like 'your footy is so scrappy,' or something like that. It wasn't the greatest."
A year on, AFLW rules now stipulate that players have to be 18 years of age before the end of the year when they are drafted.
It's a move Borg welcomes:
"I think it's a good thing, and the girls will appreciate it more the year after."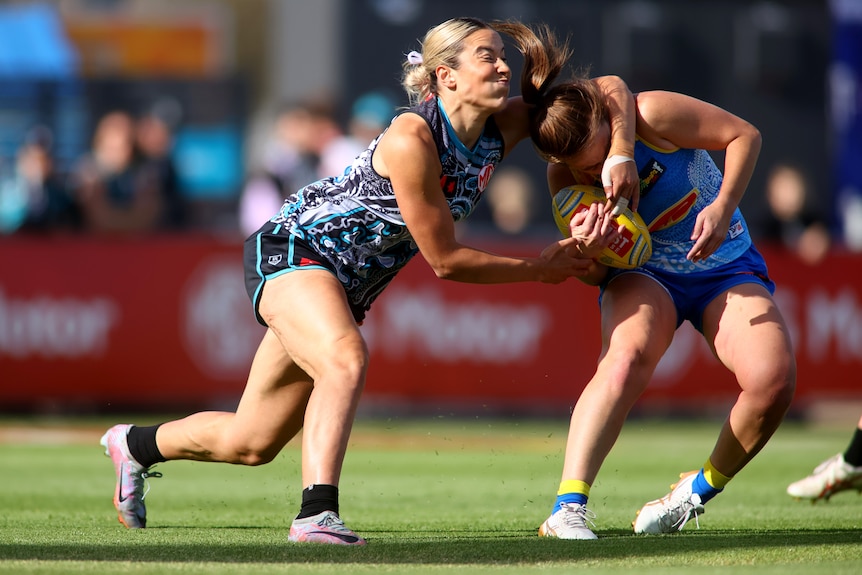 Borg says it's a good thing that the minimum AFLW draft age is now 18.(AFL Photos via Getty Images: Kelly Barnes)
From shot-put to netball to football
Borg didn't aspire to be an AFLW footballer.
As a girl, she would go along to watch her brother's team, but didn't consider playing herself.
"I always just grew up thinking footy was a boys' sport," Borg says.
"I never thought I'd be the one that was going to play football."
Instead, she chose netball and athletics, taking after her mum.
She represented South Australia twice in netball, and came second in the national shot-put championships in 2017.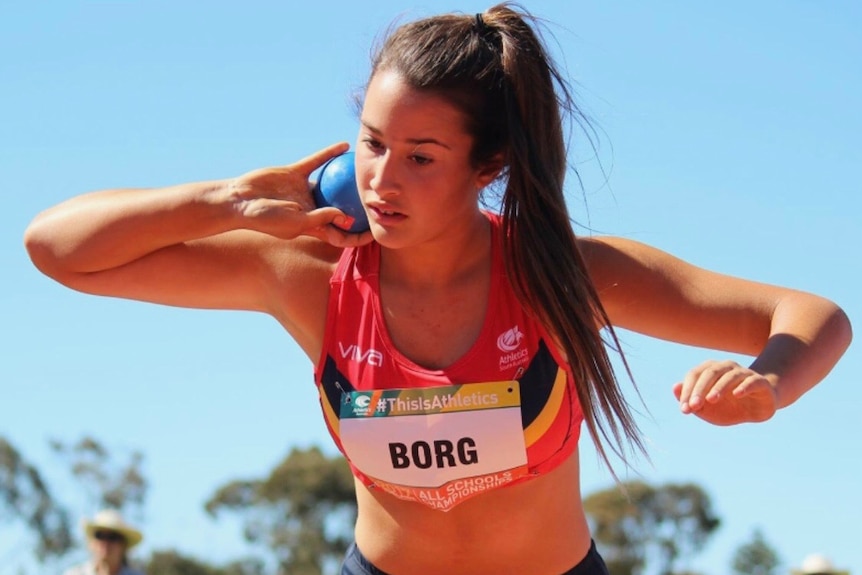 Amelie Borg came second in Australia in shot-put in 2017. (Supplied)
It wasn't until she filled in for her local club, Golden Grove, that she entertained the idea.
After one game lining up alongside her sister Brianna, she was hooked.
"I knew [then] my heart was set on football," Borg says.
"I love the aggression of footy, I love tackling, and I love playing on a big team."
That doesn't mean the transition across sports was necessarily easy.
"I couldn't kick a ball to save my life," Borg says.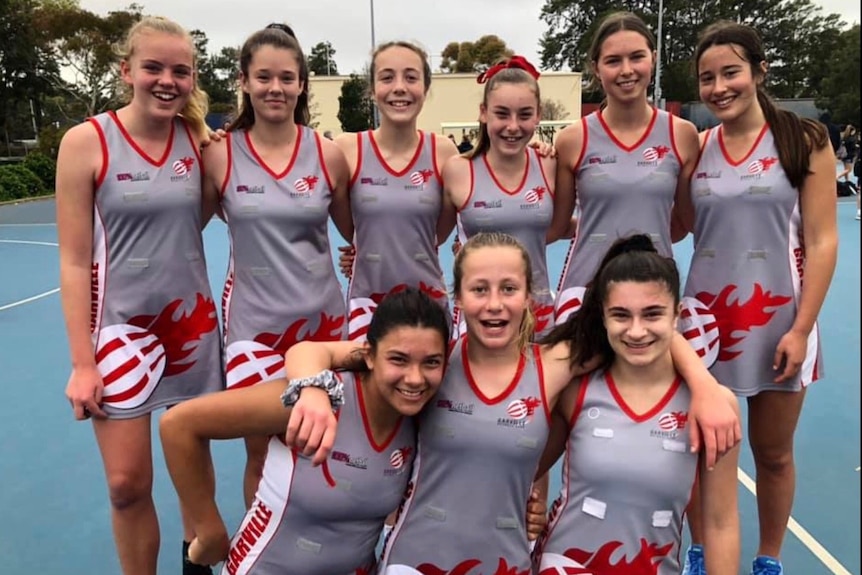 Borg grew up playing netball, thinking football was a 'boys' sport'.(Supplied)
Having had a growth spurt when she was younger, Borg began her career as a 178cm ruck, before being turned into a defender.
"I'm so grateful, because I don't think I would have gone too far as a ruck … I haven't really grown since I was in year six," she says.
Current Port Adelaide ruck Matilda Sholz, by comparison, stands at 189cm.
"And I love defending," she says.
"I love the spoiling and the contact that you have on players, and just trying to stop them from getting goals, I get really determined to do that."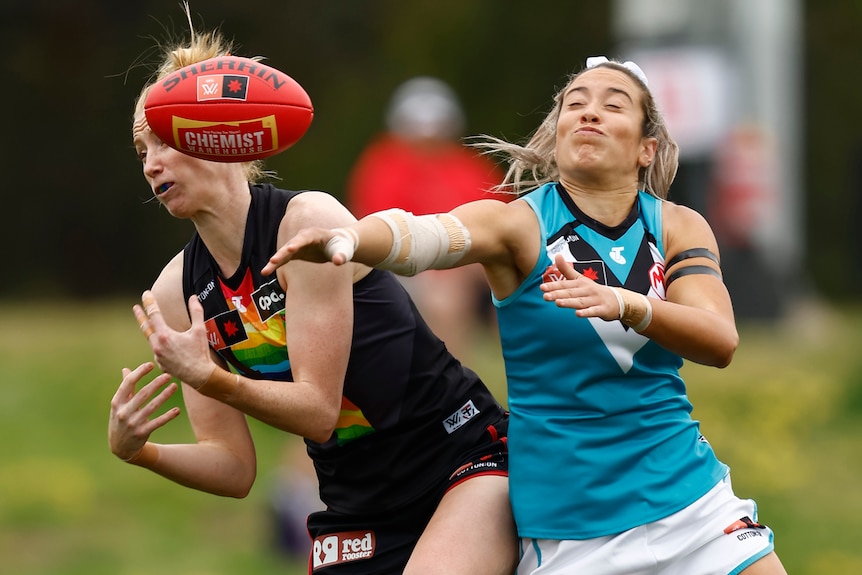 At 178cm, Borg first played as a ruck, but is now a defender. (Getty Images: Darrian Traynor)
Schoolgirl becomes idol
Now in her second season at the club, Borg has been a consistent performer, and is yet to miss a game.
She still pinches herself that she was part of the first Port Adelaide AFLW team to take to the field at Alberton Oval.
"To play in that first ever team was amazing," she says.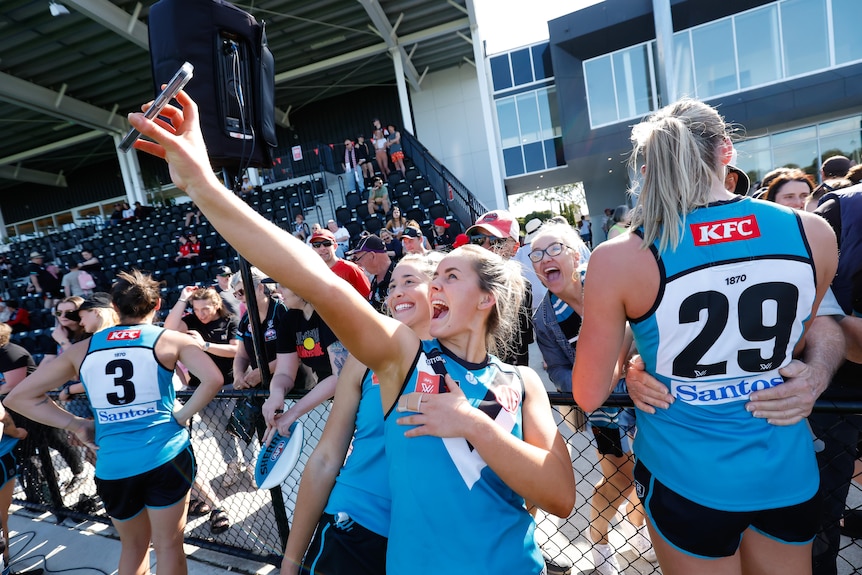 Borg is still getting used to being idolised by younger fans. (AFL Photos via Getty Images: Dylan Burns)
"It's history forever, 'herstory' in the making. To know that I was part of that very first home game just means so much, [especially as] I grew up supporting this club."
But having just graduated from school, Borg is still getting used to being the idol younger kids look up to.
When she tried her hand at coaching at a recent school carnival, she was inundated by primary school girls asking for advice.
"I remember being where they were, and if I'd had a Port Adelaide player at my school, I would've been the same, so I tried to give them as much help as I could."
Often, says Borg, those same girls will return later to say they went away to practise their kicking, or joined a football club.
"It means so much, because I didn't really know anything about women's footy when I was younger, and now they have a goal they can aspire to," she says.
Do you have a story idea about women in sport?
Email us abcsport5050@your.abc.net.au
Source: AFL NEWS ABC