In today's world of advancing technology, it should come as no surprise that artificial intelligence is headed for the world of Aussie Rules football.
Deakin University researchers are putting the finishing touches on their Coach Decision Assistant (CoDA): an AI tool that would help footy coaches make match decisions based on real-time stats.
Mitch Arons, a PhD student at Deakin University's school of exercise and nutrition sciences, is one of the project's researchers.
"The potential for AI to assist decision-making by coaches and their teams is exciting," Mr Arons said.
"We've thought, 'How can we make predictions and perhaps suggestions to coaches that can help them get through a decision quicker?'.
"CoDA compares data from historic match outcomes and in-game team metrics with the current performance characteristics of two teams during a match to provide real-time feedback on a team's chances of winning and how their chances might be improved."
Researchers say there's already interest from football clubs in the technology.(Supplied: Deakin University)
While the new technology is yet to be completed, the researchers say there is already interest from some football clubs.
"There is a system that I've built that can hopefully be used soon," Mr Arons said.
A new tool for the coaching toolbox
Mr Arons is adamant AI can't replace coaches, but says it could be another tool for them to use.
"The best AI is the AI that helps humans to perform better," Mr Arons said.
"It [CoDA] has the capacity to complement the intuition, knowledge, and experience AFL coaches bring to the table."
Chris Maple, a former member of the Western Bulldogs coaching staff who is now with Ballarat league team the Ballarat Swans, agrees AI can't replace coaches, but could be useful.
"It's a tool that'll be utilised by coaching — I don't think it would be a tool that will take over coaching," Maple said.
"When we're talking coaching, we're talking training … reviews … watching the game back, vision on decisions and various elements of craft the players need and use within a game."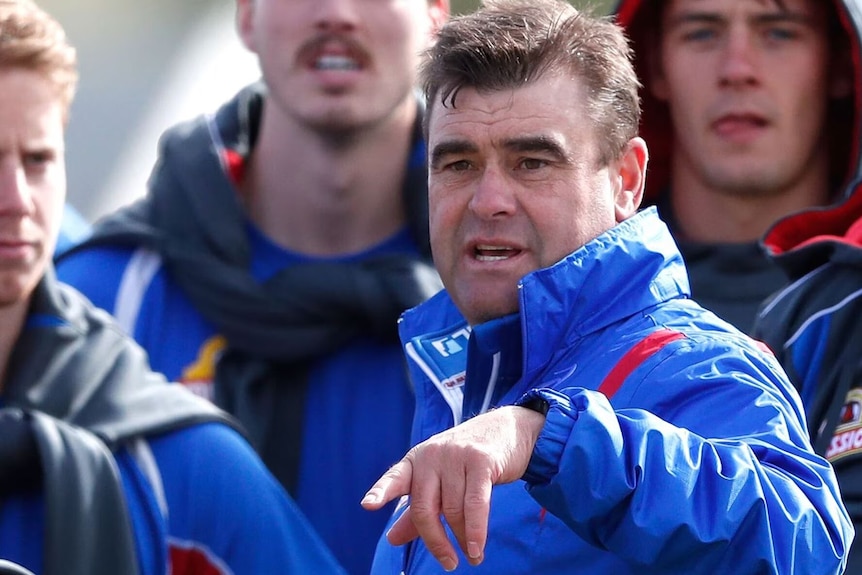 Chris Maple says AI can't replace coaches, but could be useful.(Supplied: Western Bulldogs)
Maple said motivating players and helping them recover were coaching tasks that couldn't be replaced by technology.
There's also a question of accuracy, Maple said, adding that he wondered whether the people inputting the data would understand as well as coaches what was happening in the heat of battle on the footy field.
But Maple added coaches should "always be open to trying" new technology, even at a community sporting level.
Not in every coach's box
The CoDA program designers acknowledge that the AI might not be a one-size-fits-all piece of technology.
"It really does depend on the people inside those clubs and the resources that they have to build what the coaches want," Mr Arons said.
"It's not necessarily the case that every single club would be interested in something like this."
While CoDA is aimed at Aussie Rules, the designers hope it can one day be used for other sporting codes.
"We're predicting that in the not-too-distant future it will be commonplace across the AFL, AFLW and all sports for this type of technology to be used at the elite and professional level," Mr Arons said.
Get our local newsletter, delivered free each Wednesday
Source: AFL NEWS ABC