In short: Tasmanian Australian Rules Football players James Leake and Colby McKercher are both considered prime talent ahead of the AFL draft, where unsigned players can be signed by teams ahead.
The pair have forged contrasting paths to the AFL, and are two of the seven Tasmanians rated as likely draft chances.
What's next? McKercher is likely to be selected in the first handful of picks, with North Melbourne Kangaroos heavily linked to the midfielder. Leake's destination is more uncertain, but he's expected to be selected in the top 15 picks.
There's a special confidence about Colby McKercher, the prodigious 18-year-old midfielder who, at worst, will be selected in the top 5 of Monday's AFL draft.
The Tasmanian has been described as the "best pure midfielder" in the country for his age, and since turning 17, has had every top player agent salivating at the prospect of acquiring his signature.
"There's not a time where I thought I was never a chance, or I can't do this, or I can't do that," he says of being drafted into the AFL.
That knowledge has allowed McKercher to foster a sure-handedness, and an ability to look within, ahead of his entry into the AFL.
Despite an eye-popping under 18 campaign, that only served to confirm what every recruiter in the country already knew, he's happy but not quite content with his game.
It becomes evident while watching a replay of the Allies win over Victoria, a fixture which he dominated.
"Pretty sure I get it here and miss the kick" he says as the play unfolds on the screen. His recall is slightly amiss, unlike his kick, which hits the target.
"Not sure why I kicked that on my right," the left-footer says of another disposal that finds a teammate.
"I had 41 [disposals] this game, but honestly I wasn't that good."
James Leake and Colby McKercher started playing AFL together.(
ABC News: Maren Preuss
)
McKercher's ability to not only recall each of his disposals before they happen, but to scrutinise them is evidence of a humility that was awakened during a training visit to Collingwood earlier in the year, where he had his eyes opened to the rigours of the AFL.
"It was a shock how long the days were, getting home at 6 o'clock and wanting to get straight to bed," he says.
"I think I was naturally talented as a kid, but as I've grown up, I've worked on my aspect of hard work. If you'd asked me a couple of years ago, I'd have said I'm mostly talent, but now it's about even.
"You've got to have some natural talent, but it can only take you so far."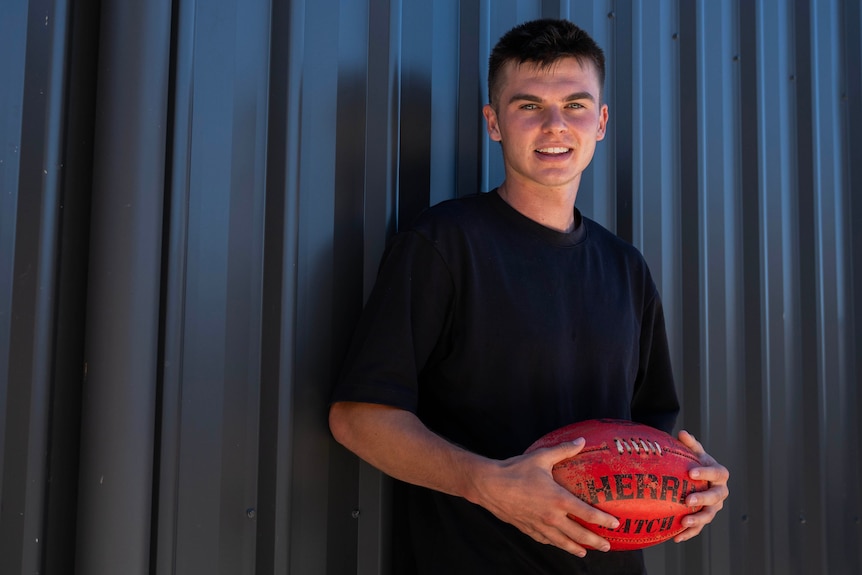 Colby McKercher is ready, except for some skilling up in the laundry department.(
ABC News: Maren Preuss
)
Off the back of his time with the eventual premiers, McKercher's professionalism and preparation lifted.
At his Launceston teammate, and fellow draft prospect, James Leake's family home, there's a bright blue wheelie bin labelled "ICE BATH" out the back, and its where McKercher, Leake and their teammates retire to following a gruelling training session.
Football not always the priority for Leake
Unlike McKercher, being drafted to the AFL was only a dream until recently for Leake.
The son of a civil engineer and a registered nurse, sport was encouraged but never forced upon him. Mum and dad liked their footy, sure. Nan plays a bit of tennis, but that's about it.
He's a Western Bulldogs fan — not because of a family connection, or a grandfather that played with Footscray back in the day — but because he simply "liked dogs" as a kid.
That's not to say football hasn't always been present in his life, it's just that it never came first.
School held significant sway, and Leake had hoped for an ATAR score of "maybe somewhere between 80 and 90" as he took exams in the heavy hitter subjects of engineering, maths and science this year.
"I'm pretty good at school to be honest, my brain's a bit weird, I actually enjoy maths and science and that's what I've been studying for in the past few weeks."
Physics was a stumbling block though, and following an enormous past six months that saw him rocket up draft boards and his focus shift to athletic pursuits, he's allowing himself a discounted ATAR of "maybe 75".
While his ability to play forward, back and midfield is well known, his versatility away from football isn't as well documented.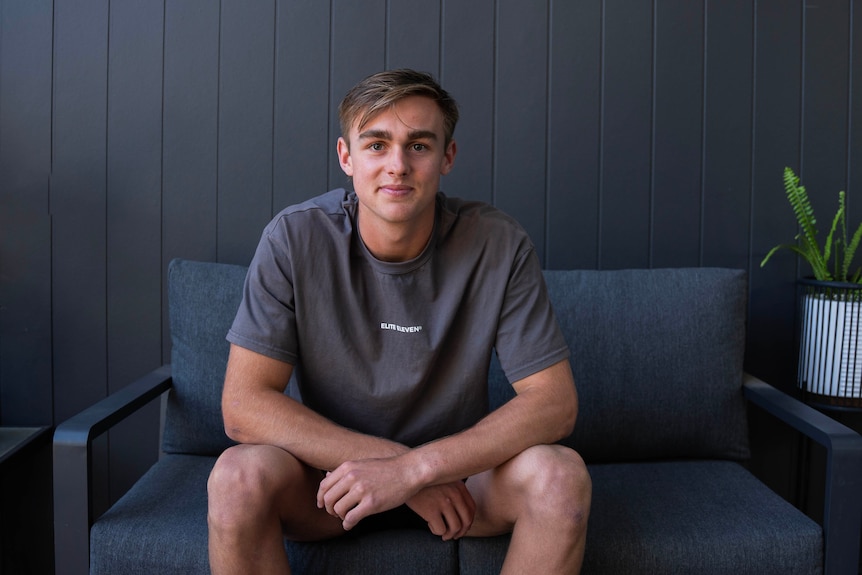 Proficient at a number of sports, Aussie Rules is now the priority for James Leake.(
ABC News: Maren Preuss
)
Leake overcame glandular fever during the pre-season, a challenge he says hit him "more mentally than physically" and unlike so many bright-eyed draft prospects, has non-footballing options to fall back on.
His interests were "engineering", like his dad, or "accounting", but says "footy has now jumped out".
It was a remarkable, match-saving mark and goal for St Patricks in the state schools final against Hutchins that first turned recruiters heads, before an eye-catching year with the Tasmania Devils and Allies programs.
Even still, it's hard for Leake, who starred in cricket as a bowling all-rounder as a junior, to believe he's being considered as a top 15 draft pick.
His cricketing prowess saw him earn selection in Hurricanes youth squads and excel at club level where he eventually cracked the South Launceston firsts.
Being drafted to the AFL was a firm maybe. In fact, it was only recently that football surpassed cricket.
A School Sport Australia team photo of the 2017 under 12's Tasmanian representaive team, featuring up and comers James Leake and Colby McKercher.(
ABC News: Maren Preuss
)
Leake played in a senior Tasmanian State League premiership with Launceston aged 16 and says his time under coach Mitch Thorp, is what spurred him to pour his effort into getting drafted.
"Being guided by the senior players is something I thrived on, and I loved it. It made me want to give footy a crack and see what happens. It gave me the mindset of having a go at footy this year and after that I can do whatever what I want," he says.
Realising football might be a legitimate career choice, he tapped up Thorp for advice on a player manager. His coach put him in touch with his former agent, and he was on his way.
Suddenly, the prospect of Leake becoming an AFL player was real.
"I've actually been watching YouTube videos, 'day in the life of an AFL footballer', stupid stuff like that," he says.
Expectations are high
Leake is yet to deal with the limelight that McKercher has already stepped into, with wide-eyed youngsters already clamouring for his autograph, despite him not even being drafted yet.
"I've signed a footy. And a hat. It's normally photos. I don't have the greatest handwriting, so I need to work on that a bit. It might look different in a few years," McKercher says.
It also probably explains why, in contrast to his good mate Leake, who has only arrived on the AFL scene relatively recently, he had no exam commitments this year.
School was never number one for McKercher, who breathed footy as a kid, first through playing Auskick at Prospect, and then kick-to-kick with his Carlton obsessed dad, Darren.
"I used to take my goal posts down to Perth park and pretend to be Chris Judd. They were my fondest memories from back then," he says.
Upon inspection of his athletic feats, it's unsurprising that academia never took priority.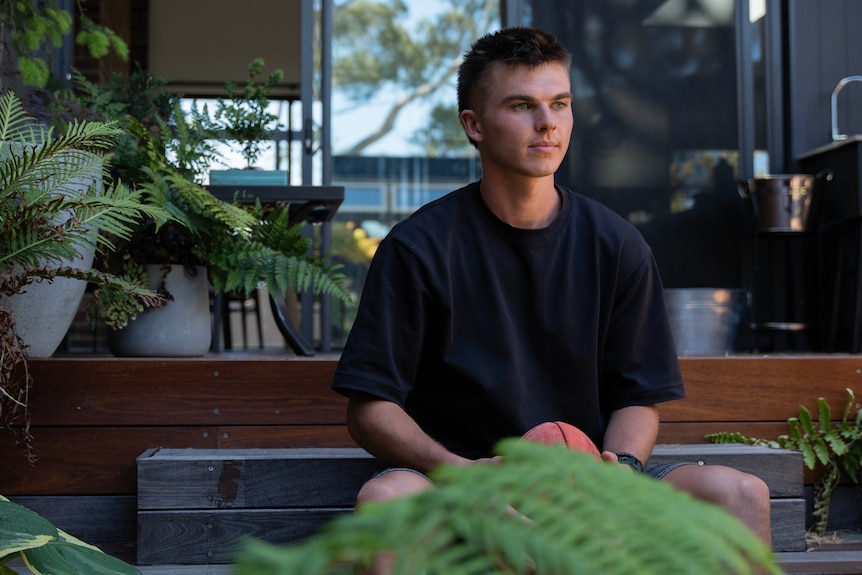 Colby McKercher ranks Carlton superstar Chris Judd as a playing inspiration.(
ABC News: Maren Preuss
)
McKercher smashed the 200 metre record at Kings Meadows High School in a scorching time of 23.56 seconds as a 15-year-old. At a recent round of golf at Launceston Golf Club, he shot 1 under through 9 holes.
On the footy field, he became the third Tasmanian to win the Morrish Medal as the best and fairest player in the Under 18 talent league competition.
Where he goes the football follows. McKercher averaged a monstrous 32.5 disposals per game for the Allies this year, and a tick under 30 for the Tasmania Devils.
This year, he only solidified what most recruiters already knew, racking up best and fairest awards, All-Australian and team of the year selections.
"I think I exceeded my expectations slightly, but looking back I think I've got a lot to improve on," he says.
"I'm nowhere near a complete player, so I'm happy with what was, but also looking to what's next."
Meals sorted, washing needs work
Ahead of the draft, North Melbourne coach Alastair Clarkson paid McKercher a visit, and while the coaching legend gave little away during their meeting, word filtered back to McKercher that Clarko was impressed.
Perhaps it was McKercher's eagerness to make an impact at AFL level that caught Clarkson's eye, or his preparedness to move states to chase his dream.
He won't miss Launceston too much upon being drafted, but will miss his mum Nicole, who acts as a point of difference from the slew of recruiters, coaches and managers who have had the bulk of his attention across the past 12 months.
"Mum's the biggest one for me. I won't be home with her anymore, but I'm sure there will be a lot of phone calls to her. She's a big support and it's not always about football with her, it's about me as a person," he says.
Cooking with mum is something he will miss too as he prepares to fly the coop, but he says he has developed an arsenal of dishes that will hold him in good stead.
"I'd say I'm versatile, a bit like Leakey's footy, I whip out a few things, so a stir-fry, or a pasta before a game."
That's not to say McKercher doesn't have a couple of blind spots ahead of his move interstate.
"I still haven't learned how to do the washing machine, but I'm getting to that."
LoadingLoading…
Source: AFL NEWS ABC