A narrow win on the road against a strong opposition was just the tonic for a struggling West Coast Eagles AFLW side after winning just four of its previous 27 outings.
Key points:
Michael Prior became the Eagles AFLW coach in September 2021
He announced on Tuesday he would step down from the role
Prior will continue to work with West Coast in a community development role
But it also provided Michael Prior with the perfect backdrop to announce his departure as coach.
Prior's decision to step down was confirmed on Wednesday morning, bringing to an end a largely disappointing — and occasionally controversial — tenure.
In his own words, the time was right for a new hand at the helm of the AFLW outfit.
"There is exciting upside for these players moving forward, but after three seasons I believe it is time for a new voice," he said.
"I made the decision earlier in the season that this would be my last as senior coach and I believe the time is right to now step aside.
Michael Prior chats to club skipper Emma Swanson.(AAP Image: Richard Wainwright)
"I'll leave on a high after being a part of an exciting win at Windy Hill on Sunday."
That win, a four-point victory over finals-bound Essendon, at a ground Prior once trained on as a player with the Bombers, essentially encapsulated the club's history in the competition to date.
Controversial moments
And to be fair, not all of that can be laid at the feet of Prior, who played 90 AFL games with Essendon and West Coast.
In almost six seasons, the Eagles have a record of eight wins and 35 losses.
And typically the wins have come out of the blue, after a string of heavy defeats.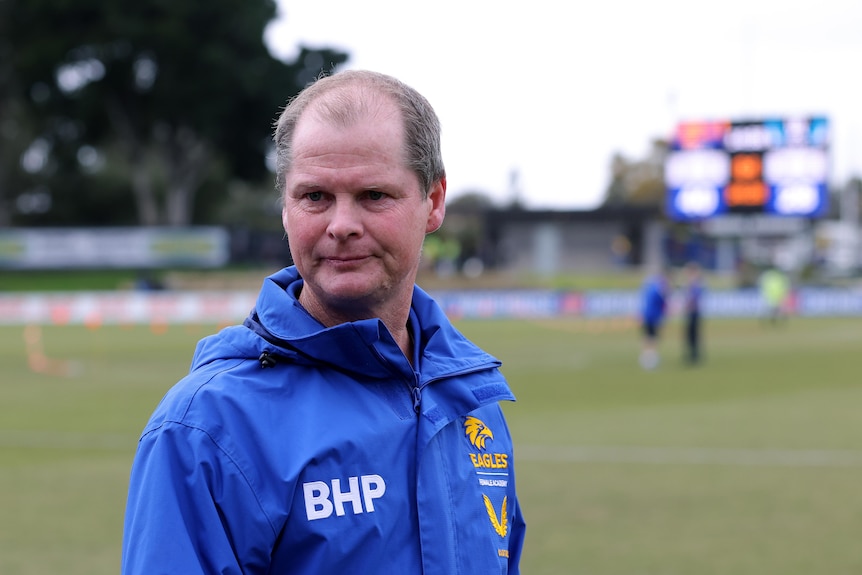 Michael Prior played with both Essendon and West Coast, retiring in 2002.(AAP Image: Richard Wainwright)
So it was against the Bombers, the result coming just a week after West Coast was thrashed at home by Melbourne.
It was following that 70-point-defeat that Prior most recently made headlines by questioning why his lowly side were drawn to play the reigning premiers.
"That's a team that won the grand final last year against a team that finished last," he said in his post-match conference.
"With 18 teams in the comp and only 10 games, how we play that team is beyond me.
"That's (a 70-point blowout) what you get when you get fixturing like that."
They were hardly the inspirational words a young side would want to hear from their mentor.
He was forced to issue a statement days later apologising for the remarks, citing frustration with the result.
Pride gaffe
It was not the first time Prior had been left to clarify his words.
In January 2022 he apologised for saying "pride stuff had been done to death" after the club opted not to wear a pride guernsey.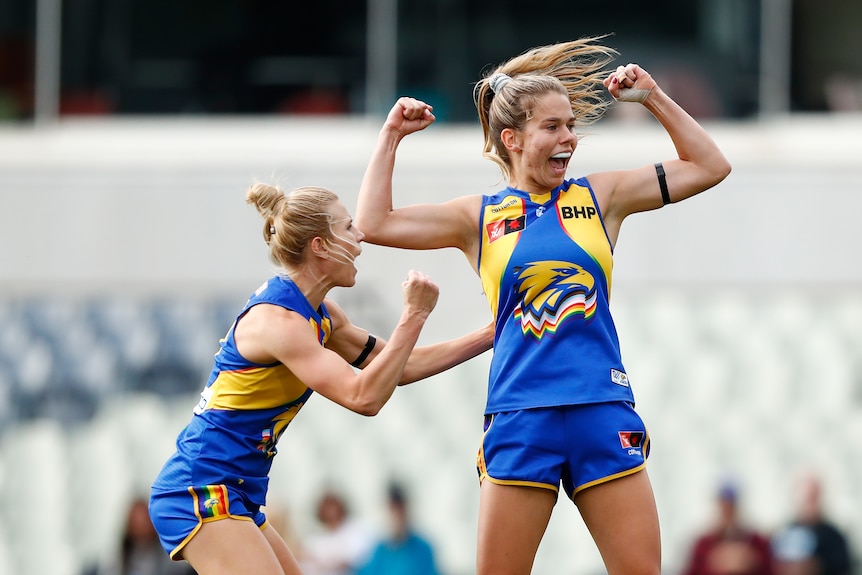 The Eagles eventually donned their inaugural pride guernsey in October last year.(Getty Images: Dylan Burns)
What damage his latest comments did to his relationship with the players appears to have been minimal, given the win over Essendon.
Prior's connection to the club itself also appears strong, with the 50-year-old continuing on in a community development role.
Eagles CEO Trevor Nisbett acknowledged the contribution of Prior in his three seasons at the helm.
"Michael assumed the role in difficult circumstances where our AFLW team played two seasons in the same year," he said.
"I would like to thank him for his commitment to the program and for the role he has played in shaping what we believe is a squad capable of evolving into a formidable team."
That team now faces the prospect of learning under a fourth senior coach in just five years, with the Eagles confirming they will start their search at season's end.
Assistant coach Rohan McHugh will take charge for the final two games of the season, starting with the Western Bulldogs at home on Saturday.
Sports content to make you think… or allow you not to. A newsletter delivered each Friday.
Source: AFL NEWS ABC