West Coast Eagles coach Adam Simpson says he hasn't received any clarity about his position, as speculation swirls his tenure at the club is hanging by a thread.
Key points:
Speculation is swilling around the tenure of West Coast coach Adam Simpson
The team has suffered five losses of more than 100 points this season
Simpson says understands if questions are raised after the weekend loss to Fremantle
The Eagles are last on the ladder, and have suffered five losses of more than 100 points this season, as well as 15 losses of 40 points or more.
Pressure ramped up on the embattled club following Saturday's Western Derby loss, which saw the Eagles ship 17 consecutive goals on their way to a 101-point loss — their biggest ever to Fremantle.
But Simpson said he wouldn't quit the role with the board to meet at the end of the season to determine his future.
"I do understand that decisions are made and changes happen sometimes," he said.
"I totally understand that there may be questions asked [about my future] because of the opposition [Fremantle].
Adam Simpson took the Eagles to the 2018 flag, but the club has won just four games across the past two seasons.(AAP: Richard Wainwright)
"And you don't want to look at things in isolation from game to game but from the weekend, it was a really disappointing performance. So getting the full clarity is important.
"It's just this time of year, you need the certainty of it all because you're making big decisions."
The right person to rebuild
Simpson maintained he was the right person to rebuild West Coast, and has two years remaining on his contract.
"I told you that two years ago, I signed on for this. I knew this was coming. So it's all part of it," he said.
"It's not my first rodeo.
"If I didn't want to go through this, I would have pulled the pin a couple of years ago. So it's not it's not really my nature to quit."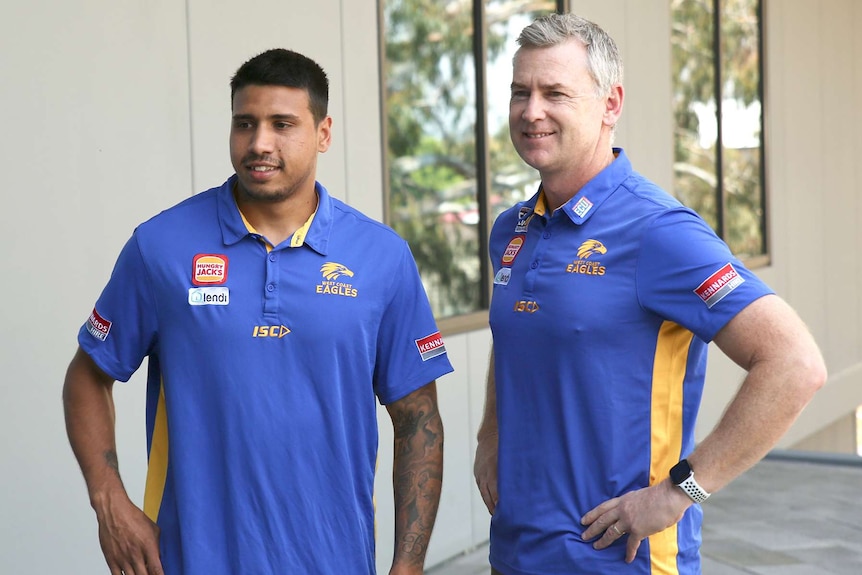 The future seemed bright when Tim Kelly arrived at West Coast, but after playing finals in 2020 the Eagles have tumbled down the ladder. (ABC News: James Carmody)
Simpson revealed he has been involved in planning for the 2024 season, with more meetings scheduled.
"We had a two-and-a-half hour meeting on list management two nights ago. So nothing's changed in that space," he said.
"But once we get clarity about the future, then you know, we can double down or we can we can pull back a bit."
Division played down
Simpson played down suggestions of a rift between himself and Eagles chief executive Trevor Nisbett, who has confirmed he won't seek another contract beyond the end of next season.
"I've got nothing but appreciation for what he's done for me and for the footy club," Simpson said.
"I know the footy department is working through some pretty big and heavy issues, but the club in itself and what they've achieved in my time here has been outstanding.
"He's the alpha male. He's the guy who's been leading the whole thing."
West Coast has reportedly reached out to club legends Don Pyke and Dean Cox, who are both with the Sydney Swans, about a return to the Eagles in some capacity.
Want more local WA news?
Select "Western Australia Top Stories" from either the ABC News homepage or the settings menu in the app.
Here's some of the latest local reads from WA ?
Source: AFL NEWS ABC