When Steph Catley's mum Lesley first took her to her local football club, other parents were immediately impressed.
Steph was playing amongst boys at East Bentleigh Soccer Club in Melbourne's south-east and was dominating.
"Parents would come up to me and say she's really good and I just thought she stood out because she was a girl," Lesley told 7.30.
Steph Catley began playing soccer in boy's teams.(Supplied)
The Catley's were an avid Australian Rules "Footy" family and many of the World Game's subtleties were completely foreign to Lesley.
"Some of the parents said she's got good ball skills why don't you put her in the younger team, it was all boys then and I was like 'hmm, I'm not sure, I don't know' and [Steph] begged me to do it so I went and got her some little Nike tempos and some shin guards and I put them on top of her socks and I got tapped on the shoulder and someone said they go on the inside of the socks."
Lesley said her daughter quickly became obsessed with the game and developed an insatiable desire to progress through Australia's football ranks.
"There was a lot of driving, that's all I did as soon as I finished work. I'd pick her up, drive her to training, it was full on," Leslie said.
"She was always a really strong kid and knew what she wanted … I just admired watching her and her inner strength and knowing what she wanted to do it was amazing to watch."
At just 15, her daughter had played senior football for Melbourne Victory and had represented Australia at Under -17 level.
An 'out-of-body experience'
An injury to Sam Kerr at the start of this year's World Cup meant Catley was called upon to captain the Matildas and it's likely she'll wear the armband again in Monday night's sudden death clash against Denmark.
Her mum describes the feeling of seeing her daughter lead her country as "an out-of-body experience".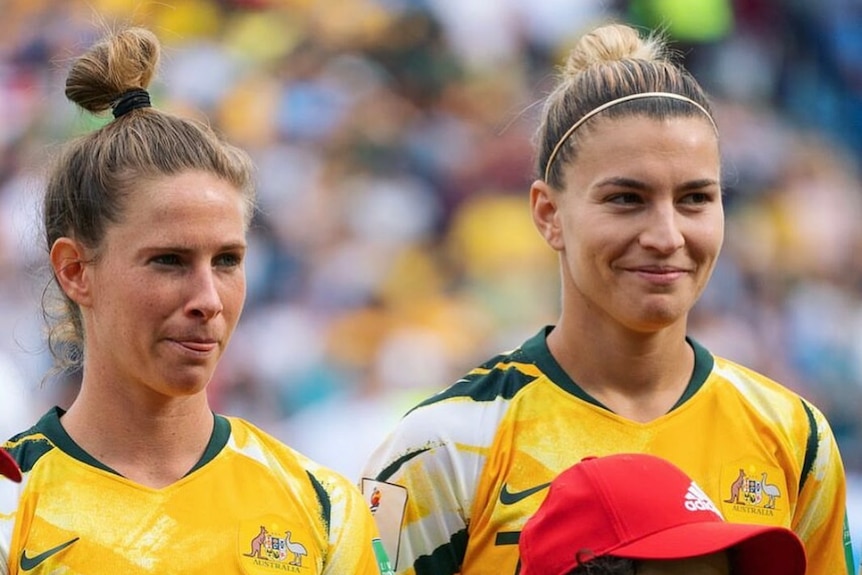 Steph Catley (right) first represented Australia at under-17 level.(Supplied)
She recalls a moment before a Matildas match where she saw her daughter beaming with pride as she pulled on her green and gold kit.
"I think my pride is her being so happy – I remember seeing her before one match, she had her uniform on just in the changing room bathrooms and she was so proud and it's amazing. I'm so proud of her," she said holding back tears.
Lesley has attended every Matilda's game at this year's World Cup and will be among the 80,000 fans at Sydney's Stadium Australia on Monday night.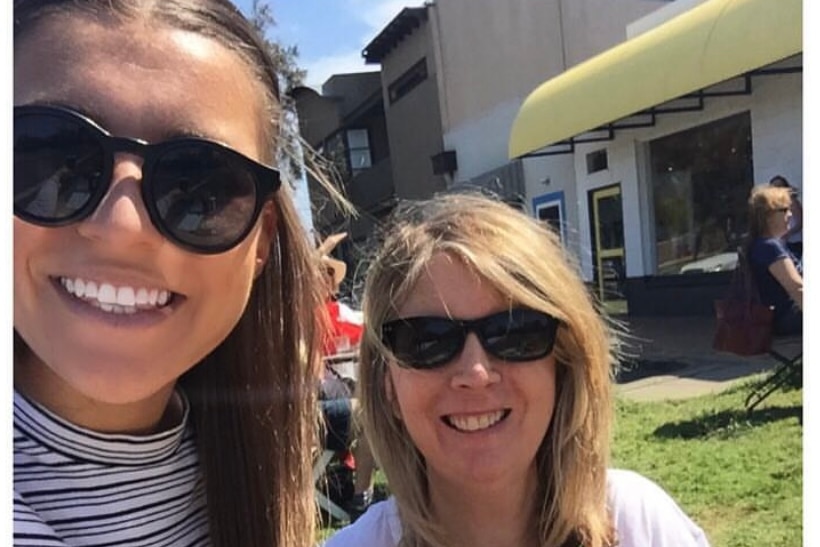 Lesley says she is "so proud" of her daughter.(Supplied)
Her pre-match nerves start to hit the morning of the game.
"I'm so nervous, sick in the stomach. I can't eat," she said.
"That's excitement and nerves for my daughter and the other girls who I'm so proud of."
She says she'll try to occupy her mind with other activities before the whistle blows for kick-off.
From coach to supporter
Matilda's parent Gary Van Egmond also gets his fair share of nerves before he watches his daughter Emily play.
"We do have a pre-match function for the parents and there are some refreshments that are easily accessible so that tends to help you in regards to the game — it certainly helps my wife," he told 7.30.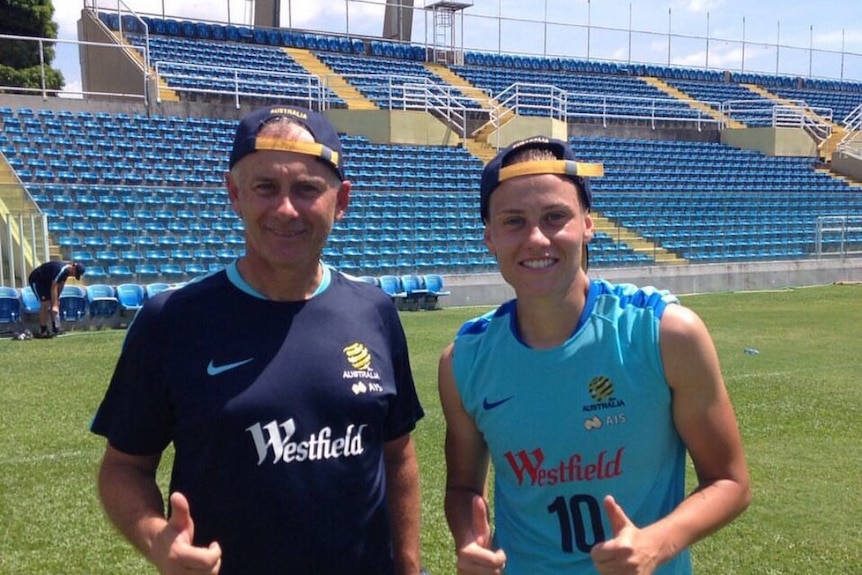 Gary Van Egmond coached his daughter for 10 years.(Supplied)
Van Egmond is a famous football name in Australia, Gary had a successful career in the now-defunct National Soccer League and later became coach of the Newcastle Jets in the A-League.
He coached his daughter Emily throughout her junior career then again when he was appointed Matilda's assistant coach in 2015.
"I coached her every year from when she was five through to 15.
"Coming through she wasn't out of place playing alongside the boys … she dominated a number of games. I think she scored eight goals in a game once."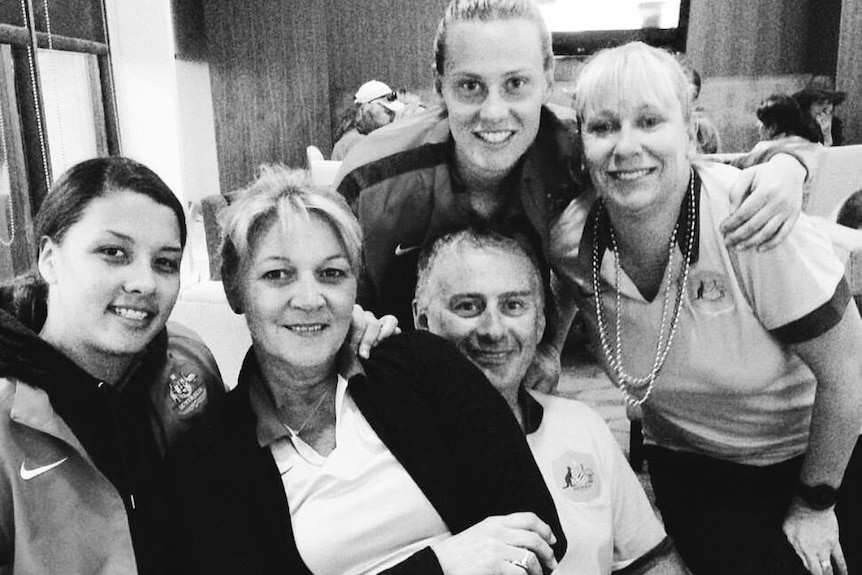 Gary Van Egmond feels the nerves before the Matildas play.(Supplied)
Whilst barracking for his daughter on the sidelines in the Matildas last match against Canada — the long-time professional manager couldn't help but yell out some advice to the players.
"The last game I was standing up. I was next to the stairwell and I'm yelling at [defender] Ellie Carpenter to tuck in further and the ball goes back and I'm wanting them to push up and then I realise 'What am I doing?'".
He now coaches the Newcastle Jets women's team and says he's overwhelmed at the national attention the Matildas are receiving.
"It's just an unbelievable fantastic advertisement for our game and how well supported it's been."
Watch 7.30, Mondays to Thursdays 7.30pm on ABC iview and ABC TV
Contact 7.30
Do you know more about this story? Get in touch with 7.30 here.
Source: AFL NEWS ABC