Scott Pendlebury has total confidence in Collingwood winning close games after training last-minute scenarios more than he ever has before in his illustrious career.
Key points:
Scott Pendlebury says training late-game scenarios has been a focus since Craig McRae's arrival in 2022
The Magpies' last two years have featured a high number of close wins
Taylor Adams left the track early as he attempts an unlikely return from injury for the grand final
The star veteran is preparing for his fifth grand final at the end of his 18th AFL season.
But Pendlebury has never had so much belief in the Magpies' ability to succeed when matches come down to the wire.
Comeback victories under coach Craig McRae have become Collingwood's trademark.
But their two gripping finals wins over Melbourne and GWS have come under intense pressure in the final quarter when they have needed to grimly defend a lead.
"We definitely train those last few minutes situations a lot more in the last two years than I ever did across my whole career," Pendlebury said.
"We're well versed in those situations about what we want to do with or without the ball.
"We train that not just every now and again, we've trained that every training session for the last few minutes of our matchplay.
"We're well versed if it's tight, what we need to do if we're up or down by a few points, what we need to do if we need to get the game back on that situation.
"But hopefully for us and our supporters, it's not tight and we don't have to do it."
The Magpies beat GWS by a single point in the preliminary final.(Getty Images: AFL Photos/Robert Cianflone)
McRae said the focus on scenario training had helped the Magpies advance to Saturday's grand final against the Brisbane Lions.
"All those lessons are why we're here now and we practice it, two years of practising scenarios," he said after the one-point preliminary final win over GWS.
"Two minutes to go, kill the game, two minutes to go, we need to win, it's rehearsed for these moments.
"You create habits and you get some luck here and there but I think we might have killed the clock for three minutes and the ball never went very far."
Rather than feel anxious in the dying stages of a close game, Pendlebury said there was a genuine belief in the whole team.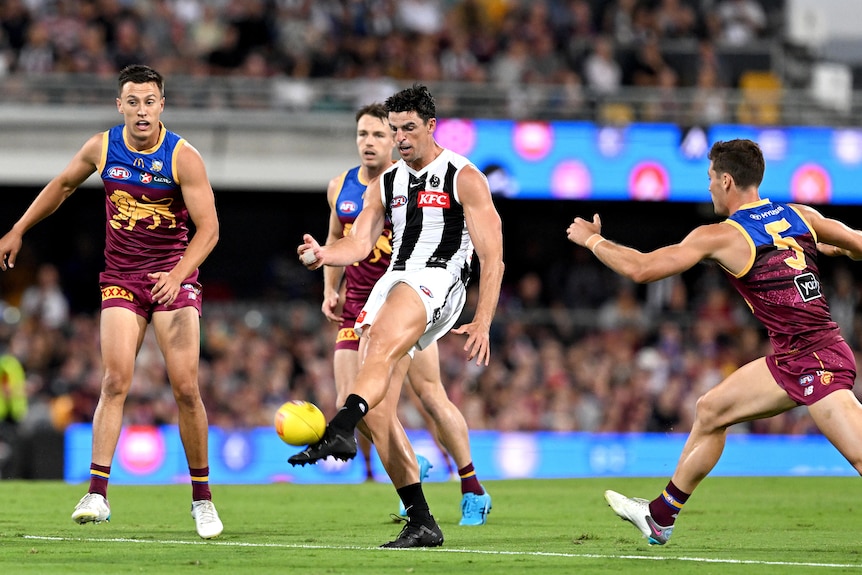 Scott Pendlebury in action against the Brisbane Lions earlier this year.(Getty Images: Bradley Kanaris)
"There's a trust and a confidence that I know what everyone around me is going to do and how we want to play," the 2010 Norm Smith medallist said.
"I feel like the anxiety is in the crowd, my family certainly let me know about it after the game with all the things that were going to happen.
"I'm sort of oblivious to that because I'm the one that's doing it."
Meanwhile, Taylor Adams trained on Tuesday as the midfielder pushes his case to return for the decider after missing the preliminary final with a hamstring injury.
The 30-year-old was the first player out on the ground for the session but left the track early and remains in significant doubt to face the Lions at the MCG.
Collingwood are weighing up who will fill the void left by Daniel McStay, with the key forward ruled out of the grand final against his former club due to a knee injury.
Versatile tall Billy Frampton trained with the Magpies' forwards on Tuesday and could be brought in for McStay after last playing in round 24 against Essendon.
AAP
Source: AFL NEWS ABC