Two clear premiership favourites emerge from the first weekend of finals, but a pair of dark horses suddenly loom as a threat to be feared.
Welcome to the AFL Round-Up, where we digest the week that was.
Pies learn to do it ugly
It felt a long way from the dizzying highs of Collingwood's season, those early-winter afternoons of razzle-dazzle footy and fearless fightbacks.
The Magpies built their lead on top of the ladder by way of their thrilling attacking play, but on Thursday night, in the biggest game of their season, it wasn't going to be enough.
Collingwood had to embrace the scrap against Melbourne.(AFL Photos via Getty Images: Michael Willson)
Not that you would have picked it in the first half. The Pies dominated Melbourne with a forward-half pressure game in the first quarter, and then torched the Dees on counter-attack in the second. It set up a lead nudging five goals, and gave them the appearance of winners already.
But after half-time, as Christian Petracca woke up and Max Gawn put his foot down, the Pies were nowhere to be seen. They were beaten up by Melbourne, left clinging to the rock by their fingernails.
And yet all that really matters is that they didn't fall off. Perhaps it means more for their premiership hopes that they were able to entirely concede the run of play, and yet somehow still prevail in the scrap.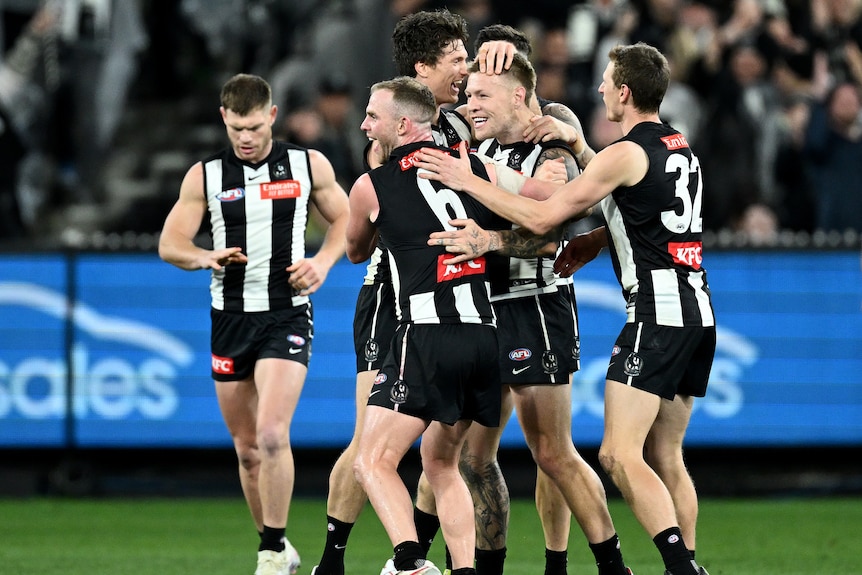 The Pies are a win away from a grand final.(Getty Images: Quinn Rooney)
It starts with Darcy Moore, as almost everything good about the Collingwood Football Club does these days, and filtered through Isaac Quaynor, Nathan Murphy and many more besides. There was uncertainty as to whether these Magpies could do it ugly. They left the MCG in no doubt.
Now the path to the flag has never been clearer. The draw has opened up, with an MCG preliminary final to be played against a team for whom it is not their home ground. Plus Nick Daicos, that uniquely brilliant young footballer, will be back in the 22.
The Lions are within touching distance
There's nothing like it in footy. The Brisbane Lions have created something truly unique at the Gabba, both in the stands and on the grass.
There are gears that this Brisbane team can click through, especially on their home patch and especially under the floodlights. The crowd feeds off the moments, rising with Charlie Cameron, Joe Daniher and Cam Rayner to change games in minutes, sometimes seconds.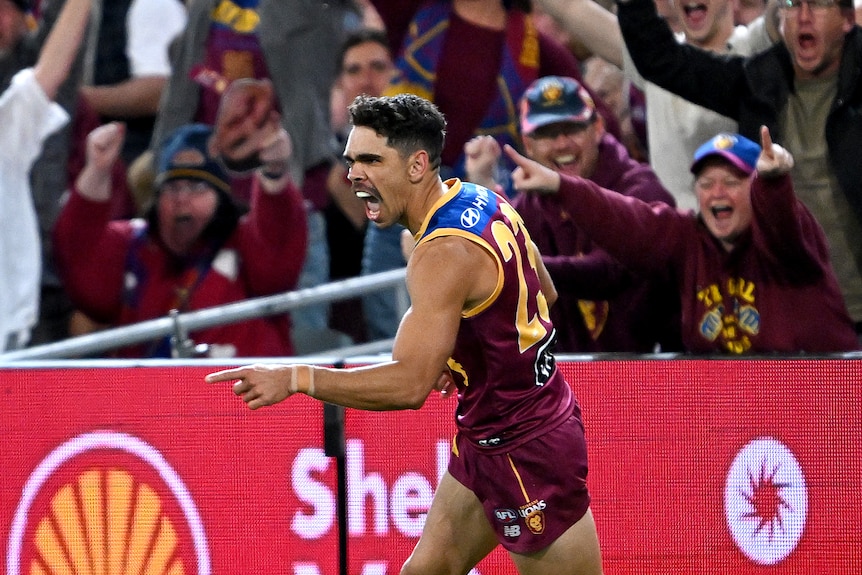 Charlie Cameron lit up the Gabba with a scorching third quarter.(Getty Images: Bradley Kanaris)
When Cameron kicked his second goal in a minute in a blistering third quarter on Saturday night, the Gabba crowd echoed to the sounds of John Denver long after the PA music had been turned off.
It was suddenly a Champions League night in Brisbane. Every last fan inside the ground on the same Country Road, watching their team turn an arm wrestle into a bloodbath.
How it must help lift young players like Jaspa Fletcher, who came of age in just his 12th AFL game with a performance of outrageous maturity. It won't be long before that crowd is rising for his every touch like they do Lachie Neale and Hugh McCluggage.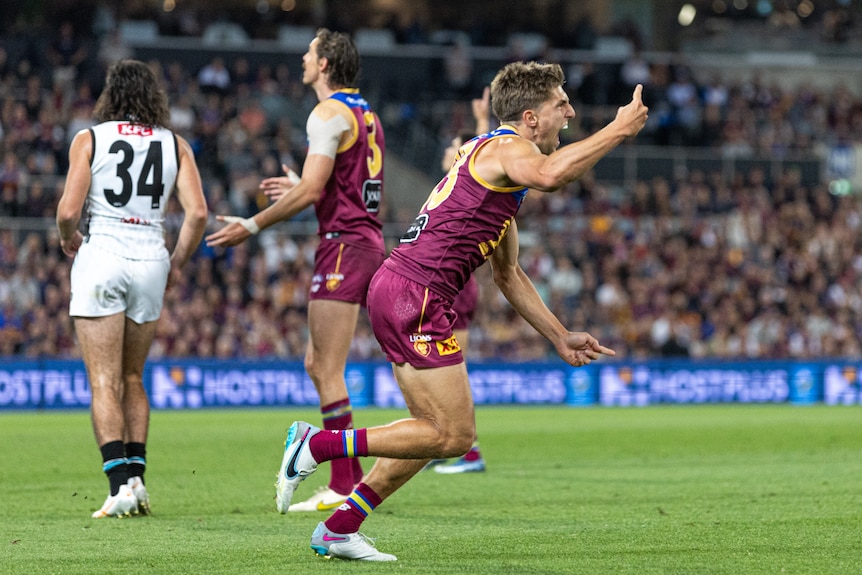 Zac Bailey kicked things off with a brilliant opening goal.(Getty Images: AFL Photos/Russell Freeman)
It might too early to talk grand final, but screw it. Taking this feeling on the road to the MCG is the probably biggest obstacle between Brisbane and the premiership.
A prelim against Melbourne or Carlton awaits, but the Lions will be favourites against either of them. It's going to be a special night at the Gabba, and right now it's impossible to imagine Brisbane letting that home crowd down.
Blues dig deep to find some unlikely heroes
Maybe the best part of finals is watching players lift themselves above their established stations and into the limelight. You can overwrite an entire career of unspectacular solidity with one glorious finals night.
On Friday at the MCG, Carlton's second and third tier players took turns to stand up and be counted. And though guys like Sam Walsh, Jacob Weitering and Adam Cerra were as excellent as you would expect, it was those comparative lesser-lights that won the Blues the game.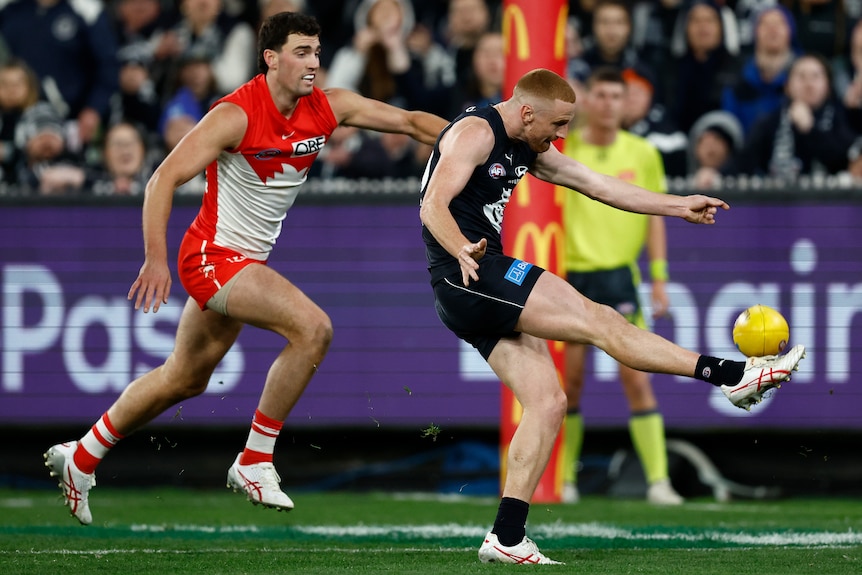 In the biggest game of his career so far, Matthew Cottrell produced his very best performance. (Getty Images: AFL Photos/Michael Willson)
Blake Acres save two goals with fingertip efforts on the line, kicked the sealer himself and then produced one of the solo efforts of the year to chase down his own desperate punt and stop Nick Blakey in his tracks.
Tom De Koning was gargantuan in the ruck and held his own in the air all over the ground. His follow-up at ground level created that goal for Acres which would effectively clinch the game.
Matthew Cottrell likely wouldn't have played many better games in his life than the two-goal, 17-disposal effort he produced on this night. One late howler aside, Brodie Kemp partnered Weitering with aplomb.
It took all 23 on the night for Carlton because those Swans came pre-hardened to the rigours of finals. They weren't at their best, but they were good enough to turn a five-goal deficit into the fright of a lifetime.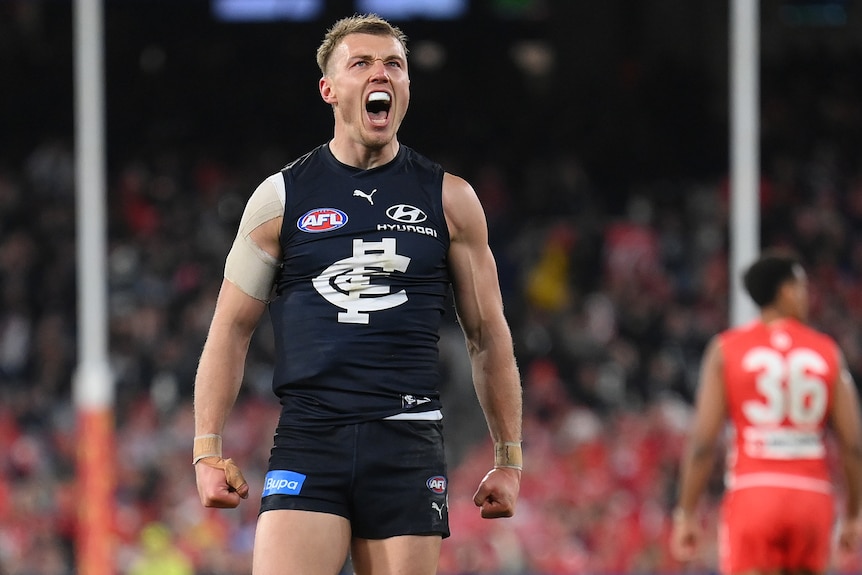 Patrick Cripps brought the house down with a third-quarter goal.(Getty Images: Quinn Rooney)
The Blues aren't done. They are about to run into a dangerous but fundamentally flawed Demons team who went out in straight sets not 12 months ago.
Carlton have earned the right to believe. And Friday night proved they have the depth to back it up.
Around the grounds
The Giants in full flight are a thing of beauty. In a game that was billed as a battle between attack and defence, attack won hands down. GWS are more than capable of causing another upset in Adelaide next week too.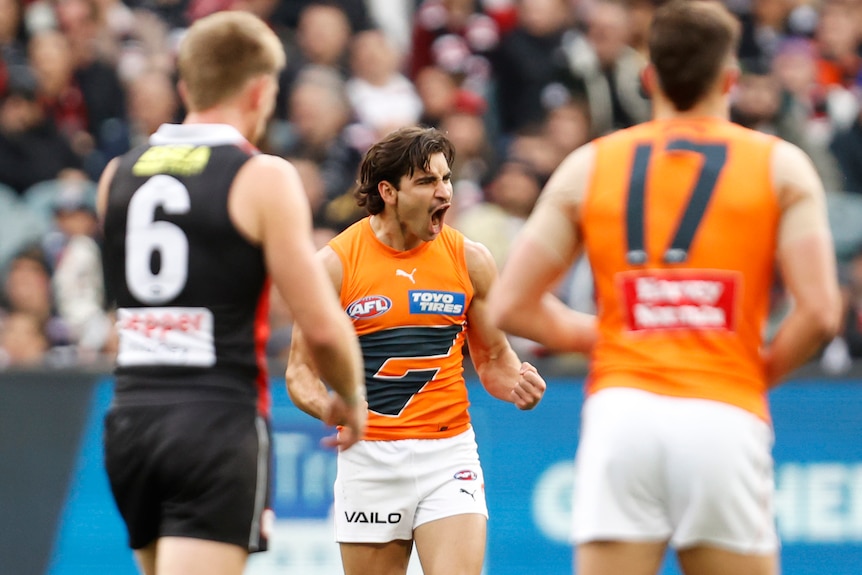 When the Giants get out and running, no defence can stop them.
That Melbourne forward line is a problem. That's not new information, but each one of the 69 inside 50s only highlighted it further. Not sure there's enough time left for them to fix it either.
Back to the drawing board and back to the trade table for the Swans. This is a young team, lead by one of the best young players in the comp in Errol Gulden, but 2023 was a small step back. They remain primed for greater leaps in the years ahead.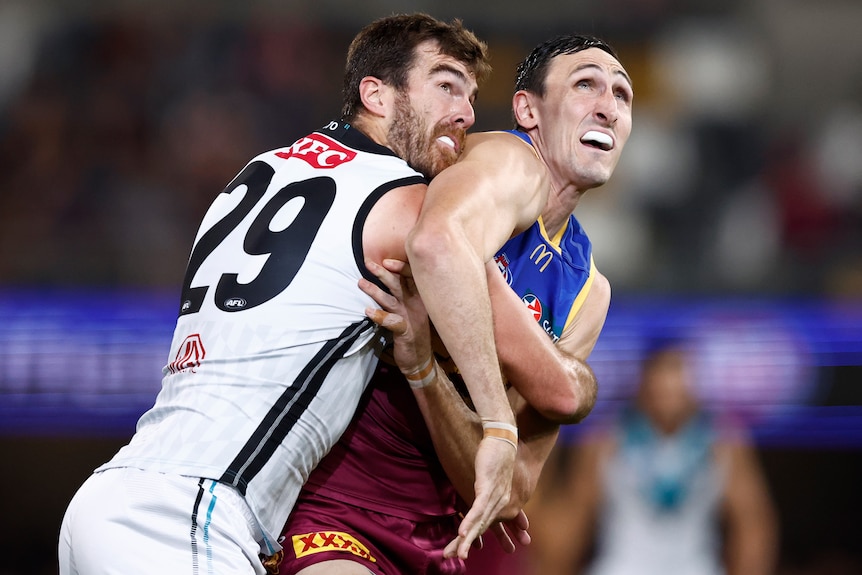 Scott Lycett tries to quell Oscar McInerney.(Getty Images: AFL Photos/Michael Willson)
Port Adelaide look vulnerable after that second half performance. Everything looked rosy when the Power were going forward, but they were absolutely obliterated by the Lions midfield and forward line when the ball went the other way. The Giants will be licking their lips.
St Kilda's season is tough to assess in the end. There were clear steps forward, underlined by a return to finals, but the Saints' attacking issues had long been telegraphed and proved too great an obstacle in finals. Work to do to get back here next year.
Source: AFL NEWS ABC