Incoming West Coast chief executive Don Pyke says restoring the club's on-field performance across all of its sides is the most pressing issue he faces when he takes over in January.
Key points:
Don Pyke has been named to take over as Eagles CEO from Trevor Nisbett
He says he wants to restore on-field success to West Coast
The two-time Eagles premiership player says he will bring "fresh eyes"
Pyke will replace long-serving CEO Trevor Nisbett in 2024, with the pair to work through a transition period in the new year.
The former Adelaide Crows head coach said recent results showed the Eagles had a lot of work to do to be competitive.
"The game has given the club the feedback that we aren't at the level to be winning regularly, which is what we're aspirational to do," Pyke said.
"Across the spectrum — it's our men's program, it's our women's program, it's our WAFL program — how do we get back to providing our members and our fans and our people what they want, which is a highly successful football team?
"I've been fortunate in working in close quarters to the pointy end of football at other clubs to have a pretty good feel as to how that looks and where we need to spend our time and invest our money."
The Eagles have struggled mightily over the last two seasons and finished bottom of the ladder this year.(Getty Images: AFL Photos/Mark Metcalfe)
The Eagles have won just five AFL games in two seasons, while the AFLW side has won five matches in three seasons.
Pyke said he would not be directly involved in club decisions until he took the reigns in January, but expected to be briefed on drafting and club decisions in the intervening months.
Emotional connection but 'fresh eyes'
Pyke is a legend at the Eagles, playing in the 1992 and 1994 AFL premiership sides during his 132-game career before later becoming an assistant coach under Adam Simpson.
He was also on West Coast's board in the 2000s and is a life member and Hall of Fame member.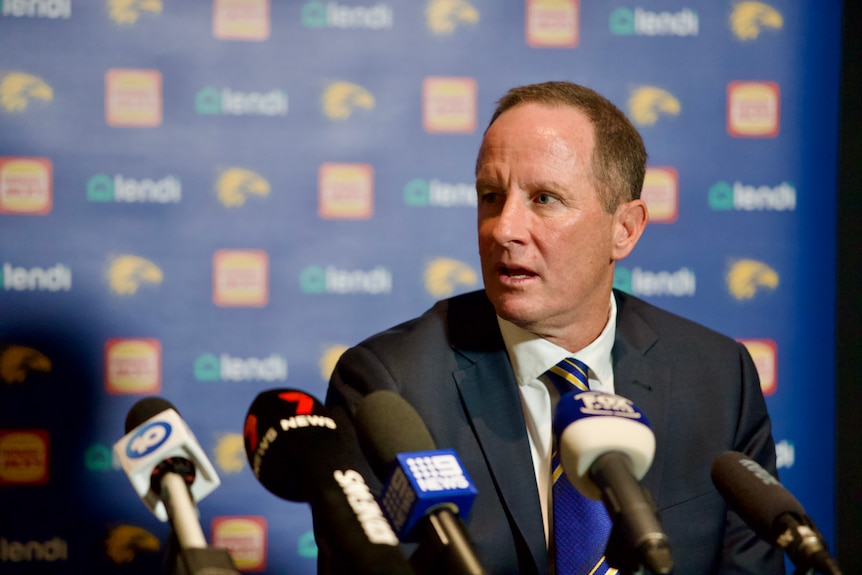 Pyke says he wants to make the Eagles a "highly successful football team" once again.(
ABC News: Kenith Png
)
But Pyke says those experiences would not prevent him from making difficult decisions for the future of the club.
"As much as I consider myself a part of West Coast, I've worked at the footy club for two years in the last 20," he said.
"I know a lot of people in the room but I haven't actually been inside the four walls.
"As much as I have history at the club I don't see myself as part of the club, so I can bring fresh eyes to the club from that perspective."
Skills set Pyke apart: Eagles
Pyke has extensive AFL experience beyond West Coast, having coached Adelaide to a grand final in 2017 and more recently served as an assistant coach at the Sydney Swans.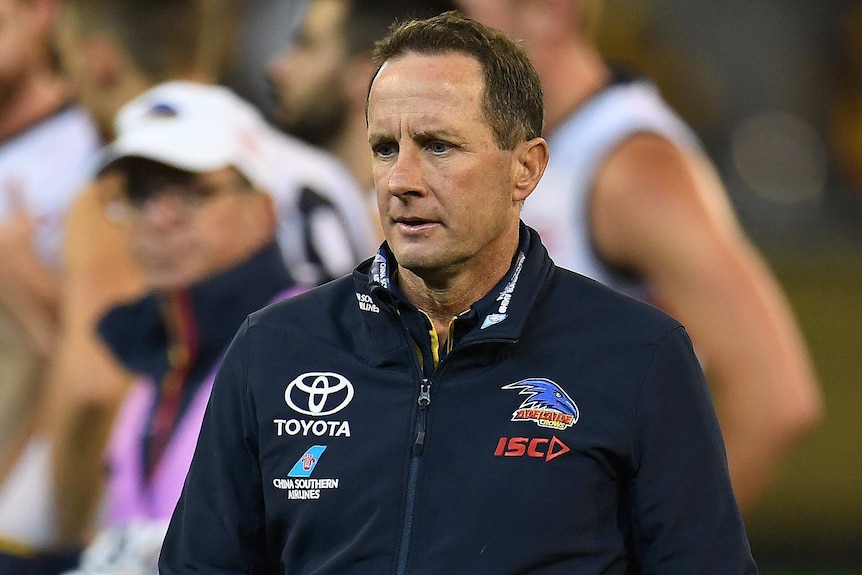 Pyke coached the Adelaide Crows for four seasons, taking them to a grand final, before resigning in 2019.(AAP: Julian Smith)
Eagles deputy chair Elizabeth Gaines said he was the ideal candidate for the role.
"We had a very strong field of candidates, as is always the case," she said.
"Don comes with a lot of experience, football experience, we are a football club and there is a lot of experience that Don has, but also very strong commercial and business experience.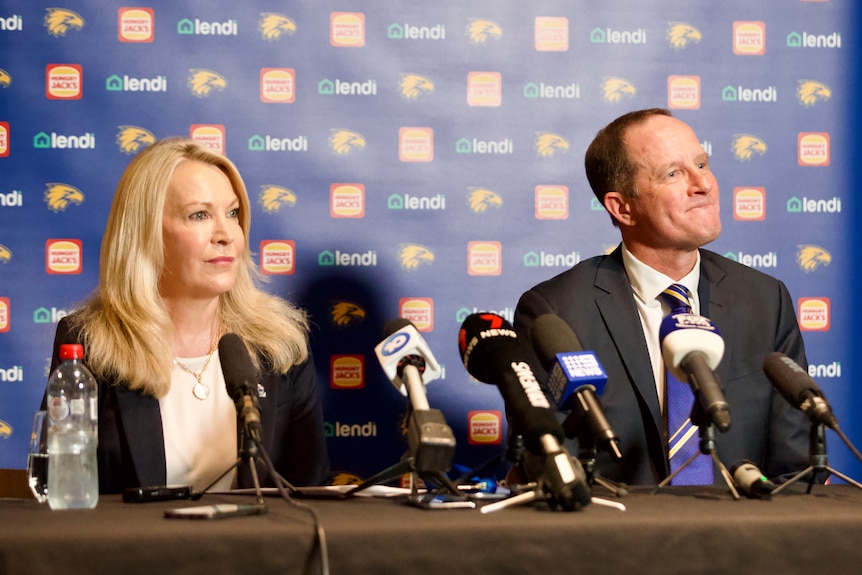 West Coast deputy chair Elizabeth Gaines (left) says Pyke was the ideal candidate for the role.(
ABC News: Kenith Png
)
"So [it is] a really good combination of skills that set Don apart for the role."
As well as a long and successful football career both on and off the field, Pyke has set up and run two oil and gas companies.
"It taught me a lot about managing people, negotiating contracts, building brands, all those things," he said.
Pyke is scheduled to formally take up the role of CEO on January 15.
Loading…
Sports content to make you think… or allow you not to. A newsletter delivered each Friday.
Source: AFL NEWS ABC