All good things must come to an end. There's no one way for things to end either. Every close to a footy career is different.
But this one was really different.
It did not have a bang, nor a whimper. Just silence.
For one of — maybe the singular — best players of the modern era, retirement came on an otherwise innocuous Monday afternoon. There wasn't as much as a public hint even the day before.
Lance Franklin — four-time Coleman Medallist, eight-time All Australian, two-time premiership winner, one of only six men to kick 1,000 goals in V/AFL history — was retiring, effective immediately.
Franklin said nothing at his retirement press conference.
He wasn't even there.
Over the years Franklin has developed a reputation of only speaking when it matters. It was often left to his play on the field to do the talking.
"He just doesn't like these situations. I guess you just have to respect that because he's been a superstar of the game and he's in the situation where he's most comfortable out on the footy ground," Sydney Swans coach John Longmire told the assembled media on Monday.
"Everyone sees the way he walks around a footy ground and thinks it's him 24 hours a day — that's not it. He's very shy, very humble."
Franklin retires as one of the game's greatest-ever big men. No player his height or taller has kicked more goals or received more Brownlow Medal votes than Lance.
He could beat you in so many ways. He could burn off opponents on the lead, fending off opposition chops from behind. Just last week he took one of the marks of the week in that way.
He was also deadly when it hit the deck, chasing the ball and opponents with a fever rarely seen before for a man that tall.
About the only thing he didn't do was use his right boot. Why would you, when your left is so bloody good?
Given his bag of tricks and long reel of highlights, Franklin was probably as close as it gets to the aesthetic ideal of modern footy. He is as close as we have gotten to turning the game into an art form.
Watching Franklin in full flight was an event to behold.
Franklin was such a player that if you could split him in two you'd likely have two different Australian Football Hall of Fame-level players.
To get to that point, Franklin overcame adversity — from the racism he faced to physical and mental health battles. He didn't just battle, he thrived. When he chose to speak publicly, he used his platform to advocate for change and inform on important issues, much like his former teammate Adam Goodes.
Lance "Buddy" Franklin will leave a legacy long and lasting on this great game.
Measuring greatness
Lance Franklin was an extremely one-side player, delivering the vast majority of his kicks with his famous left leg.(Getty Images: Cameron Spencer)
The start of the journey for most players is usually a trial by fire. It was no different for Franklin, one of three debutants against a Sydney side that would not only be his future home, but also the premiers that year.
The other two debutants for Hawthorn that day, Josh Thurgood and Harry Miller, would combine for 31 games and 14 goals across their careers — a mere 323 games and 1,052 goals short of Franklin's eventual totals.
An early glimpse saw a sight that would be hard to reconcile later — a skinny kid in defence, wearing number 38 on his back. Franklin would get the ball just six times on the day, but five of them would be used inside 50.
That was indicative of the career he would have — dangerous as anyone when he got the ball. Franklin stood almost alone for forwards who also created the ball from higher up the ground.
His second game showed a little more again. Three goals started the eventual tide, the first from a soft and forgettable 50m penalty. The second was significantly more exciting, slotting a goal on the run using his trusty left boot.
That was a sight that soon became familiar for footy fans — Buddy wheeling onto his left, eyes just for goal.
Franklin started to firmly find his feet though. His first five-goal bag would come in the following season, his first of 74 across the course of his career. Every fifth time he pulled on the boots, he kicked five goals with them.
He has more than twice the number of five-goal games than any other current player, and more six-goal hauls than anyone else has five. Buddy could break a game open like few others.
As Franklin got used to top-level footy, the Hawks started to truly fly. His third season would see his first 50-goal season, and the Hawks back into the finals.
Buddy's fourth, at the tender age of 21, would see him kick 113 goals and win his first Coleman Medal, win the Peter Crimmins Medal for Hawthorn's best and fairest player, and win his first premiership.
From there, the goals and the accolades flowed. At Hawthorn Franklin would win two premierships, two Coleman Medals and four All-Australian nods.
Then, after a year of ardent speculation, Franklin made the decision to head north. Just not to the place most were expecting.
Buddy charted course to the Swans on a mammoth nine-year deal. Many speculated that it was a mistake on behalf of the Swans and that there was no chance he'd see out the contract.
It turns out many were wrong.
Franklin continued to dominate the game in the Harbour City, becoming the focal point for the Sydney attack across a number of successful seasons. The Swans would make three grand finals with Franklin at the club, coming close to the ultimate success on multiple occasions.
Franklin added another two Coleman Medals in his time at the Swans, alongside four more All-Australian blazers, one as captain. His eight total All-Australian selections are the equal most of the modern era.
The game changer
Opposition teams learned not to give the dangerous Lance Franklin space, even if he was outside 50.(Getty Images: Quinn Rooney)
Franklin's emergence into the league came in a different era, one that Franklin remembers somewhat fondly.
"The game has changed a lot since then. Back then, it was one on one — which as a forward, that's what we love." Franklin told Yokayi Footy's Andrew Krakouer in 2022.
It's the goals that grab the highlights, but Buddy's contributions ran far deeper. Franklin shifted the gravity of the game, pushing the attacking zone outside of the forward 50.
He forced defences to work as a team to beat him, arguably accelerating the move toward team defences.
His ability to drill goals from deep has been unmatched. It also foretold an era of increasing reliance on the threat of the long roost at goal.
In the last three seasons, Franklin increasingly moved closer to goals as his role evolved again. Buddy became one of several dangerous paths to goal instead of the sole focus on the Swans' march to the 2022 grand final.
The end again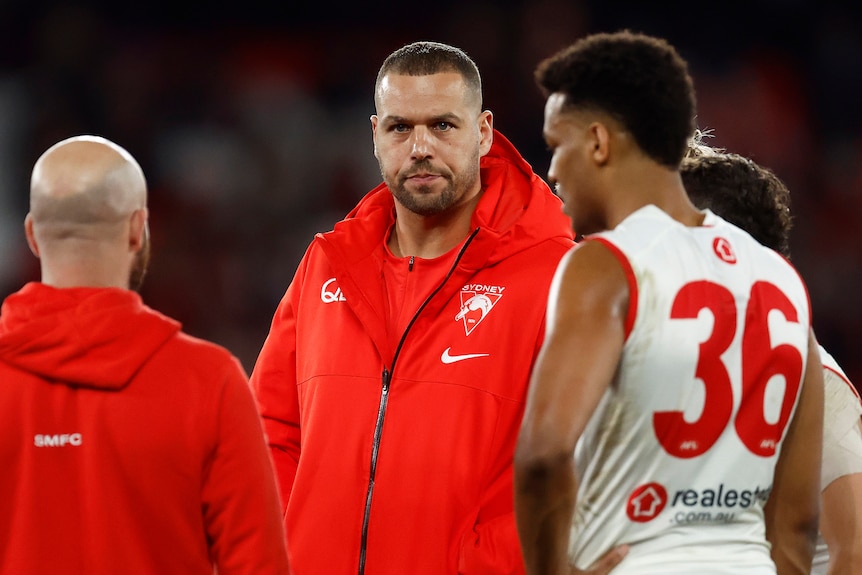 An outing of less than a quarter at the MCG against Essendon proved to be the last of Lance Franklin's 354-game career.(Getty Images: Daniel Pockett)
By the end of the weekend, he called Longmire to inform him of his plans. By the Monday his teammates knew, just before the rest of the footy world was told. Franklin suffered a calf injury against Essendon on the weekend, with at least six weeks on the sidelines ahead.
It was a calf injury that forced a three-month lay-off during the 2021 preseason for Franklin. Franklin knows better than anyone the commitment required to be an AFL player.
"You need to have drive. You need to be passionate about what you do. And I think that's one thing over my career I have been," Franklin told Krakouer last year.
"From day dot, when I was drafted until now, I'm still passionate when I wake up in the morning. I want to get out there and do my best."
That drive powered him to be the best, the most exciting, the most entertaining.
"He's probably one of the most competitive people I've ever met. Whether that's in a game of AFL football, whether it's at training, whether it's on the table tennis table," Longmire said, reflecting on Franklin.
"He was extraordinary."
There's only so much that words, numbers and pictures can do to reveal Buddy's legacy. There's so much that existed between what can be recorded — the sense of excitement and energy that's hard to describe.
It's unlikely that we will see anyone do anything as spectacular as his 100-goal season, or 1,000-goal career, in the foreseeable future.
Lance Franklin was truly a great of the game.
Loading
Source: AFL NEWS ABC