Taking to the field in the Darwin midday sun, eight-year-old junior soccer player Indi has a look of determination in her eyes.
Key points:
Female participation in soccer is expected to surge following the Women's World Cup
Already 35 per cent of Australian women and girls play sport
Players and coaches say the future of women's sport is bright, but athletes still face a gender pay gap
After a jostle against the boys, she receives a pass and has a shot at goal.
"It's the best feeling in the whole world," she said.
"You get to share your happiness with your team.
"You make friends who like the same thing as you."
Indi is one of a growing number of females taking part in traditionally male-dominated sports.
In her local competition alone, the number of girls has doubled from the same time last year.
Indi says playing soccer is the best feeling in the world.(ABC News: Amy Culpitt)
"I think they should encourage every girl that they should follow their dreams and don't give up," she said.
The surge of young players follows the success of Australia at the Women's World Cup earlier this year, which sold out stadiums, saw record ratings, and turned relatively unknown players into household names.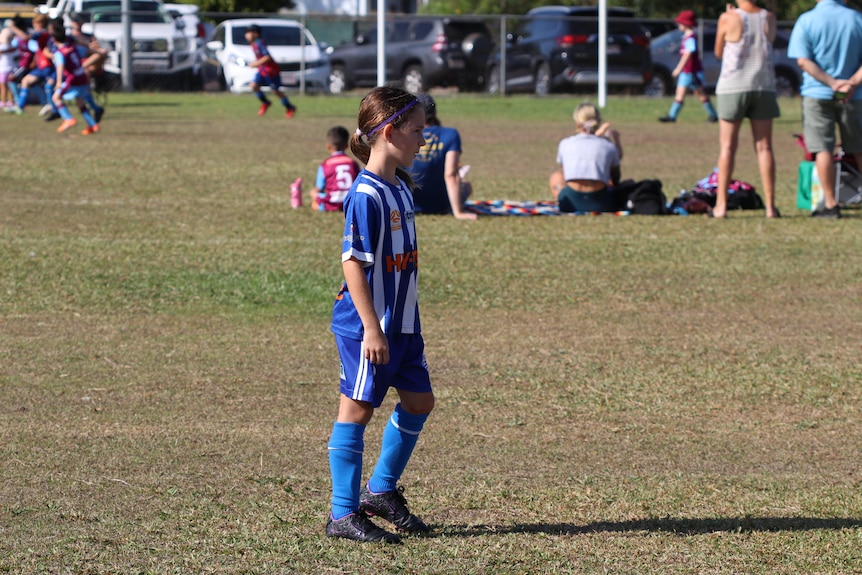 Indi is taking to the field at a time when women's sport is becoming more popular than ever before.(ABC News: Amy Culpitt)
It's been dubbed 'the Matilda's effect' and is expected to have far-reaching impacts well beyond the hype of this year.
"All these kids here have been talking about the World Cup, they all have a favourite player, they all collect the cards, it's crazy," Football NT coach Mary Koum said.
"Growing up playing with boys to seeing the girls coming through now, it's exciting for the future."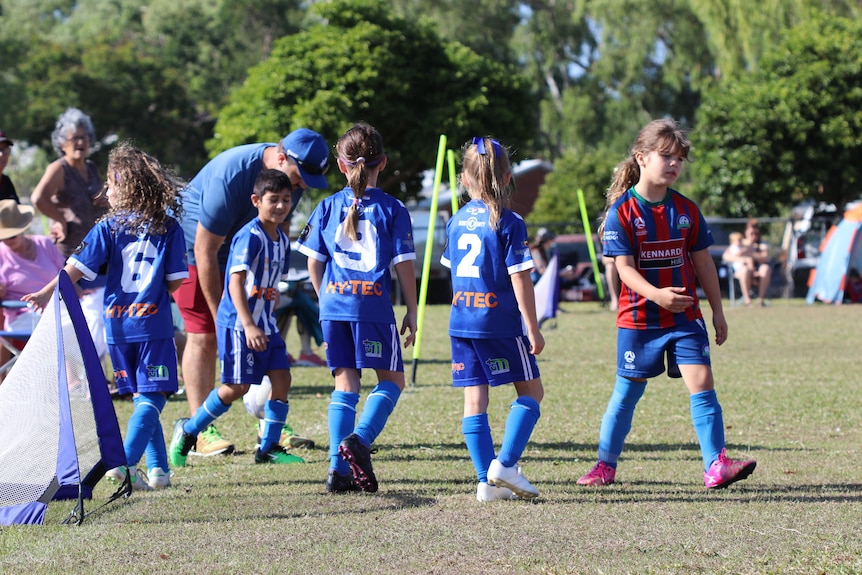 The number of girls in this local Darwin soccer competition has doubled since last year.(ABC News: Amy Culpitt)
'The girls see the opportunities they have now'
It's not just soccer that's seen a surge in popularity in recent years.
Australia now has seven professional women's sports leagues, and the Australian Sports Commission reports 35 per cent of all women and girls in the country play sport.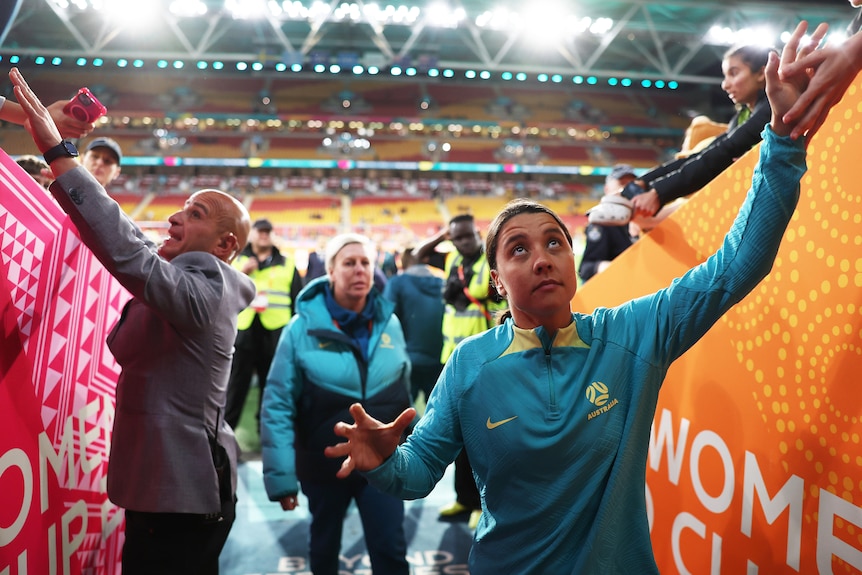 The Matildas' success at the Women's World Cup has brought new attention to the game.(FIFA via Getty Images: Alex Pantling)
Australian rules football has also seen a huge increase in female participation in recent years.
The latest figures from the AFL show women represent one in every five registered players.
In the Northern Territory, those rates almost double, with girls accounting for 38 per cent of all registered NT football players.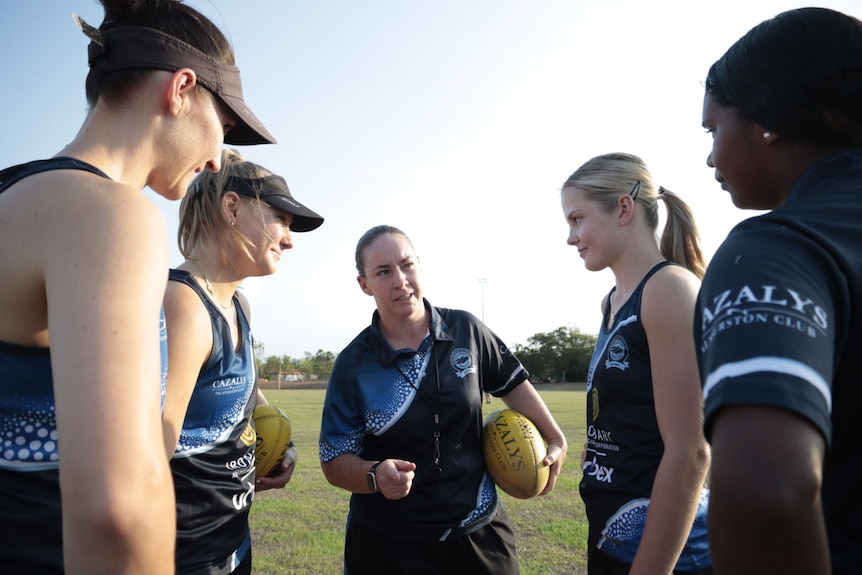 Coach Melinda Taylor says women can see more opportunities in sport compared to the past.(ABC News: Amy Culpitt)
Melinda Taylor has seen the change firsthand — she was a part of Darwin's first women's AFL competition in 2003.
"We were chucked around on a few different ovals, there were no change rooms or support … but it's what we wanted to do, and the growth now is obviously worth it for what sacrifices we did do," she said.
"There were people against us, but you're always going to have your haters and you're always going to have your doubters.
"Resilience is the key."
From playing to coaching, Ms Taylor has witnessed the women's competition go from strength to strength.
"There's more determination, the girls see the opportunities they have now, it's an honour to be a part of their journey," she said.
The AFL is one of the growing number of sports to announce equal prize money for the men's and women's professional competitions, but AFLW players are still paid a fraction of their male counterparts.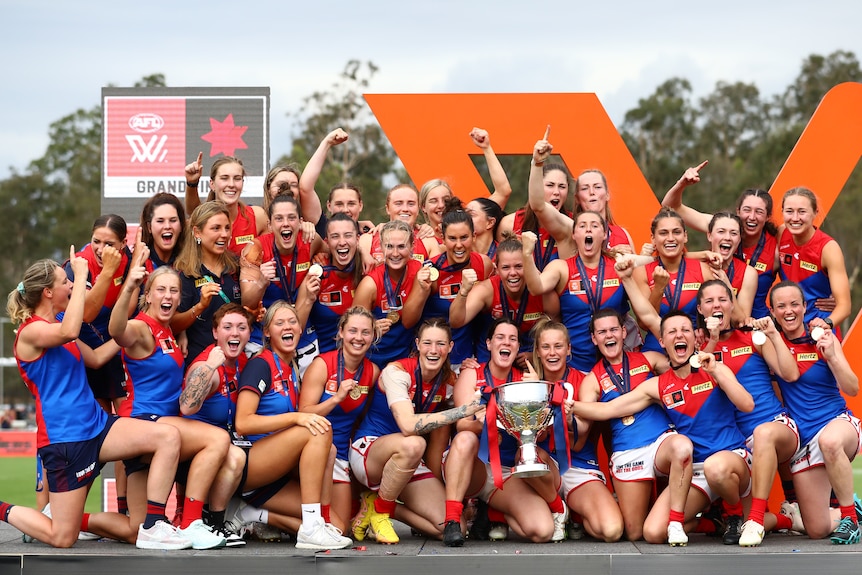 This is the first year equal player prize money will be offered for both the AFL and AFLW competitions.(Getty Images: Chris Hyde)
And despite the Matildas' success, their 4th place finish saw the team win $US2.18 million, while the men's team — who didn't make it past the round of 16 in their last World Cup — won $US13 million.
Despite the gender pay gap, women like Ms Taylor remain optimistic.
"There's a long way to go, but our future is looking very bright."
Source: AFL NEWS ABC