On a cool Alice Springs night a sisterhood is celebrating under the bright lights of a footy field.
Amid laughter and smiles, some women punch their fists into the air and others embrace while tears stream down their faces.
Fans and family members poured onto the grass the second the siren sounded, and now they crowd around, sharing in the excitement.
The Alkamilya Panthers — an Indigenous women's footy club based in Alice Springs — have made history.
A day after its under-16s side took home the junior flag, the senior women won the Central Australian Football League senior grand final.
Fans celebrate Alkamilya's Central Australian Football League's women's senior grand final win.(ABC Alice Springs: Elsa Silberstein)
It has been a tough year for many of these women — their club has been rocked by loss and grief and they have felt the effects of debates raging in Alice Springs about crime and the Voice to Parliament.
But on the field, united by black and blue jerseys and a battered ball, these women are victors.
"We don't say we're teammates," captain Kahlisha Rioli said.
"It's a sisterhood. We're all sisters beyond the boundary line."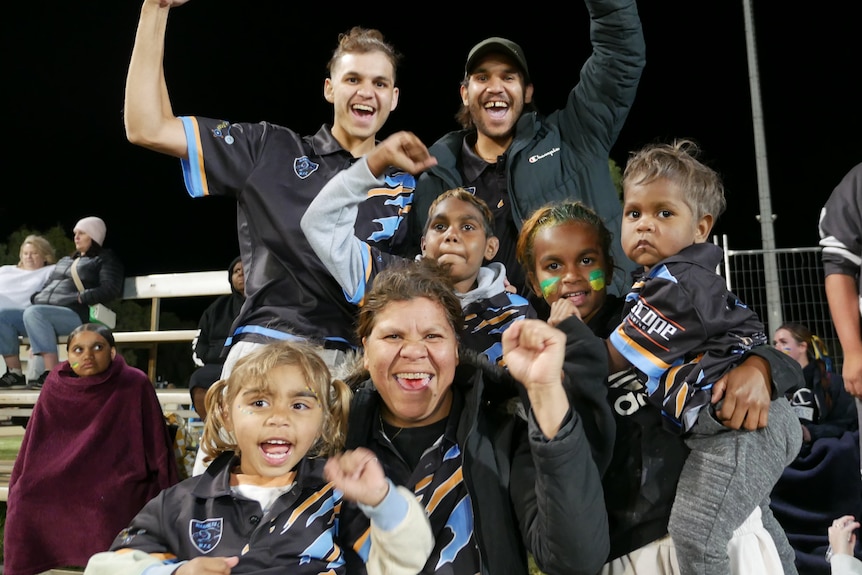 Alkamilya president Marisa Maher celebrates with her family.(ABC Alice Springs: Elsa Silberstein)
Tributes for club founder
The club was started 10 years ago by three sisters from the Maher family who wanted to break down barriers for young Indigenous women in Alice Springs.
But last year, Alkamilya was hit hard when one of the sisters and the driving force behind the club, Magic, died suddenly at 47, months after playing in the grand final.
Tonight, tributes to her are everywhere and signs with the number seven – her number – dot the sidelines.
Among the crowd is Magic's sister, club president and co-founder Marisa Maher.
"It [the club] was Magic's idea," she said.
"She had a daughter and we had a lot of nieces that were playing football but had nowhere to go.
"So we sort of pushed for it and got it happening."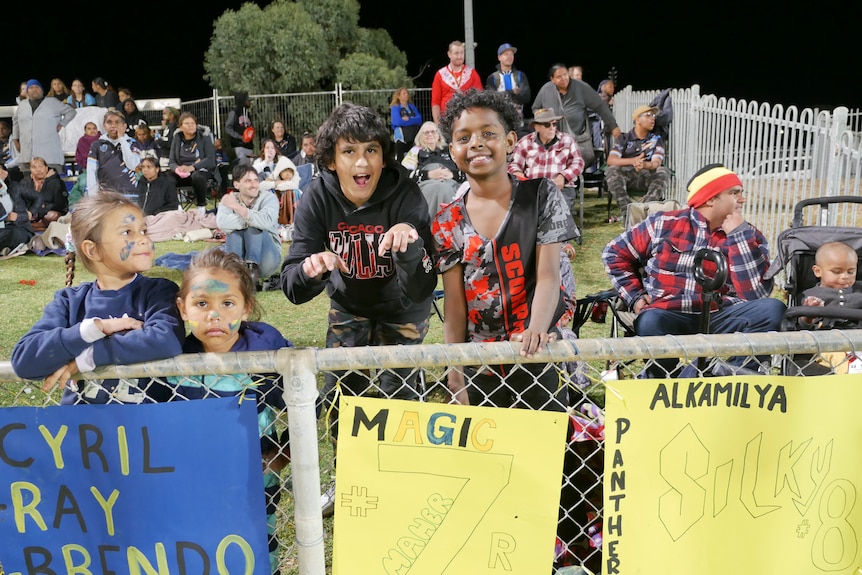 Fansigns honoured late Alkamilya player and team founder Magic Maher, who wore a number seven.(ABC Alice Springs: Elsa Silberstein)
It 'wasn't about the scoreboard'
Rioli is just one young player whose life has been changed by the club.
For the Anmatyerr and Tiwi woman, a love of footy is in the blood — 10 of her family members have played the game professionally.
"I was always in the change rooms with my dad … I'm in a few of his team photos," she said with a laugh.
"There's always that sort of weight on your shoulders, 'Oh are you Cyril's little sister?' or 'What are you to Willie?'."
She joined Alkamilya soon after moving to Alice Springs from Darwin in 2017.
"I remember seeing [them] come out and play, and they lost by a fair few points," she said.
"And I just thought, 'I want to play for them'.
"They just looked like they were enjoying their footy. It wasn't about the scoreboard."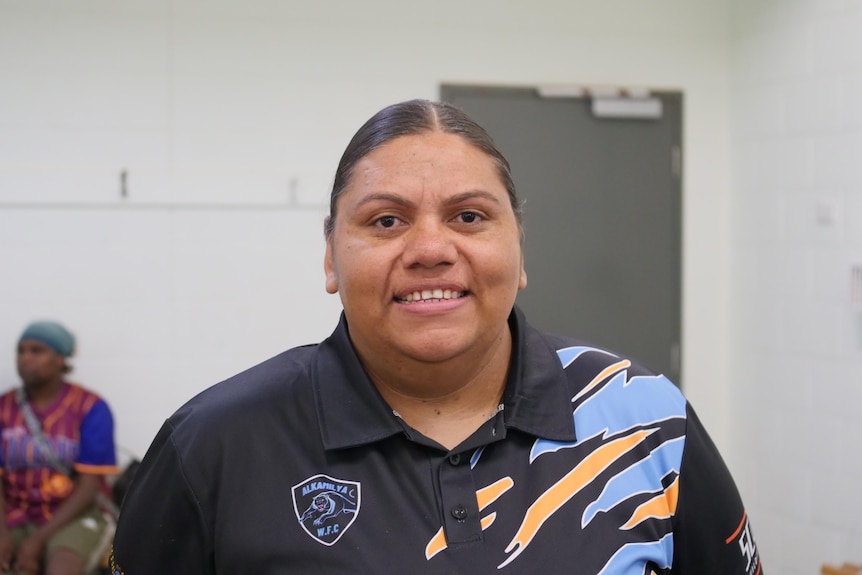 Danni Woods is Alkamilya's vice captain.(ABC News: Elsa Silberstein)
For empowerment and support
Since its inception 10 years ago, Alkamilya has gone from strength to strength.
Ahead of this year's win the seniors secured back-to-back premierships in 2017 and 2018.
This is the third time the juniors have taken home a flag — they also won in 2019 and 2022.
Vice-captain Danni Woods has been with the club since it started, and she said her young daughter was counting the days until she could join.
"The values have always been the same — family comes first," the Anmatyerr, Warlpiri and Adnyamathanha woman said.
"And empowering young women, encouraging and supporting mothers with children.
"It's good because even if we don't have babysitters, we know someone's going to be on the ground to watch them while we train."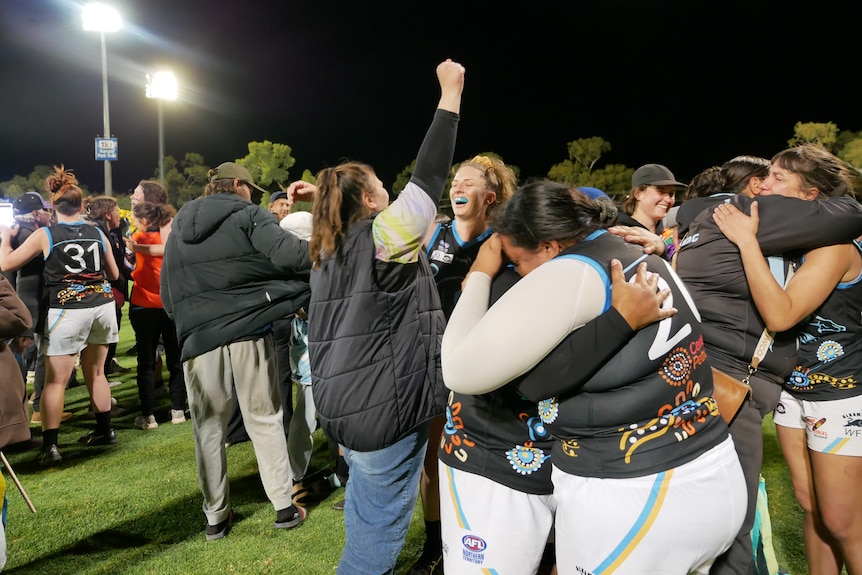 Alkamilya celebrates its grand final win.(ABC Alice Springs: Elsa Silberstein)
'We played for Magic'
After Magic died, the club was not sure it could regroup. The pain of losing her was unimaginable.
But the bond between this sisterhood is "just too strong", and it has only grown stronger as they have grieved together.
Tonight, as these women celebrate their grand final victory, their tears are not just for the win.
They are for the woman who made it all happen.
A woman who created a space where Indigenous women of all ages could put on a jersey, and join a sisterhood.
"We played for Magic," Rioli said, looking around at her teammates.
"We played for each other."
Find more local news
Browse for your location and find more local ABC News and information
Source: AFL NEWS ABC