Jack Harper spins the ball in his left hand, looks up and takes a deliberate step to the right. A couple of small quick steps turn into a canter, before he springs into a mid-air splits, a football exploding off his foot.
His head snaps back and his eyes lock on to the red missile arcing towards its goal, and like a back-garden footballer waiting those agonising seconds to see if they've put the ball over next door's fence, Jack waits to see if the ball disappears over the concrete tower.
"Awww yeah, that felt good," he says as the ball sails over.
Unlike a backyard slogger, Jack is trying to clear the fence.
He's the current Mirrool Silo Kick Champion, the annual event that has put a small village in the New South Wales Riverina on the map.
Competitors line up to see who can kick an Aussie Rules ball over Mirrool's 34-metre-high, 12-metre-wide grain silos.
And some in Mirrool believe it's helping to keep their small town alive.
Jack say kicking a footy over a 34-metre-high tower one year is no guarantee you'll ever do it again.(ABC Riverina: Conor Burke)
A punt on a punt
It started, like many great ideas, at the pub.
Buster Fairman has lived in Mirrool for 70 years and he says it all goes back to the day after the 1977 grand final.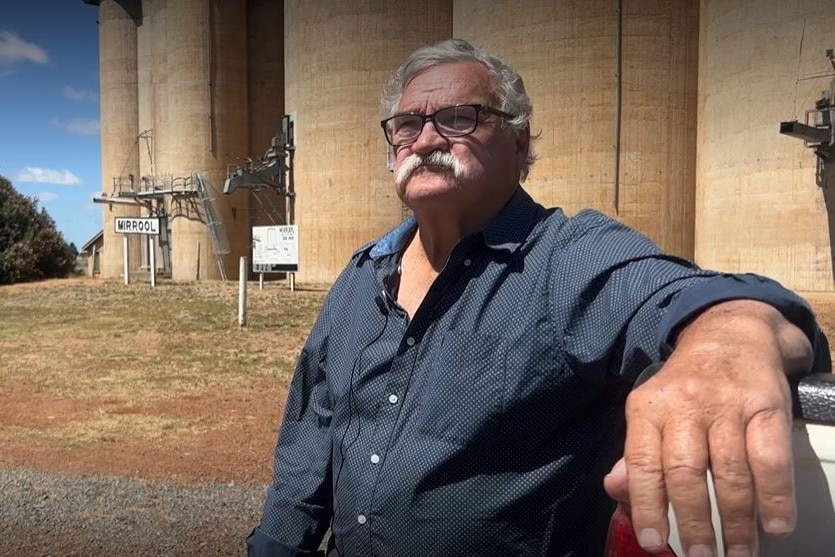 Buster Fairman says the annual Mirrool Silo Kick is a boon for the town. (ABC Riverina: Conor Burke)
The losing Ariah Park-Mirrool team was in the hotel for Mad Monday festivities when the coach slapped a $20 note on the bar and challenged the team to clear the silo.
"So we all went over, probably had a little bit too much ink in us, nobody could kick it over," he says.
That ball then sat behind the bar gathering dust until the early 90s when AFL legend Billy Brownless came to town on the road to a nearby wedding.
He stopped into the hotel and after a few frothies a wager was put his way — free beers if you can kick over the grain silo.
He walked across the road, took a few strides towards train tracks that cross in front of the structure, punted the ball clean over and claimed his beers.
"We then got in the car and drove to the wedding and missed the wedding," Mr Brownless told The Footy Show years later.
And so a tradition was born, which 30 years later attracts up to 1,000 people from across the state to Mirrool every October.
Fortune favours the conditions
At the 2023 Silo Kick, held earlier this month, Jack Harper became a four-time champion in a nail-biter.
No winner had been crowned in the preceding three years — 2020 and 2021 were lost to COVID-19 while the silo came out on top in 2022.
Mr Harper was taken all the way to the final by two first-time entrants.
Silo Kick president Jason Bryce says the battle between man and silo can depend on a number of factors, but the big one is weather.
"If you can get a 25-degree day and no wind that's perfect. The conditions do not favour the footballer most times," he says.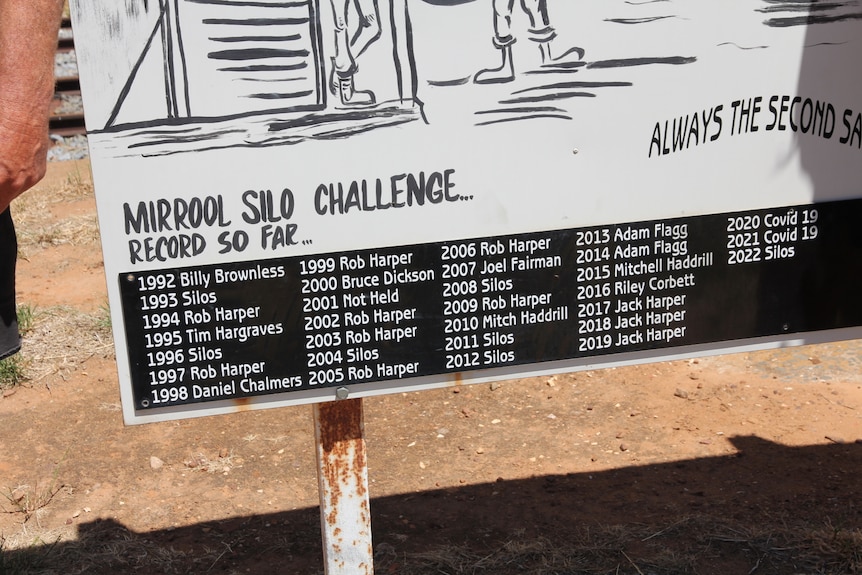 The winner of the Silo Kick is held in "high regard" in the town.(ABC Riverina: Conor Burke)
Mr Harper is small but has an athletic build with thick legs and he could lay claim to one of the biggest kicks in the state. Many AFL professionals have tried and failed to defeat the tower.
Only 10 men have ever bested the grain tower since the contest started in 1992 and two of those men are Jack and his uncle Rob Harper — who have 12 titles between them.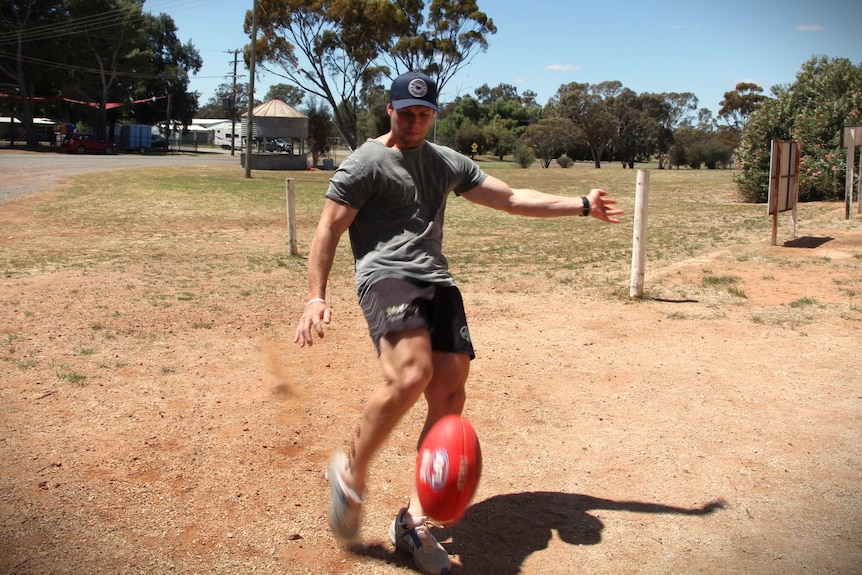 Jack is part of a silo kick dynasty. He and his uncle Rob Harper have 12 titles between them.(ABC Riverina: Conor Burke)
Mr Harper, a fourth-generation sheep and cropping farmer, remembers spending long hours "endlessly" practising as a kid for his kick to be as big as possible.
He says the quirky pastime provides solace for the town in the tough times.
"It brings everyone together, in drought years especially it's good to come together to have a couple of beers and have a chat and a laugh," he says.
"You can forget about farming for a day … and get around each other."
Twenty people and two dogs, but still kicking
Mr Fairman says the winner of the Silo Kick is held in "high regard" in the town, but more importantly, the event is a boon for the village.
Tracey Bowen, co-owner of the Mirrool Hotel, says they sold a week and a half's worth of beer that afternoon and were very nearly "the pub with no beer".
This year's kick raised $30,000 — 75 per cent of which goes to charity and back into the community, according to Mr Bryce.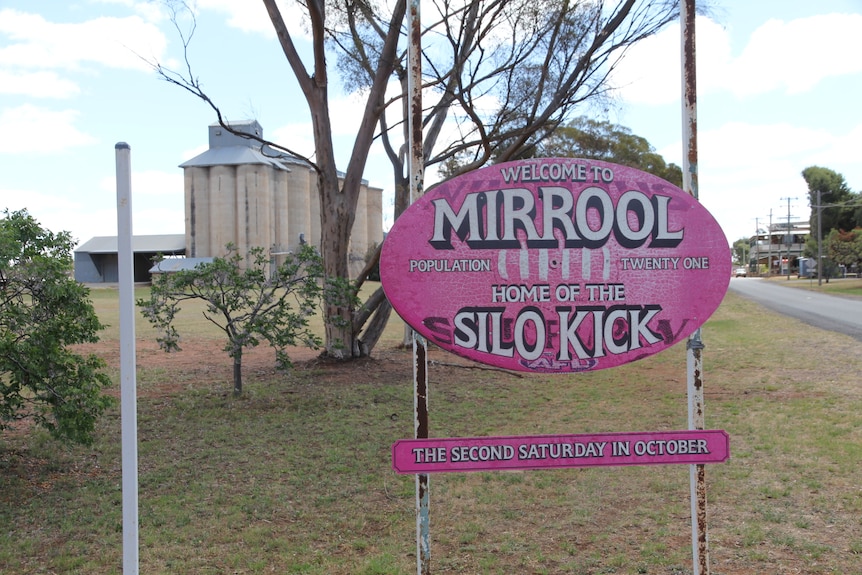 This year's kick raised $30,000, 75 per cent of which goes to charity and back into the community.(ABC Riverina: Conor Burke)
He says the event has put this small town on the map and the silo has become a tourist attraction.
"It's an icon," he says.
"It's been getting bigger and bigger … we keep the town going a bit."
As similar-sized villages struggle with young people moving away to bigger pastures, Mr Fairman says an event like this holds the community together.
"Our town is only 20 people and two dogs. That's all that live in town and we need to generate some money," he says.
"With the money we've made we've put up a caravan park here, showers, toilets and all that generates money and people to our town, which keeps our little town alive.
"In today's society it's pretty hard for these little places, but our little town of Mirrool, it's going strong, really strong."
Find more local news
Browse for your location and find more local ABC News and information
Source: AFL NEWS ABC