Could AFLW be the beneficiary of the new-found momentum for women's sport generated by the record-breaking FIFA Women's World Cup?
That's the question many are asking, including premiership-winning Hawthorn coach Bec Goddard.
"It's a really exciting time to be a woman in sport," Goddard said this week.
"We're not going to pretend that we're anywhere near the level of the Matildas yet.
"I hope what we're able to do is leverage off the back of that and help other women in sports — whether that's AFLW, Big Bash [or] WNBL."
Bec Goddard, whose side is captained by Tilly Lucas-Rodd, is hoping AFLW can ride the wave of momentum generated by the Matildas. (AFL Photos via Getty Images: Felicity Elliott)
So if you're a newcomer to AFLW, or just want to get up to speed, here's all you need to know about the upcoming season.
When does AFLW start?
Season eight kicks off tonight, Friday, September 1, at 7:20pm AEST.
In something of a departure from tradition, the first match will feature last season's premiers, the Melbourne Demons, up against the Collingwood Magpies, who have featured in all but two of the opening fixtures of the AFLW season.
The match will be held at Princes Park, in Melbourne, the host of all but one season's opening games.
As a bonus for those in attendance, nine-time ARIA award winning singer-songwriter Missy Higgins will provide pre-match entertainment in the form of a medley of her well-known hits.
Demons fans will also be treated to the unfurling of their premiership flag from last season.
How many teams are in the competition?
All 18 AFL clubs now feature AFL Women's sides.
The most recent teams to join the competition — in August last year — were Essendon, Hawthorn, Port Adelaide and Sydney.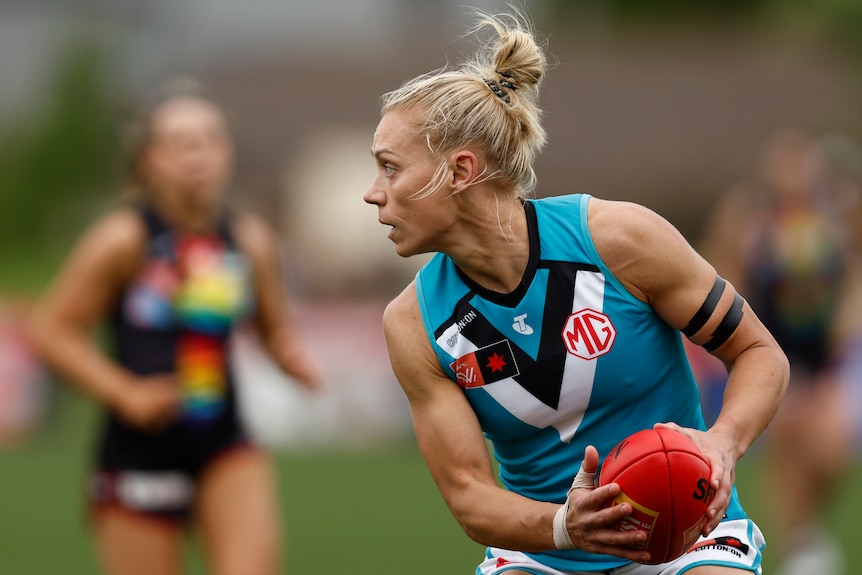 Port Adelaide, led by Erin Phillips, is one of the four final teams to enter the AFLW competition. (Getty Images: Darrian Traynor)
Essendon fared the best of the new arrivals, finishing on four wins (10th place overall), while Hawthorn managed three wins (15th overall).
Port Adelaide, however, won just one game, while Sydney went winless.
Who won last year?
The Melbourne Demons made it a fairytale send-off for much-loved Daisy Pearce, who retired from the game a premiership champion as well as a trailblazer for women in football, both on and off the field.
It was a gutsy four-point win by the Demons, who toppled hosts Brisbane on their "home" deck in Springfield, after the Lions had lost just one game for the season before the grand final.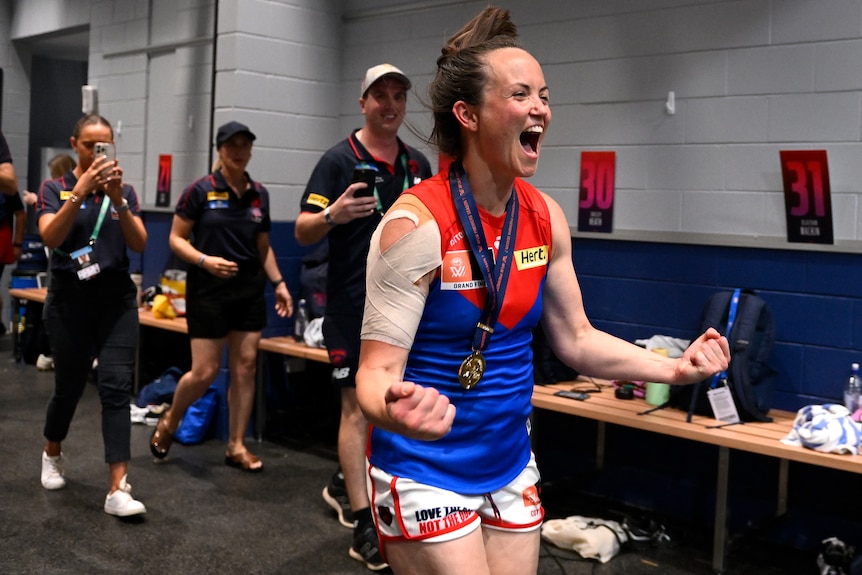 Daisy Pearce retired on a high after her Demons won the season seven premiership. (Getty Images: Matt Roberts)
In the rooms post-game, captain Bre Koenen described it as a "brutal competition" and said the loss was a "bitter pill to swallow".
What other round one match-ups are there?
Round one of AFLW is jam-packed with blockbusters, including three 'derbies' in South Australia, New South Wales and Western Australia.
Last season, Port Adelaide failed to score a goal against the Crows, while the Giants handed Sydney a 47-point defeat.
Expect those games to be closer this time around, with both the Swans and Power notching two wins in their pre-season 'match simulation' outings.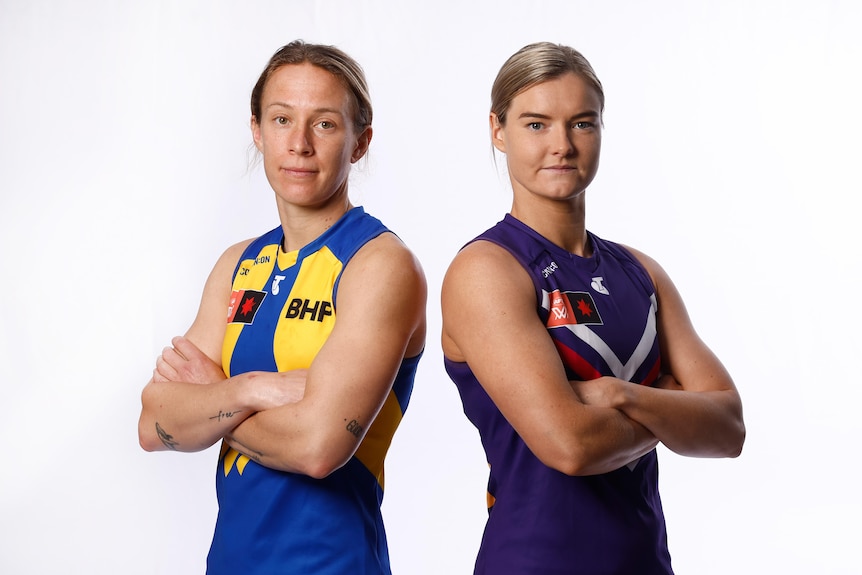 Round one of season eight will feature three derbies. (AFL Photos via Getty Images: Michael Willson)
Round one also features a repeat of the Hawthorn v Essendon fixture, which drew 12,092 fans to Marvel Stadium in August last year for the first clash between the traditional Victorian powerhouses.
How do I attend matches, and how much do tickets cost?
Entry to AFLW games is free for all fans under the age of 18, while adults can purchase general admission tickets for $10.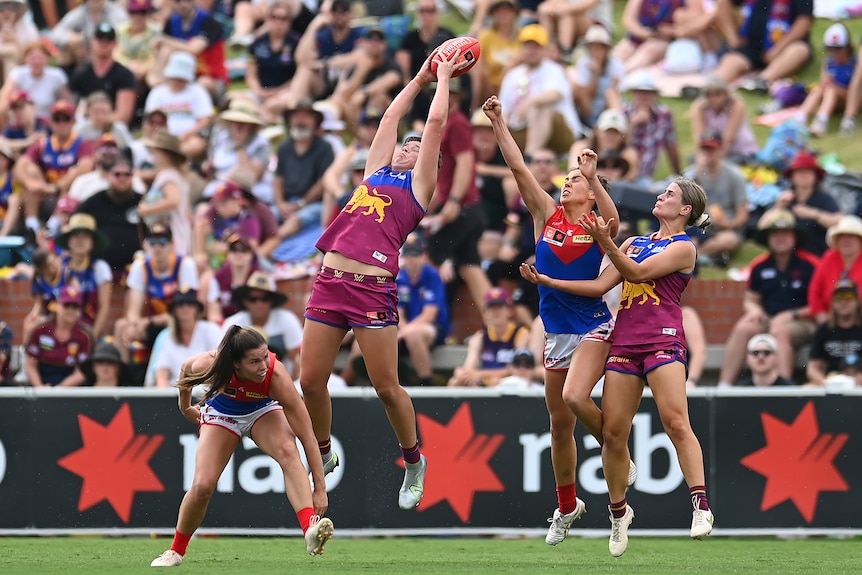 Entry to AFLW games remains free for those under 18. (AFL Photos/Getty Images: Albert Perez)
Tickets can be purchased by going to the AFLW website, scrolling to the game of your choosing and clicking on "buy tickets".
Unlike last year, they can also be purchased at the ground on match day.
Individual clubs also offer AFLW memberships, some of which include free entry to home games.
How can I watch AFLW?
Every AFL Women's game can be streamed live on the AFL Women's website and AFLW app.
AFLW matches are also broadcast live on the Seven Network, Fox Footy and Kayo.
How can I listen to AFLW?
ABC Grandstand will be broadcasting AFLW matches.
How long is the AFLW season?
Despite there being 18 teams in the competition, there are still only 10 home and away (regular season) rounds.
This is followed by four weeks of finals.
The length of the season has long been a point of contention for the playing group, and makes integrity of the fixture close to impossible, given each team only plays nine other opponents.
For what it's worth, the AFL says the 2023 fixture was designed by splitting clubs into two groups based on their finishing position last season.
Each club then plays five or six of the clubs who finished in their group (the top nine, or bottom nine clubs), plus four or five of the clubs from the other group.
Are there any rule changes?
There are several rule changes for season eight, with an interchange cap introduced for the first time (limited at 60).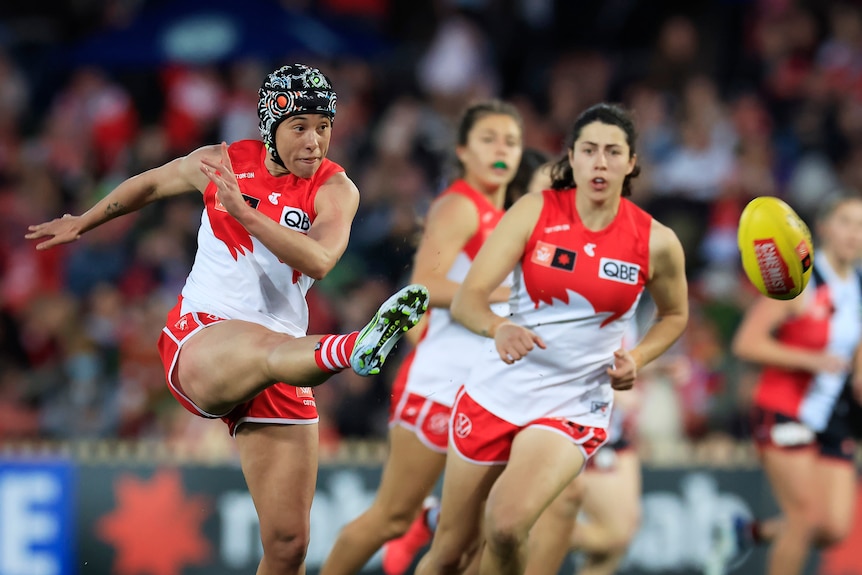 There will be an interchange cap for the first time in season eight. (AFL Photos/via Getty Images: Mark Evans)
There have also been some changes to boundary throw-ins. In season seven, all boundary throw-ins were taken 10m into the field.
This year, boundary umpires will revert to taking throw-ins within the 50m arc from the boundary line, but continue to take throw-ins between the arcs from 10m into the field.
Some changes to timekeeping rules will also mean quarters will be approximately two minutes longer.
Which big names have changed clubs?
There were several big name moves finalised in the off-season, headlined by former best and fairest winner Emily Bates moving from Brisbane to Hawthorn.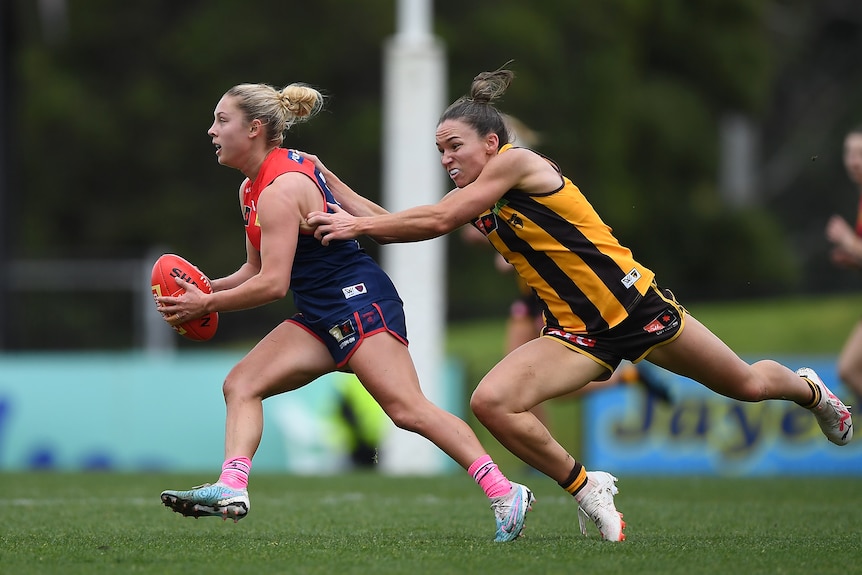 Lions fans may have a hard time getting used to seeing Emily Bates in Hawks' colours.(AFL Photos via Getty Images: Felicity Elliott)
Season seven's leading goal kicker, Brisbane's Jesse Wardlaw, compounded the pain for the Lions by moving to St Kilda.
Collingwood fans were also left broken-hearted by the departure of dual All-Australian (and passionate Magpies fan) Chloe Molloy, who will co-captain the Sydney Swans.
Ash Saint (nee Woodland), meanwhile, is relishing the chance to represent the club she grew up supporting, and will re-unite with former teammate and captain Erin Phillips at cross-town rival Port Adelaide.
Is there an AFLW fantasy competition?
It's no secret that this author has long bemoaned the lack of an official AFLW fantasy league, and the AFL has finally delivered for season eight.
If you're just getting started, there's plenty of good material to read on the AFLW website.
Moirera's Magic will also continue to run their AFLW fantasy competition.
Has prize money increased?
Incoming AFL CEO Andrew Dillon recently announced that prize money for AFLW players would almost double, to $1.1m.
This does not, however, mean that AFLW players receive the same amount of prize money as AFL men's players.
AFLW prize money is split amongst the top eight teams in the competition, whereas it is split amongst the top four teams in the AFL men's competition.
OK, but who will win the premiership?
Well, the captains seem to think the Demons will go back-to-back, with 14 tipping Melbourne to lift the premiership cup again in 2023.
Two captains, meanwhile, nominated three-time champions the Adelaide Crows, with one each opting for Geelong and North Melbourne.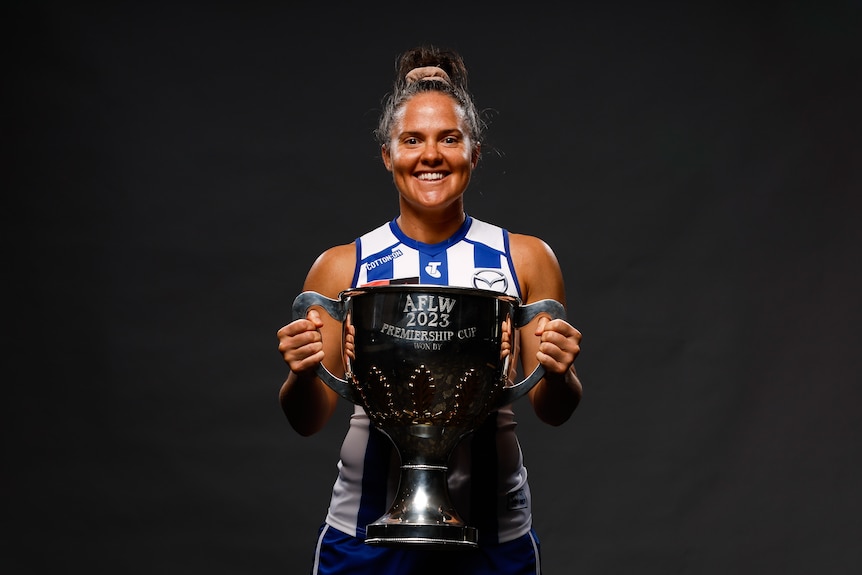 Could Emma Kearney once again lift the premiership cup, this time with the Kangaroos?(AFL Photos via Getty Images: Dylan Burns)
For what it's worth, seven captains have also backed Richmond's Mon Conti to win the competition best and fairest, followed by Jas Garner from North Melbourne (three captains), and Anne Hatchard of the Crows (two captains).
Source: AFL NEWS ABC