"You actually feel the roar inside you."
That's how Albany-raised Collingwood ruckman Darcy Cameron describes playing to a full house during the finals at the Melbourne Cricket Ground.
Key points:
Collingwood ruckman Darcy Cameron hails from Albany on WA's south coast
The Magpies have played in front of more than 97,000 in both finals so far this series
The club is eyeing its sixteenth AFL premiership
Now, the Magpies will play Brisbane in Saturday's AFL grand final in front of nearly 100,000 fans at the MCG.
With Collingwood aiming for a record-equalling sixteenth flag, some pundits have declared the Magpie fans at the first two finals to have been the loudest they have ever heard.
"It's unbelievable, it's the best feeling," Cameron said of last week's 1-point preliminary final win over Greater Western Sydney, which clinched the Magpies' grand final berth. .
"It's hard to put into words, when you have 97,000 fans, majority Collingwood, when you hear that roar, you know you've won the game."
Collingwood fans celebrate during the 2023 AFL First Preliminary Final match between the Collingwood Magpies and the GWS GIANTS at Melbourne Cricket Ground on September 22, 2023 in Melbourne, Australia.(Getty Images: AFL Photos/Dylan Burns)
Family in the 'G crowd
Among the thousands on Saturday will be his parents, Gerard and Vanessa Cameron, along with his brother Luke and sister Megan, and grandma Wendy Green.
Cameron is the nephew of popular late ABC broadcaster Eoin Cameron.
The versatile ruckman has averaged more than 26 hit-outs and 13 disposals this year leading Collingwood's ruck duties.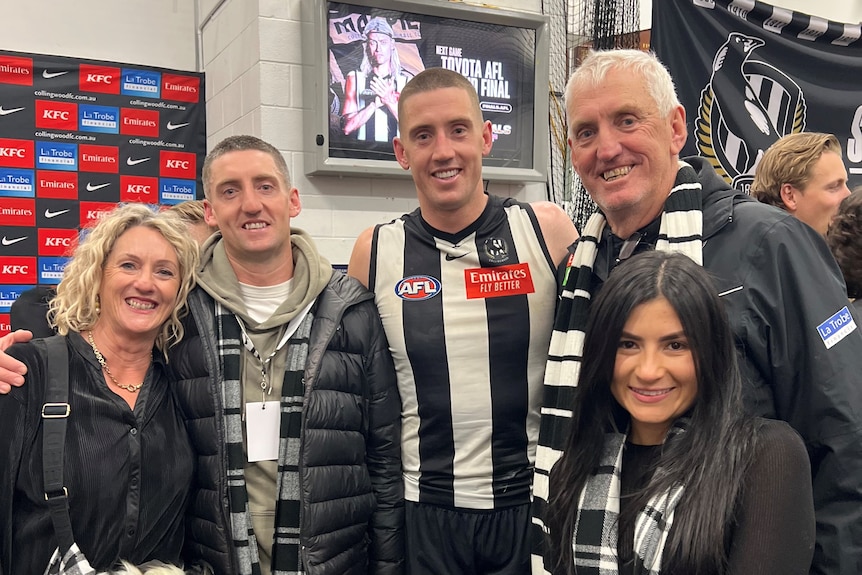 Darcy Cameron with his family in the Collingwood rooms.(Supplied)
Playing in a grand final seemed a long way off for the North Albany-product who, as a young Sydney Swans player, had notched up just one AFL game before he was traded to Collingwood in 2019.
"I was getting overlooked each week – you get traded to Collingwood and you're unsure if you're going to be an AFL player," he said.
"I didn't know if I would make it at this level, but I stayed resilient and I'm proud of that."
It's nearly 2500km from Albany to the MCG, but Cameron said he is feeling the home-town support.
"I've been flooded with messages … I apologise if I haven't responded because it's been hectic. I'm really grateful."
Long road to AFL's biggest stage
The 28-year-old said many of his favourite footy moments were from Albany.
"My fondest football memories are playing for North Albany at Collingwood Park," he said.
"I love playing in Albany. It is such a great town to grow up in."
The Kangas have produced a number of AFL players, including Jeremy (West Coast) and Mitch McGovern (Carlton).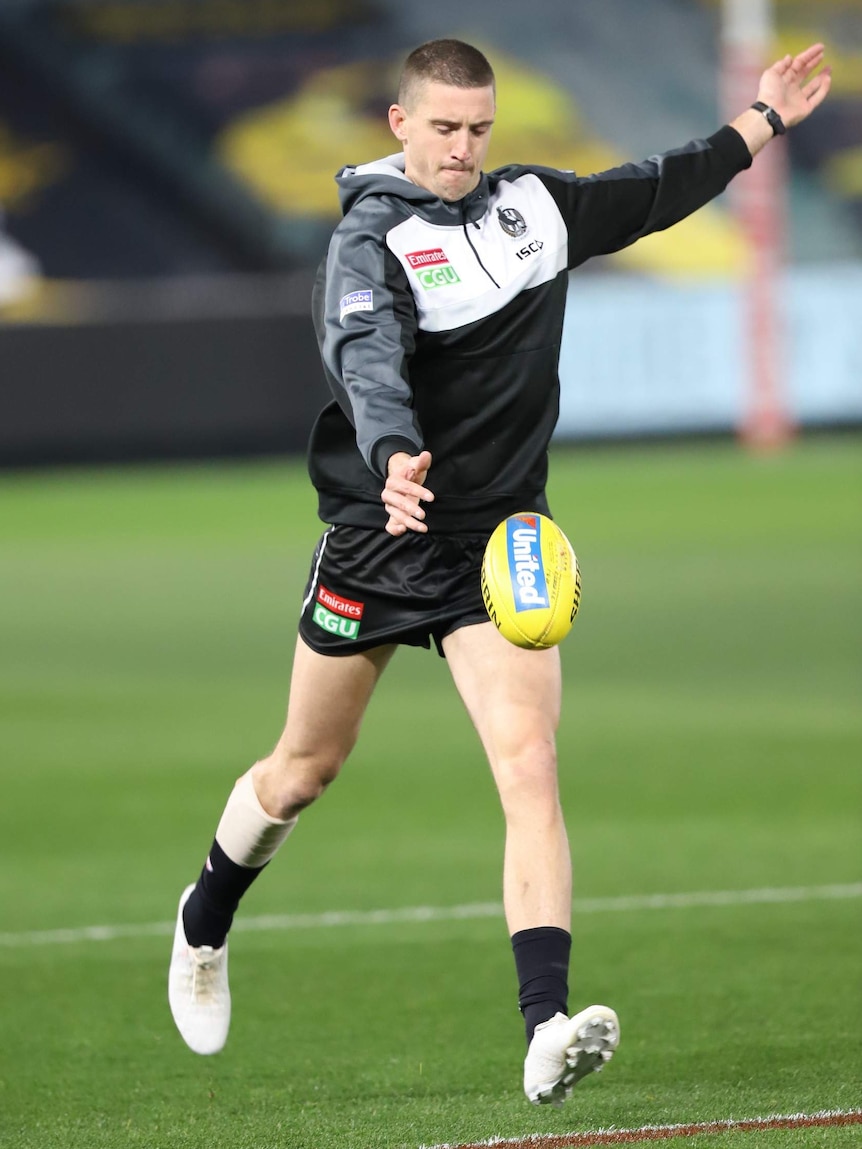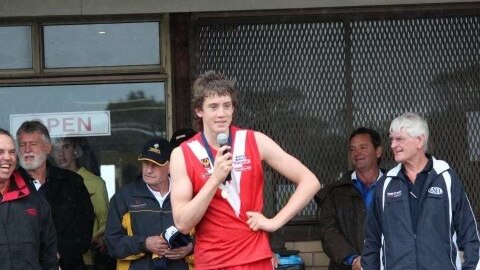 Darcy Cameron is one of several recent AFL players to come from North Albany. / Darcy Cameron warms up ahead of his first game for the Pies.
Darcy's father Gerard said that occasionally, when he's watching a big game with tens of thousands of fans, he forgets that it's his son out there on the field.
"You pinch yourself … 'heavens above, that's Darcy out there' … When you're there with the hordes of 97,000 people, it's definitely surreal," he said.
"Then when the siren goes, you remember that's our kid out there, you remember the journey along the way. It sparks immense pride."
Gerard Cameron said his son had worked hard to get this far in his AFL career.
"Darcy was close to getting drafted for four years … Credit to him, he kept working hard," he said.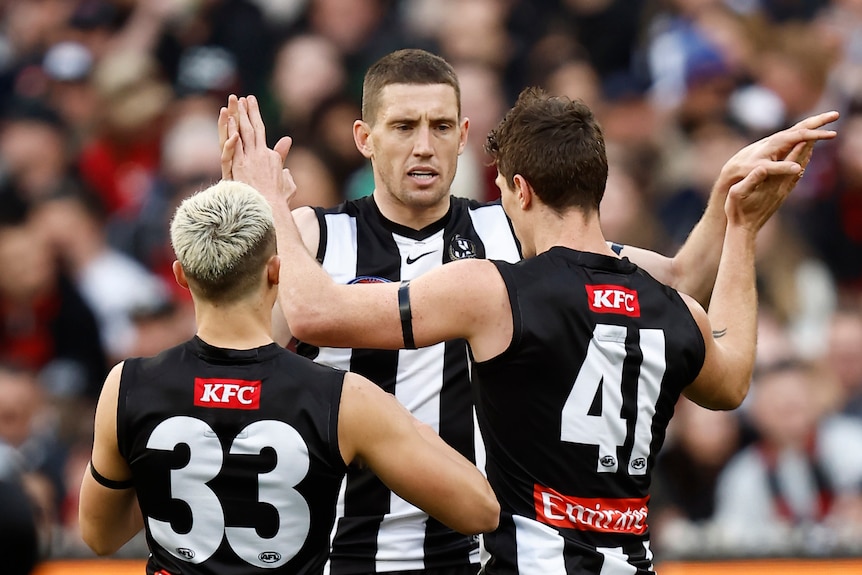 Darcy Cameron of the Magpies celebrates a goal during the round 19 AFL match between the Collingwood Magpies and the Essendon Bombers at Melbourne Cricket Ground on July 24, 2022 in Melbourne, Australia. (Photo by Darrian Traynor/Getty Images)(Getty Images: Darrian Traynor)
Darcy Cameron was drafted by Sydney at pick 48 in the 2016 national draft.
"We're getting messages from friends and family," Gerard Cameron said.
"Photos of people watching the games … He's feeling that all the way over on the other side of the country."
Source: AFL NEWS ABC