After years without a proper competition, long-time locals in Western Australia's Murchison region say the return of junior footy is having a positive impact on the lives of outback kids.
Key points:
The Marlu Murchison Junior Football League is the first of it's kind for the region in years
It brings together youth from Mount Magnet, Meekatharra, Yalgoo, and Cue
Locals say the program is helping keep kids in school
The Marlu Murchison Junior Football League is in its second year and attracts young people from Mount Magnet, Meekatharra, Yalgoo and Cue.
Games are held in alternate towns every Saturday during the season, with training sessions through the week.
Despite regional and remote parts of WA proving a hotbed of football talent, it is the first time in decades a junior football competition has been run across the remote communities.
Mount Magnet's Cecilia Kelly and with 12-year-old footballer Ronnie Kelly.(ABC Midwest and Wheatbelt: Phoebe Pin)
Mount Magnet community stalwart Cecilia Kelly said the program had been a huge success.
"It's really beautiful to see all the children come together, and the outcomes are great," she said.
"It's also good to have an incentive to encourage the children to go to school and do the best that they can."
Roy George from Geraldton Sporting Aboriginal Corporation said the competition was full of budding football talent.
"If they want to move away from home and go on to bigger and better things in life, that's up to them — we can support them and help them," he said.
"I've seen a lot of talent coming from all those towns."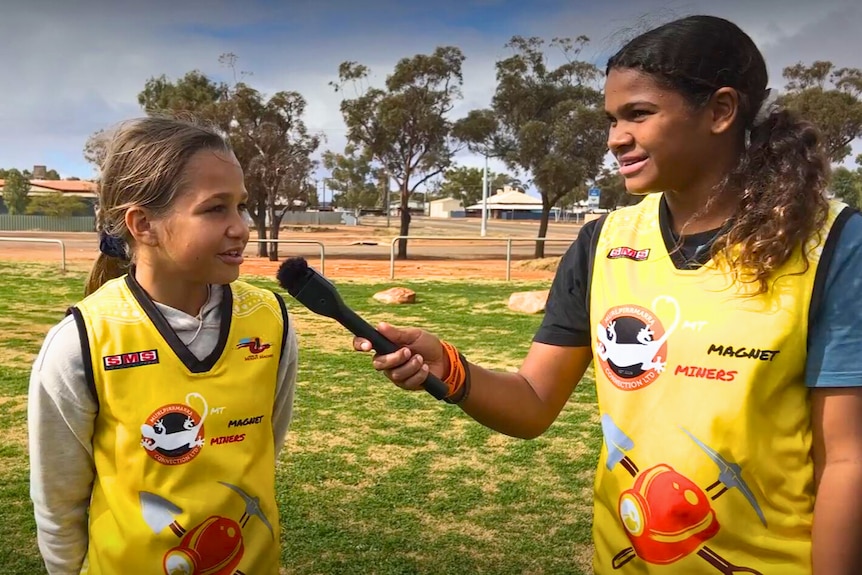 Mount Magnet student Cheneille Shar interviews Ethel-May Shar.(ABC Midwest and Wheatbelt: Phoebe Pin)
WA Centre for Rural Health Mount Magnet community development officer Courtney Taylor said the competition had helped many local young people become role models to their peers.
"All of the kids' teachers have given us really good feedback that their behaviour has improved," she said.
"It really helps the kids work on their sense of responsibility, and they've improved with their confidence and skills on the field."
Ms Taylor said the transformation had been a joy to watch.
"They're beautiful kids that have a lot of passion, especially for this sport," she said.
"They're very passionate about their community, about their culture, and about their country.
"The future is looking bright for these little Magnet stars."
Loading
Source: AFL NEWS ABC